The Capcom Cup North America West qualifier was filled with controversies, but more importantly, high-level Street Fighter V that saw Alan "Nephew" Sun punch his ticket to the event scheduled for early 2021.
Sun, who has already participated in the competition in 2017 landing an impressive 9th spot, took care of Samurai's Akuma in the grand finals, beating him 3-0 and 3-2 after the bracket reset, in an all Kolin run.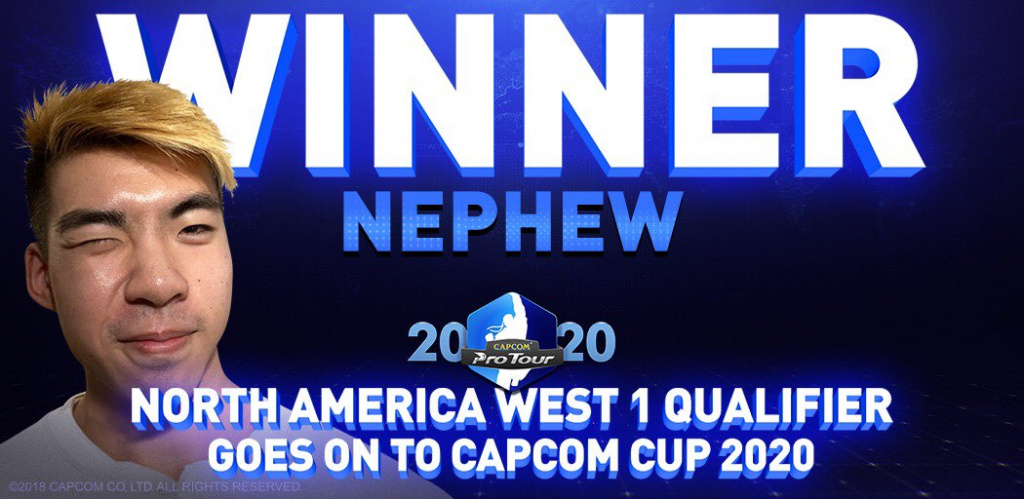 Before their matchup in the finals, Samurai had sent Nephew to losers in a masterful display of adaptation, claiming the victory in winners semis by reverse sweeping Nephew in dramatic fashion.
For many fans, the most noteworthy development to stem from the qualifier was the shocking loss of Victor "Punk" Woodley, not even making into the Top 8 of the tournament.
Read more: At 39, Street Fighter legend Daigo Umehara wins his first tournament in over two years
The Evo and Capcom Cup finalist was seen visibly upset at the quality of the connection he was forced to play his set against Alex Myers, which he ultimately lost, resulting in Punk throwing his gamepad on the floor.
Capcom Cup 2020 Qualified Players
Derek "iDom" Ruffin (Capcom Cup 2019 Champion)
Arman "Phenom" Rabiee (Europe East & Middle East #1 winner)
Yoryi "DR Mandrake" Bueno (North America East #1 winner)
Niel "SKZ" Chong (Asia South East #1 winner)
Gonzalo "Pikoro" Buleje (South America #1 winner)
Houmaid "Takamura_B" Rabie (Europe West #1 winner)
Daigo Umehara (Asia East #1 winner)
Cristopher "Caba" Rodriguez (Central America #1 winner)
Alan "Nephew" Sun (North America West #1 winner)
There are still 10 more qualifiers left to be played across different regions, you can check all the dates right here.