After events in France and Japan,
Red Bull Kumite
moves to London's Gaming Sphere for 2021 with a special preview showcase for Guilty Gear Strive.
The two-day event will feature 16 pro Street Fighter V players compete across a 10-hour livestream and a preview of Arc System Works' upcoming fighting game Guilty Gear Strive — with developer interviews and its own tournament exhibition to celebrate the release. 
So whether you're simply down to see Street Fighter V competitive play or want another reason to get excited about Guilty Gear, here's everything you need to know about Red Bull Kumite. 
When is Red Bull Kumite London?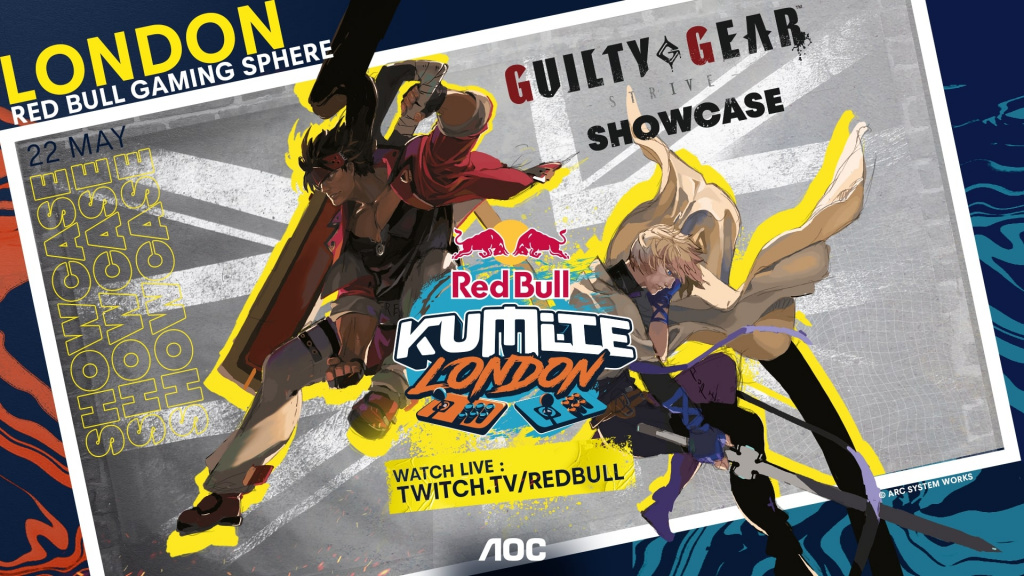 Guilty Gear Strive gets the spotlight on Day 1 (Picture: Red Bull) 
Red Bull Kumite London spans two days across Saturday 22nd May to Sunday 23rd May. The first day is dedicated entirely to Guilty Gear Strive, while the second day will see the Street Fighter V offline tournament take place.
The latter is comprised of 16 players, with the roster made up of 15 invited players and one additional player from the Last Chance Qualifier UK which took place earlier this month. 
Who is on the line-up for Red Bull Kumite London?
Guilty Gear exhibition line-up
Ogawa - Japan
Samitto - Japan
Alioune - France
KenDeep - Germany
Wawa - France
Shanks - Spain
Leffen - Sweden
LostSoul - US
SonicFox - US
GO1 - Japan
Nage - Japan
FAB - Japan
Street Fighter V tournament line-up
Hajime "Tokido" Taniguchi - Japan
Li-Wei "Oil King" Lin - Taiwan
Tsunerhiro "gachikun" Kanamori - Japan
Masato "Bonchan" Takahashi - Japan
Arman "Phenom" Hanjani - Norway
Benjamin "Problem X" Simon - UK
Olivier "Luffy" Hay - France
Alfonso "VegaPatch" Martinez - Spain
Nathan "Mister Crimson" Massol - France
Houmaid "Takamura" Rabie - Belgium
Victor "Punk" Woodley - US
Derek "iDom" Ruffin - US
Bryant "Smug" Huggins - US
Claude Eric "Hurricane" Diboti - UK
Masaki "Kawano" Kawano - Japan
Shaquille "akaJoness" Jones - UK
What is the schedule for Red Bull Kumite London? 
Saturday 22nd May
Opening ceremony - 2pm BST/6am PT
Guilty Gear Strive showcase - 2.20pm BST/6.20am PT
Walkouts and Group selection - 7pm BST/11am PT
Team Tournament Exhibition - 7.45pm BST/11.45am PT
End of Day 1 - 9pm BST/1pm PT
Sunday 23rd May
Opening ceremony - 2pm BST/6am PT
Group Stage - 3pm BST/7am PT
Sideshow - 7pm BST/11am PT
Top 8 - 7.20pm BST/11.20am PT
Trophy ceremony - 10pm BST/2pm PT
How can I watch Red Bull Kumite London? 
The entire event will be streamed live across Red Bull's Twitch and YouTube channels.