It's easy to get us excited about sequels. New Zelda? Looks fantastic. New Gear of War? Can't wait. New Uncharted? Just tape the screen to my eyes, thank you. It's so much harder to have that same reaction to something new, so it's refreshing when a new idea comes along like
Horizon: Zero Dawn
… It's the fresh property from Guerrilla Games – a first party Sony developer who, until now, has only ever really worked on the
Killzone
franchise. For more than a decade, this Dutch team has done nothing else – and although
Killzone
has always been a moderate commercial and critical success; it's obvious they wanted to move on. When you look at their most recent game – the PS4 launch title
Killzone: Shadow Fall
– there's ambition everywhere. Jaw dropping visuals, a complex premise and some interesting gameplay mechanics – the failure of
Shadow Fall
to combine these features into an experience that feels whole is something we're sad about, even to this day. Those same features are obvious from what we've seen of
Horizon: Zero Dawn
so far. Jaw dropping visuals. A complex premise. Some interesting game mechanics. Taking the familiar path of an overgrown post-apocalyptic setting,
Zero Dawn
makes a sharp right turn away from mutants or zombies, and fills it's landscape with a whole ecosystem of animalistic machines. What could have been pushed as scary or just silly, instead takes a leaf from
Jurassic Park
– these creatures are awesome. They're beautiful, intimidating and immediately stand out as more than just prey to be hunted.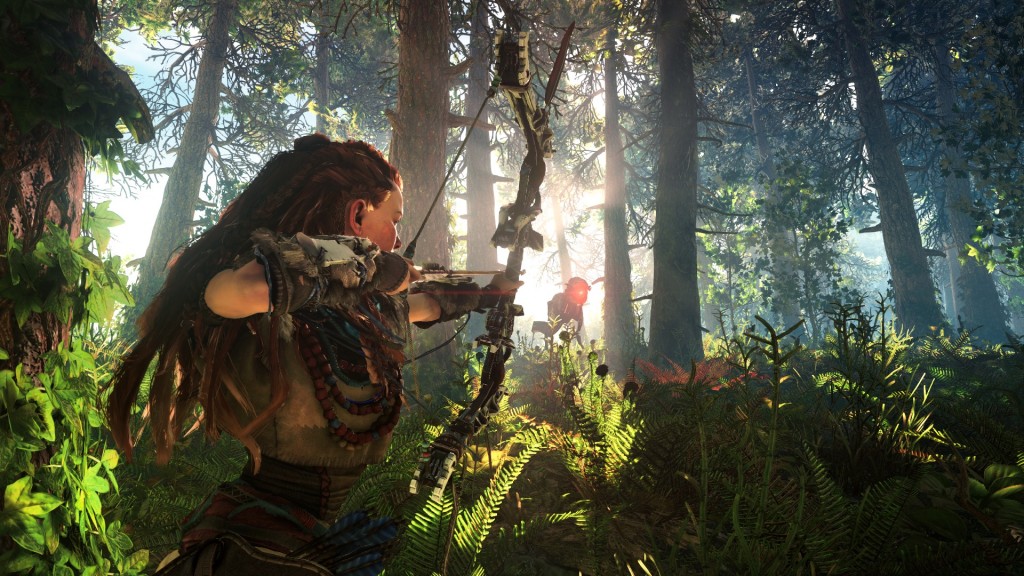 But hunt them you will. Within all of this scope,
Horizon: Zero Dawn
focuses on a young woman - Aloy – and her post-historic tribe; one of the first to live on these lands. She's armed with weapons and tools that seem primitive at first glance but that later reveal themselves to be a little bit more. Her mechanical bow is capable of firing cable lines – which during combat can act as tethers between her prey and the ground; but could also perhaps find use in traversing the game's vast and open landscape. Stealth, speed and skill are the racing heart of
Horizon
, a fusion that would appear to combine the environmental awareness of
Splinter Cell
with the dynamic wildlife of
Far Cry
, or even
Red Dead Redemption
. The game's reveal offered a balance of immediately recognisable concepts and intriguing mystery. We're interested in the story – and we're already enthralled by a post-apocalypse that favours colour, beauty and life above all else.
We really hope this promise can be kept. The thought of a game that can combine the visual imagination of
The Last of Us
with the scale of
Monster Hunter
and the control of
Assassin's Creed
makes our collective heads spin. That all said, we can't help but feel a twinge of doubt when we think back to
Killzone
. Guerrilla Games have been a promising studio for many years, but we'd argue they've yet to ever actually deliver. 
Shadow Fall
was a technical showcase, but also an uneven combination of underdeveloped concepts. 
Horizon
might be big, but is it's world worthwhile? 
Horizon
might be unique on the surface, but is it different enough underneath? New ideas are a risk to any developer or publisher, but they're also an opportunity to prove doubters wrong and turn some heads – and that last part has already been achieved.
Horizon: Zero Dawn
is an upcoming game we're very excited about, a new idea that looks to pull a lot of our favourite things together, while offering the groundwork for new experiences on a new generation of consoles. We have our doubts about Guerrilla Games, but we're willing give them the benefit of those doubts until we feast our eyes on more…