Millions of people across the world have already experienced League of Legends: Wild Rift, the mobile version of the MOBA game developed by Riot Games, with players in the Americas joining them (legally, that is) this upcoming 29th March.
As fans dive deep into what the mobile version of the MOBA has to offer, many will wonder who are the best Champions for each role.
Wild Rift deviates from the PC version of the game in terms of role assignment, be sure to check that out alongside the Position Preference system.
Wild Rift tier list - How it works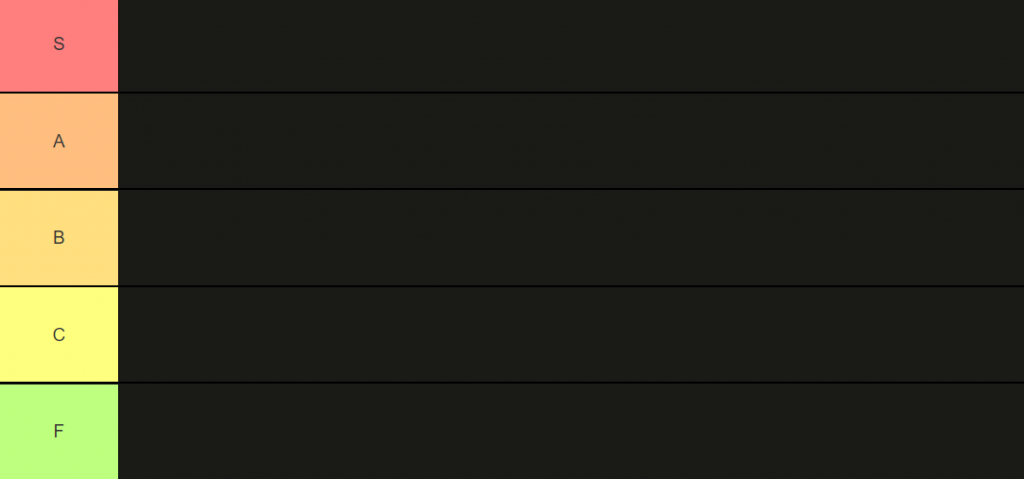 (Picture: Tiermaker)
Instead of grouping every single Champion in a general tier list, we'll take a look at the Solo Lane and group the most fitted Champions for it, placing them on different tiers depending on their kit and abilities. 
Here's a quick explanation for each tier:
S-Tier: The best Champions in the game. Simply put, they have all the tools to help you succeed.
A-Tier: Solid and reliable. Can require a bit more execution than the other top tiers.
B-Tier: Have some tools in their arsenal but ultimately they lack a few key elements to make them completely top tier.
C-Tier: Niche Champions who can work as surprise picks. 
F-Tier: Trash, the worst in the game. Avoid at all costs unless you want to be reported.
This comes without saying, but it's worth pointing out nonetheless, tier lists are not an exact science, especially in a MOBA where low and high-level play can drastically impact the viability of Champions. 
Without further ado, let's get started.
Wild Rift 2.2 Champion tier list - Solo Lane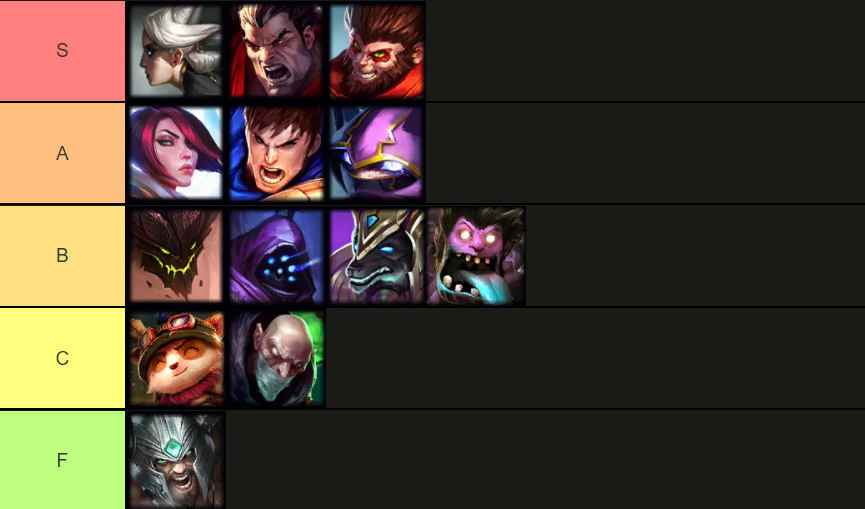 (Picture: Tiermaker)
S-Tier
Shockingly, Darius received a slight buff with patch v2.2, making him unstoppable during the casting of his Ultimate, Noxian Guillotine, so he should still be one of the best Champions in the game.
As for Camille, she has always proven to be a great duelist, thanks to her dense attacks and good initiation 
Wukong has an easy to execute style will benefit first-time players a lot more, especially with passive abilities like Stone Skin.
A-Tier

(Picture: Riot Games)
Fiora's untimely attacks make her one of the strongest options to fight alone, thanks to her abilities that give her mobility and health regeneration. Malphite on the other hand can be decisive for team fights thanks to his tank composition and his high impact abilities.
As for Garen, his area siege attacks, as well as his excellent health regen and an overly powerful Ultimate, make him one of the most viable and easiest options for any player.
B-Tier
The classic Dr. Mundo is usually a notable option for his health regeneration and durability in combat, however it will be a difficult champion to handle if you still do not get used to becoming a meat shield, or you don't have the initiative to take full advantage of his abilities.
Nasus is completely dependent on a good start to the game and being able to use his Q properly, so you should learn to do your last-hits well.
C-Tier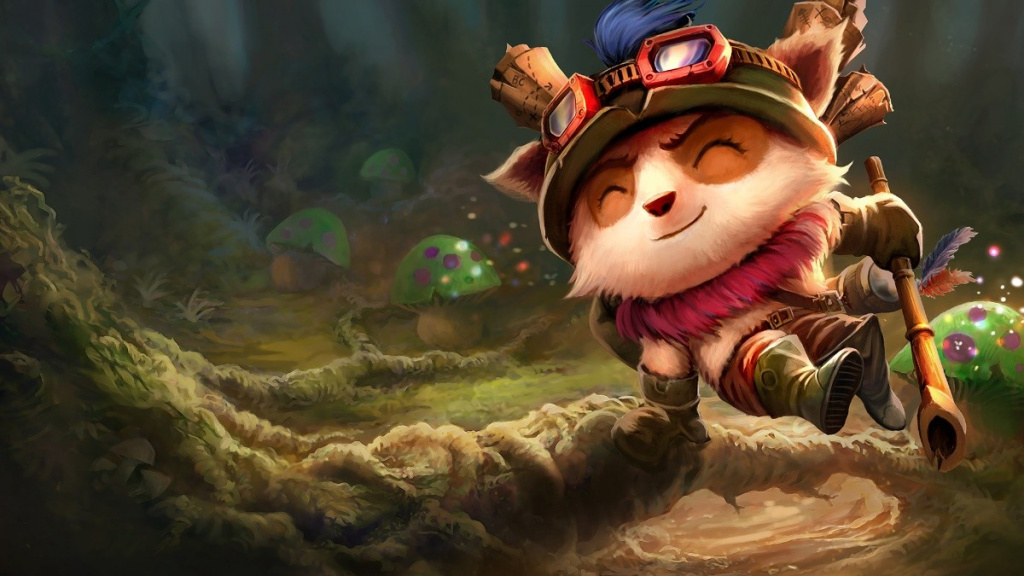 (Picture: Riot Games)
The lovable Teemo is just not good enough at low-level of play and can still be somewhat of a detriment at the highest levels. Despite being a pick and play character, most of his toolkit is lacking in one way or another, however, if you can make the most of his Blinding Dart paired with his Toxic Shot passive early on, you can set yourself for success in the long run.
F-Tier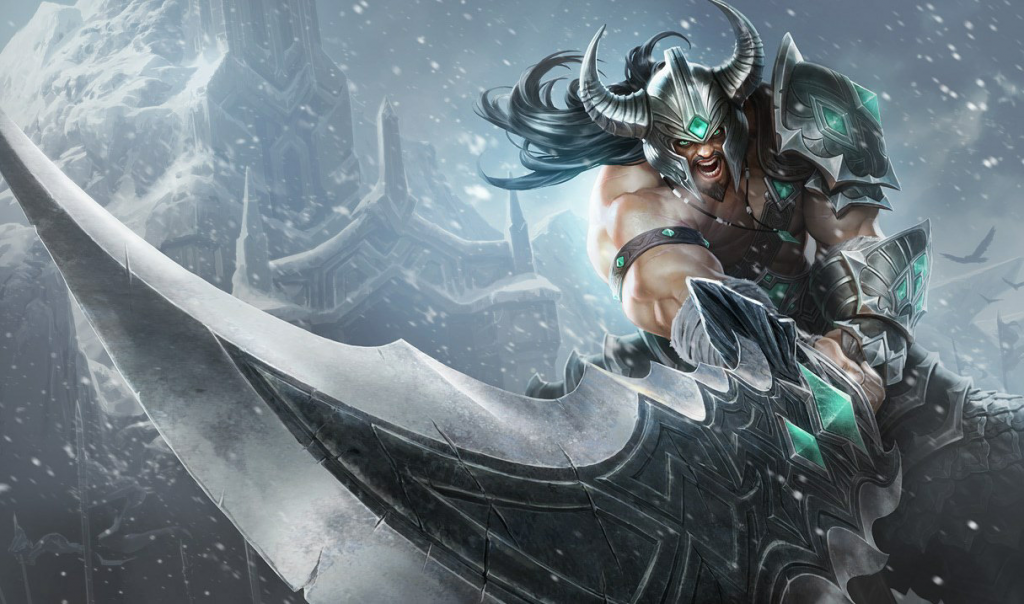 (Picture: Riot Games)
Although Tryndamere has a repertoire that helps him survive many situations, his ease of fighting him between several opponents when he has a disadvantage does not leave him many windows of opportunity, so this melee champion can present lots of weaknesses if he is not used correctly.
This way we conclude our deep tier list guide through the champions of the Solo Lane, while we hope it helps you to enjoy your journey through the Wild Rift to the fullest.
You can check more guides and news about League of Legends: Wild Rift, through our section dedicated to this long-awaited and fantastic game.