The latest Call of Duty: Mobile Season 7 patch, entitled "Elite of the Elite", packs quite a punch, boasting a brand-new Battle Pass, a Cyber Attack themed event, Ozuna Kill Confirmed game mode and several weapons balance changes. 
Not long ago, Activision dropped jaws when they released a new weapon into the game, the Hades LMG. But that's not all. In a surprise move, Activision released yet another new functional weapon, the Crossbow, which is available for free as a final reward of the seasonal Target Practice challenge.
Without further adieu, here's the best, most overpowered gunsmith class setup for the Crossbow in COD Mobile Season 7.
Best Crossbow gunsmith loadout for COD Mobile Season 7
The Crossbow is the ultimate stealth weapon that will have you embrace your inner "ninja". Boasting exceptional stats, including high damage, range and mobility, this weapon is perfect as a secondary weapon to help you lock down those kills. Better still - the weapon can be customized by using different bolts, like the Gas Grenade, Thermite or Sticky Grenade Bolts.
The Crossbow's "silent but deadly" stats are only held back by its super slow firing rate and relatively poor control, although this can easily be compensated when coupled with a high fire rate primary Assault Rifle, like the DHR. The following gunsmith loadout is derived from YouTuber, Jokesta.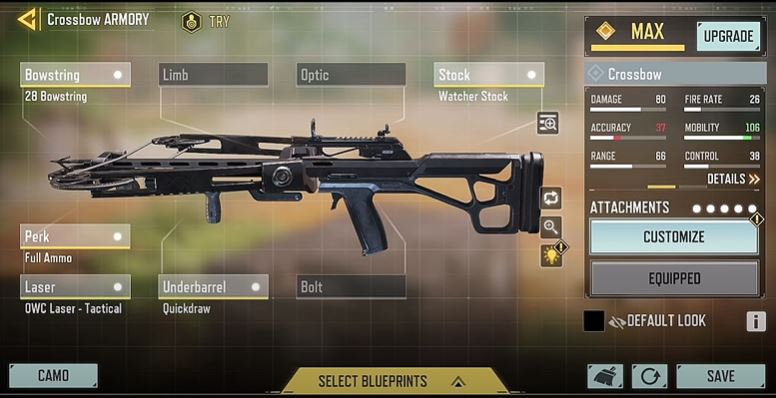 Bowstring: 28 Bowstring
Stock: Watcher Stock
Laser: OWC Laser - Tactical
Underbarrel: Quickdraw
Perk: Full Ammo
Equipping any of the specialized bolts will nerf ADS bullet spread (+15%), hipfire bullet spread (+15%) and bullet speed (-25%) of this weapon. We have, therefore, chosen to equip the regular bolt instead.
You can increase the bullet speed with the 28 Bowstring attachment. This will buff bullet spread by 20%, albeit at the expense of ADS and hipfire bullet spread (+15%).
The Watcher Stock will buff ADS time by 10% but will slightly reduce hit flinch and hipfire bullet spread by 10% and 12%, respectively.
The OWC Laser Tactical will further increase accuracy and movement speed while ADSing, by buffing ADS bullet spread accuracy and ADS speed. By attaching the Quickdraw Underbarrel, you can further improve ADS time.
Finally, the Full Ammo Perk will give you max starting ammo.
And that completes our Crossbow gunsmith class setup for COD Mobile Season 7! You can watch the video by Jokesta embedded below for some epic gameplay footage with this build.
Prepare yourself for disappointment by checking out our Assault Rifle, Shotgun, Submachine Gun and Sniper tier guides, ranking all weapons to use in COD Mobile Season 7, from best to worst.
Don't forget to check out our dedicated COD Mobile section, featuring all the news, guides, weapon tier lists, loadouts and more.
Header image via Activision.