With the magnificent Demon's Souls remake out for PS5 owners, some gamers might be playing a Soulsborne title for the first time. If you are new to the brutally-difficult Soulsborne titles, and plan on jumping headfirst into the world of Boletaria, picking the best starting class might feel daunting. Thankfully, we are here to help, explaining what the three best starting classes for beginners are in Demon's Souls on PS5.
Best starting class in Demon's Souls
If you ask most Demon's Souls fans who played the original PS3 title about the best, and easiest, starting class for the title, then they would say Royalty.
This still rings true on the PS5 version, as Bluepoint has left gameplay and stats mostly unchanged. 
The Royalty starting class is the best for beginners, as it starts with a ranged magic attack, which helps players who don't have ultra-fast reflexes through the earlier levels, easing into the experience.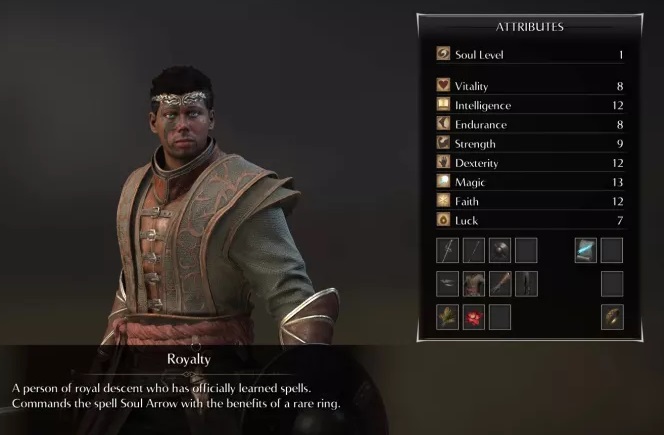 (Picture: Bluepoint Games)
The Royalty starting class in Demon's Souls also begins their journey with a Fragrant Ring. This ring recharges your MP, which means you can keep casting your Soul Allow, one-shotting most early enemies. There's also the Silver Coronet and Silver Catalyst, both boosting your maximum MP.
While the Royalty class doesn't start with a lot of HP or Stamina, it is one of the most flexible, as it starts on Soul Level 1. Simply put, this means the Royalty can go into any late-game build with ease, giving you the best options to adjust your playstyle.
Other great starting classes for beginners
While the Royalty class is considered the best both for beginners, and a decent choice for veterans, there are some other options to consider.
If you've played a Dark Souls title before, you should realise the Knight as one of the beginner-friendly classes, and this rings true in Demon's Souls on PS5.
While the Knight might not beat the Royalty class, it has some great advantages. Simply put, if you want a starting class which can take some hits, and swing a big sword around, the Knight might be for you.
The Knight starting class in Demon's Souls starts with decent all-round stats, armour, shield and a sword. Further, you start at Soul Level 4, giving you decent HP to take an extra hit.
(Picture: Bluepoint Games)
For our last suggestion, we went with the Temple Knight. Starting at Soul Level 4, the Temple Knight has some good armour (Meridian Set) which can be used for most of the game. The Temple Knight also gives you early access to a Miracle (Heal) as well as the talisman you need to cast it.
This Demon's Souls starting class also has a high Faith stat and comes with a Halberd as its starting weapon, which you can swing around to decimate your foes. The weapon, however, is quite slow, so be careful when you decide to swing your mighty Halberd.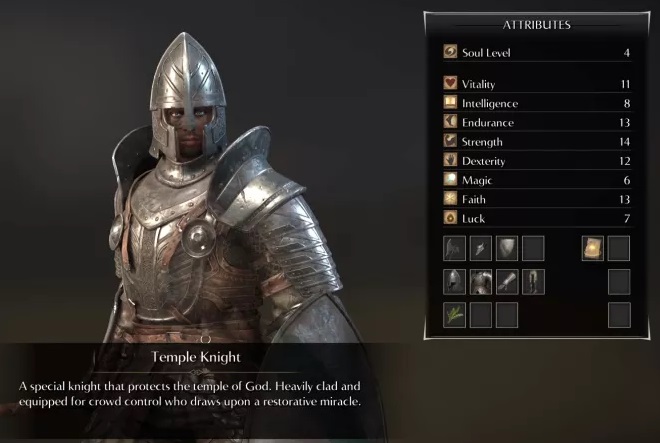 (Picture: Bluepoint Games)
While these are our suggested best starting classes in Demon's Souls on PS5, it all depends on your playstyle. Beginners can succeed with any class if they practice enough. It is also important to remember classes can be specced into any role, as these are simply starting classes.
Everything depends on which stats you decide to spend your hard-earned souls on, so your Knight can become a caster, or your Royalty can become a heavy weapon-wielding maniac.