Demon's Souls on PlayStation 5 (PS5), just like the original From Software classic on PS3, features multiplayer. However, the multiplayer in the Demon's Souls remake isn't your standard quick match affair. Instead, Demon's Souls offers Asynchronous multiplayer just like other Soulsborne titles, and includes co-op, PvP, and the ability to leave Blood Messages to other players. Here's what you need to know about the Demon's Souls PS5 multiplayer.
Demon's Souls PS5 multiplayer: How to co-op
Demon's Souls is a tough-as-nails title, and as such, you will probably need some help. New players might be wondering how they can play with others, as there's a lack of any match finding feature.
In Demon's Souls, you can co-op, but there are certain items attached to the feature. First off, you can choose to get summoned to another player's world in Soul Form by placing a Summoning Sign. These signs are placed by using a Blue Eye Stone.
You can get the Blue Eye Stone after defeating the first real boss, called the Phalanx Demon, then talking with the monumental in the Nexus (central hub) for the first time. Lastly, you need to then speak to the Maiden in Black to acquire some Blue Eye Stones. This will allow you to place Summoning Signs so others can summon you for help.
(Picture: Bluepoint Games)
You can also summon other players if you are in Body Form by activating other players' Summoning Signs. However, there are some caveats. You can summon up to two Blue Phantoms (other helpful players). If you defeat a boss, the other players will be returned to their homeworld, and get resurrected in Body Form. Lastly, Blue Phantoms can be sent back to their homeworld by using the White Eye Stone.
Demon's Souls PvP
If you choose to play online (highly recommended for the full experience) instead of offline, you will have to face other players. Demon's Souls' PvP aspect can be daunting, and players can invade your world whether you want them to or not. Therefore, if you get invaded, you need to defeat the enemy player or die risking your precious souls.
To invade other players' worlds, you will need to use a Black Eye Stone item. The Black Eye Stone item can be acquired by defeating a Black Phantom, which is either an invading player, on an NPC during certain parts of the game. This item can only be used in Soul Form.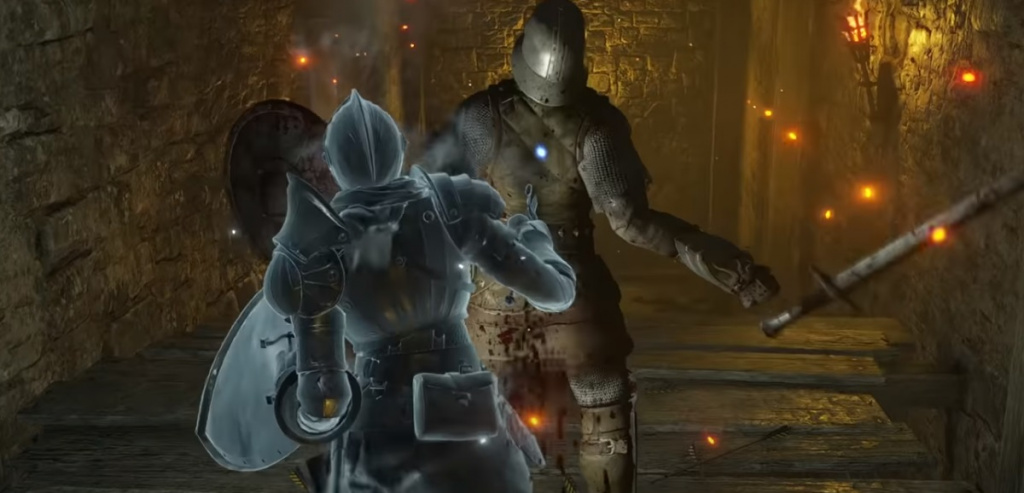 (Picture: Bluepoint Games)
If you successfully kill a player in his or her specific world, you will be revived in your own world in Body Form. In Black Phantom form, enemies will completely ignore you, which means you can stalk the player with ease. While this might sound like a daunting prospect, making you want to turn off Demon's Souls multiplayer complete, there are some benefits, such as messages from others.
Demon's Souls Blood Messages
Blood Messages can be left by other players in Demon's Souls, and it is one of the best aspects of the game. Players leave others Blood Messages, sometimes leading them astray, or at other times, helping others find secret items. Blood Messages can help players avoid ambushes from enemies as well, so it is a really nice asynchronous multiplayer feature to have.
Players can leave messages for others on the ground, which are visible to other players in their own worlds. Players can also recommend messages, upvoting them and thereby healing the player who left the message in the first place. The more recommendations messages have, the longer they will appear in other players' worlds.