Demon's Souls on PS5 is an incredibly difficult game, filled with unique bosses. After you've died (or possibly killed) the tutorial boss called Vanguard, you will arrive at the Nexus, and begin your journey through Boletaria. The first real Demon's Souls boss you will face is likely Phalanx. Here's how you can defeat Phalanx on PS5.
Demon's Souls: How to defeat Phalanx
The Phalanx demon gets its name from the rectangular mass military formation first seen in ancient Greece. When you get your first glimpse of the demon, you will know exactly why.
The Phalanx boss in Demon's Souls on PS5 is a massive, slimy blob with smaller blobs protecting it with their shields and spears. It can be daunting to see the first Demon's Souls boss for the first time but it is actually quite an easy kill.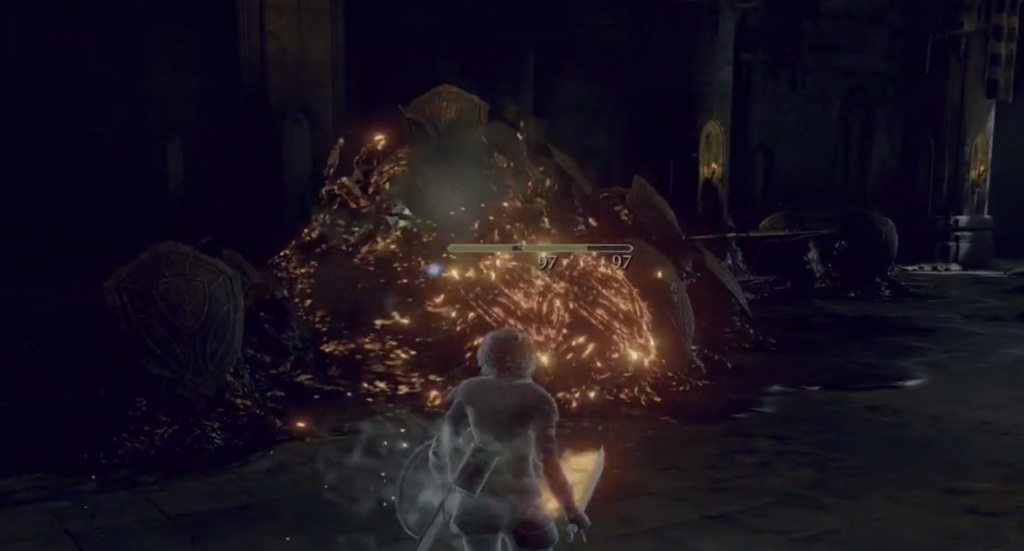 (Picture: Jordan Oloman YouTube)
To defeat the Phalanx boss, you should have gathered some Grass to heal yourself with, as well as Firebombs and Turpentine found throughout the Boletarian Palace location.
The Phalanx boss and his little slimy blobs have a weakness to fire, which is the key to defeating it. However, you shouldn't use your fire resources on the first try, as these will be very limited at the start of the game. We recommend you die first, simply watching for the Phalanx boss attack patterns and relatively slow movement speed.
After you've come to terms with its attacks and speed, you should give it a real attempt using the following tips below.
Use Turpentine on your weapon, and poke the boss, hitting its slimy blobs once, then quickly move away.
Use Firebombs on the boss, damaging and destroying several of the slimy blobs at a time. 
Run away around a pillar to heal up when necessary. 
Once the blobs with their shields and spikes are down, the Phalanx boss will be defenceless, so run around a pillar, apply more Turpentine and finish it off.
After you've killed the Phalanx demon, you will be able to use multiplayer co-op for the first time, and light a bonfire.
You will receive some Sharpening Stones, as well as 1270 Souls for your troubles. Lastly, if you defeat the Phalanx demon, you will get the Lead Demon's Soul item. This can be used later in the game to ascend a Short Spear+7 into the Scraping Spear via Blacksmith Ed. 
While you can consume the Lead Demon's Soul for a total of 1520 Souls, you definitely shouldn't, as upgrades can be much more important later on in the game.
YouTuber Jordan Oloman shows you how to kill the Phalanx demon in the video below if you prefer a visual guide.