Whenever you start playing From Software's classic remade for the PS5 by Bluepoint Games, you will probably die a whole lot. The first time you will die is in the tutorial area, likely thanks to Vanguard. This might leave new players wondering if it is possible to beat the tutorial boss, Vanguard in Demon's Souls on PS5.
Demon's Souls on PS5: Can you beat Vanguard
At the start of Demon's Souls on PS5, you will be tasked with completing "Journey to the Nexus". This quest serves as the tutorial area of Demon's Souls. Unlike most other games, you will die in the tutorial, getting your face smashed in by non-other than Vanguard.
This iconic Demon's Souls boss will kill you in one or two hits. He is incredibly difficult to beat in the tutorial area, to say the least. One can go as far as to say it isn't even worth trying to beat Vanguard as a new player. Dying to the boss will not cost you anything, as you complete the tutorial in the process. Simply put, you are supposed to lose against Vanguard.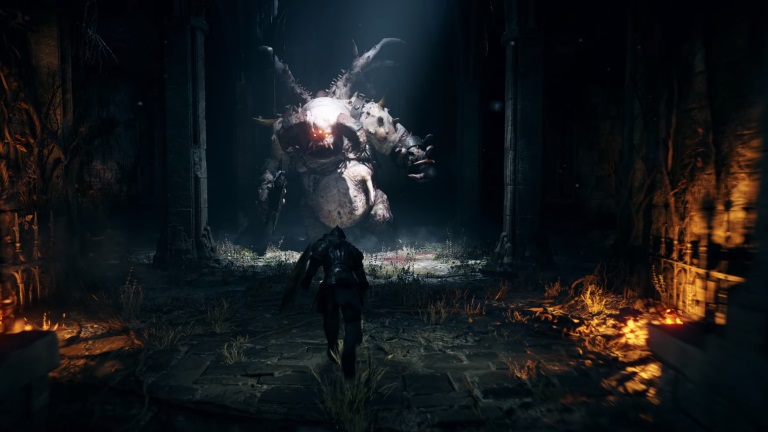 (Picture: Bluepoint Games)
However, it is possible to beat the Vanguard boss in Demon's Souls tutorial area. The only way to do so is to perfectly dodge every attack, and poke down over 3,000 HP with starting items.
His attacks are well-telegraphed, and if you hit him from behind (preferably with a club), watch for his devastating slam ability, and dodge attacks, there's a chance of beating him.
Secret Demon's Souls tutorial area
If you do manage to defeat Vanguard in the tutorial area, you will be transported to a "secret" tutorial area which houses a plethora of useful items, including Hardstone and Sharpstone shards. In the Demon's Souls remake, the secret tutorial area ending is even more brutal than before but we won't spoil it for you.
If you beat Vanguard, which is highly unlikely for a beginner, you will also receive the Grey Demon's Soul, which can be used to ascend a Battle Axe+6 into the Dozer Axe via Blacksmith Ed at the Nexus, which services as the central hub for Demon's Souls.
While there's a chance of beating Vanguard, and some nice rewards, we still recommend not hitting your head against this brick wall for too long. Instead, you can defeat Vanguard later in the game when the playing field is much more even.