Elden Ring is an overwhelmingly challenging action RPG in the veins of previous FromSoftware titles. There are many harrowing encounters to be had with creatures both small and big though all of them are equally decimating.
Dragons are one such creature that you will constantly stumble upon while exploring the open world. As expected, they are extremely hard to kill but doing so gives you a Dragon heart, which you can trade for powerful Dragon abilities. After Flying Dragon Agheel,  Glintstone Dragon Smarag is the first Dragon you will probably come across in Elden Ring, and here's how you can easily beat it. 
Glintstone Dragon Smarag in Elden Ring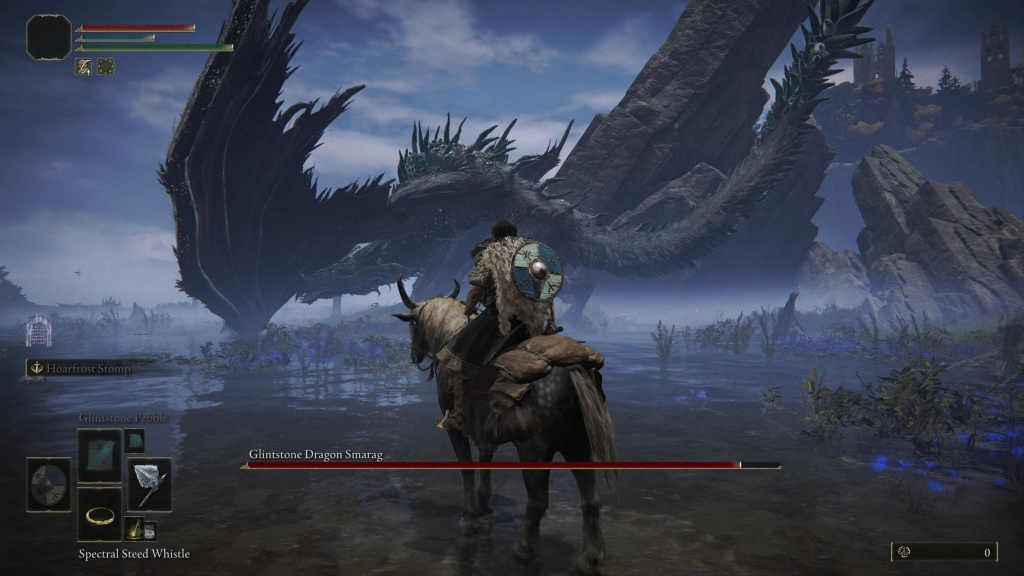 You will come across Glintstone Dragon Smarag next to Crystalline Woods point of grace while exploring the area surrounding the Academy of Raya Lucaria. While defeating the Glintstone Dragon Smarag is optional, you have to come face to face with it as it's guarding the Academy Glintstone Key you require to enter the Academy.
As you would expect from a gigantic menacing beast like a Dragon, Glintstone Dragon Smarag can and will kill you in one shot if you get caught in its tail attack or come under the radar of its breathing attacks.
We recommend bringing a staff to this battle as ranged attacks are not only safe but also crucial for stunning the Dragon. We used the Rock Sling spell to bring down the Glintstone Dragon Smarag, but almost any spell would work here. The key is to lock onto its head and continuously conjure magic attacks until it gets stunned. Remember, locking onto its head and not any other body parts is essential.
With the Rock Sling spell, it takes 3-4 tries to stun it. Once it's stun, you can either barge in to do a critical attack with your melee weapon or continue firing from afar. We recommend doing the latter.
The Glinstone Dragon Smarag can still bring you down with its devasting beaming attacks and if you want to avoid them altogether, we have a solution for you. 
Right where you first encounter the Glinstone Dragon Smarag, you will find a bunch of rock structures next to it. One of them is positioned in such a way that you can climb it and crouch to avoid every attack. Furthermore, if you're there, the Dragon won't fly anywhere and will continue to try and shoot you from a distance, thereby positioning itself to one position.
Use this opportunity to conjure magic attacks with your Staff while crouched up at the top of the rock in a way where its attack won't reach you. You can also summon a friend, and both of you can comfortably do ranged damage from the safety of that rock structure. Stunning it thrice should be sufficient to bring it down rather quickly and finish the fight. 
That concludes our guide on how to beat Glinstone Dragon Smarag easily in Elden Ring. Make sure to check our dedicated Elden Ring section for more news, guides, and features. 
Featured image courtesy of FromSoftware.