The Call of Duty League finals took place last weekend, with Atlanta FaZe becoming the 2021 Season champion after beating Toronto Ultra in the epic grand finals match.
A few days prior to the finals, on 19th August, FaZe Clan's Twitter account posted a tweet where they promised that everyone who liked the said tweet would get a chance to become a FaZe clan member for a day if Atlanta FaZe becomes the Call of Duty League champion.
If @ATLFaZe wins Champs we'll let everyone who liked this tweet join FaZe

— FaZe FaZe Clan (@FaZeClan) August 19, 2021
Atlanta FaZe managed to accomplish that monumental achievement, winning a historical trophy while overthrowing the 2020 champions, Dallas Empire, in the process.
The historic weekend is now behind us, and FaZe Clan is honouring their promise with a "talent agreement" contract posted on their socials.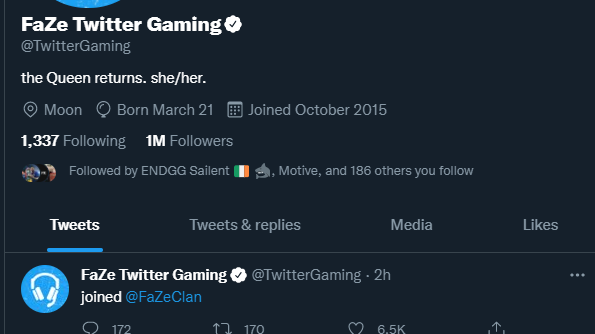 This clearly carefully designed viral campaign has proven to be very successful, as it seems that everyone is "signing" this contract with FaZe, from popular influencers and other esports pros to numerous "regular" fans across the internet. Even the official Twitter Gaming account has changed its handle to FaZe Twitter Gaming.
G2's ocelote roasts FaZe Clan's "one-day contract" campaign
Carlos "ocelote" Rodríguez, G2 Esports' founder and CEO, has "joined" FaZe as well, but he couldn't resist joking with the org, teasing them over the recent scandal with the "SaveTheKids" scam allegations.
"Signed," Carlos wrote. "Let me know in the comments what should be my first scam."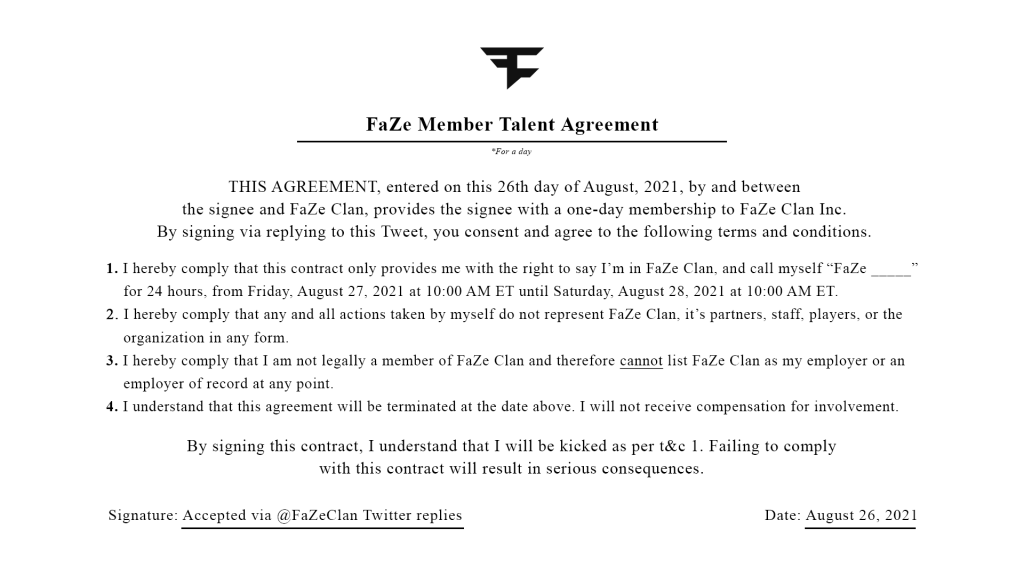 While the joke was definitely hitting some vulnerable spots and opening open fresh wounds, it was received fairly well amongst some (real) FaZe members, who have decided to play along with the joke.
"Nice try bro but we here [at] FaZe Clan know you signed 6 hours early, this is a fake tweet," FaZe Arab wrote. "You're not allowed in on our scams."
Amongst suggestions for ocelote's first scam, many fans were not so merciful towards FaZe, making sure to allude to a number of past scandals which involved FaZe Clan members.
"Merge G2 with FaZe then scam kids by telling them you'll give them 100000000000 vbucks," wrote Twitter user Strops, while the one that goes by the name Daniel suggested to "start your business from a rigged gambling site for 14-year-olds."
Some disgruntled G2 Esports fans used the opportunity to remind Carlos of some competitive failures of G2 Esports teams.
"I thought having Rekkles and nearly Perkz not make worlds was your scam?" wrote James Drake, with Twitter user Yoger adding: "Scam your fans of wins- oh wait you did that with your LOL and R6 team."
Whether the tweet was ill-intentioned and or just banter between ocelote and FaZe, we can not say for certain, but ocelote did have some negative statements on FaZe in the past, calling them "f***ing clowns running their business like a family bakery store", and saying that "faze clan is good just not as an org."
Don't forget to check out our dedicated Twitch section for news, streamer antics, drama, and more.