Download Manual
FIFA 21 is the latest iteration of the longest-running and most successful football simulation game. It comes in three editions, FIFA 21 Standard, Champions, and Ulitmate Editions which all have their perks and benefits. The Standard Edition is more or less the base game, and it officially releases worldwide on 9th October. The Champions Edition and Ultimate Edition release three days earlier on 6th October.
If you're raring to go and don't want to wait, you can play the game right now by subscribing to EA Play, the company's new and improved subscription-based service.
(Picture: EA Sports)
However, you'll only be able to play for up to ten hours, and then you'll need to wait until the release date like everyone else.
Either way, if you're purchasing the game digitally, you'll need to do it online. This can be done on the official website, which will provide you with links to the Microsoft Store, the PSN Store, and Origin. From there, you'll be able to make the transaction and receive instructions on how to download it on your platform of choice.
FIFA 21 also comes with dual entitlement, which means you'll receive an upgrade to either the PS5 or Xbox Series S and X version at no additional cost.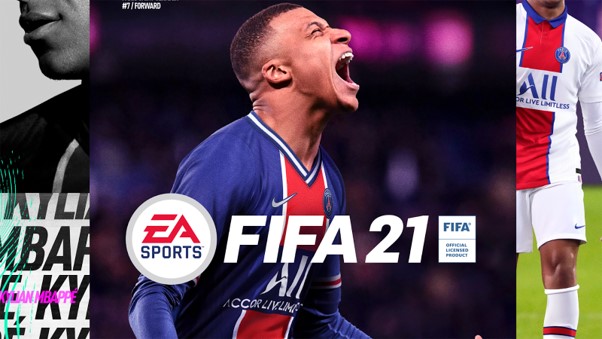 The Beginners Guide: A Short Introduction
The prospect of being a new player can be daunting at first. It's the same with anything in life. However, as a newcomer to the series, you'll be able to enjoy FIFA 21 with the same sense of wonder that veteran players felt when they played their first FIFA title many years ago.
Still, all adventures have to start somewhere, and the first thing you'll need to do as a new player is to download and install the game. After you've done that, all that's left to do is launch it.
If you're playing on PS4 or Xbox One, you'll be able to launch FIFA 21 on the main screen. However, if you're playing on PC, you'll need to launch it through either Origin or Steam depending on which of the two you bought it on.
Once you've launched the game, you'll need to select a language. If you haven't picked one after ten seconds, it will automatically select the default language and move on to the introductory match. You can skip the game by quitting it.
Still, it's recommended that you finish it because it will gauge your skill level depending on how you perform, which will be factored into the difficulty setting it recommends shortly after. But more importantly, it's also a great way to familiarise yourself with the controls and skill moves.
(The first game is a UCL Final between PSG and Liverpool. Picture: EA Sports)
Once you've finished the introductory match, if you're connected to the internet, you'll be prompted to sign in or sign up for an EA Account. This process also involves receiving a verification email. Next, you'll need to read some terms and conditions, choose a difficulty setting and a control scheme (the default one is recommended), and select your favourite football club.
A welcome screen will greet you to the game and provide you with some bonuses and rewards. From there, you'll move on to the title screen, which lets you navigate through all the game modes and settings. The home menu features your last played mode, a promotions tab which showcases promotional items and events, and another small promotional tab which shows additional promotions and settings.
The play menu is where you can find all the available game modes including Career Mode, FIFA Ultimate Team, Kick-Off, Practice Arena, Tournaments, UEFA Champions League, Skill Games, and Volta Mode.
The online menu hosts all the online modes, including Online Co-op Seasons, Online Friendlies, Online Seasons, and Pro Clubs. If you're new to the game, it's better to take on the A. I first before venturing online, as experienced players can be much harder to play against.
Last but not least, the customise menu will let you find and change all the options and settings including Camera Settings, Controls and Buttons, Customisation and Soundtracks and Playlists, EASFC Catalogue, Edit Teams, General Settings, Online Game Settings, Player Creation, Team Sheets, and Your Profile.
After familiarising yourself with the menu, you're ready to play the game. From this point onward, the choice is yours, but it's probably a good idea to get stuck into the Career Mode and get the hang of the basics.