Fans of Legends of Runeterra are hard at work trying to get all the rewards from the Spirit Blossom event that arrived with the latest 1.6 patch which added a new Lab, special rewards, an event pass, and a new round of balance changes to the card game.
With the event being limited time, ending on the 19th August, we have all the information you need to get the maximum amount of petals and complete all the quests before time runs out.
Legends of Runeterra Spirit Blossom Quests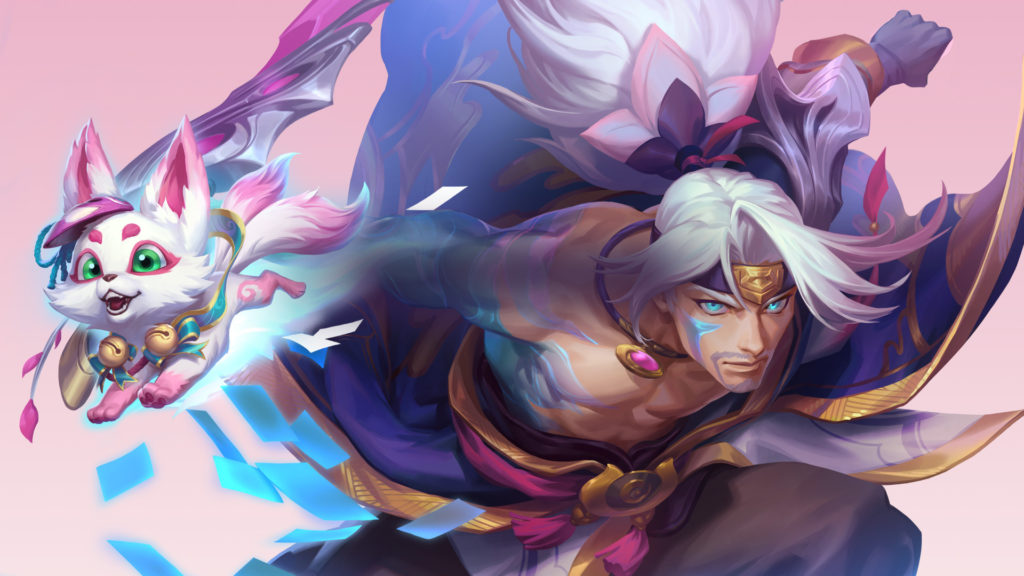 (Credit: Riot Games)
Thanks to Reddit user Moon Neophyte, we now have official information regarding every single regular quest in the event. These quests have to be completed in order, tallying a total of 58 petals.
(1/10) Spirit of Temptation (4 petals): Win 4 games in Labs OR Win 4 games in Gauntlets or Ranked.
(2/10) Spirit of Loss (4 petals): Toss 40 Cards OR Kill 5 enemy Champions.
(3/10) Spirit of Despair (4 petals): Win 1 game at 5 or less health OR Attack with at least 4 Units in the same attack 10 times.
(4/10) Spirit of Hate (4 petals): Kill 20 enemy units in combat OR Target the weakest enemy 10 times.
(5/10) Spirit of Obsession (7 petals): Cast the same card 2+ times (0/5) OR Target the same ally 2+ times (0/10).
(6/10) Spirit of Death (7 petals): See 40 Last Breath triggers OR Play Fleeting cards or summon Ephemeral Units 40 times.
(7/10) Spirit of Nature (7 petals): Plant 250 Mushrooms OR Summon 40 Elnuks, Poros, or Spiders.
(8/10) Spirit of Salvation (7 petals): Support your Units 15 times OR Allied Units survive damage 30 times.
(9/10) Spirit of Reflection (7 petals): Give Units Barrier 30 times OR Play Units with equal Attack and Health 30 times.
(10/10) Spirit of Heroism (7 petals): Level Up your Champions 10 times OR Attack with Units that cost 3 or less 40 times.
Legends of Runeterra Spirit Blossom Epic Quests
On top of the regular tasks, the Spirit Blossom even will bring up to four Epic quests that will grant 15 petals and an exclusive icon each. At the moment, only two are available, with two more coming when patch 1.7 goes live.
Bandlescout's Code: Deal 100 non-combat damage AND Strike your opponent's Nexus 50 times.

The Collector of Souls: Kill 2+ enemy Units in a turn 20 times AND Challenge 100 Units.
How to earn Petals in Legends of Runeterra?
There's more than one way to get yourself petals in LoR's Spirit Blossom event. Right out of the gate, every day your first win on any mode (Ranked, AI, Labs, Expedition) will grant you four petals, so be sure to consistently login. Every win afterward on that same day will still net you one petal.
To get all the rewards by the time the event ends, players will need to grind up to 152 petals on PvP if they manage to complete all regular and Epic quests (118).
Legends of Runeterra Spirit Blossom rewards
If you're unsure whether the investment of time and money (the event pass is worth 975 coins or an average of $10), here are all the rewards waiting for players, including guardians, card backs, wildcards, emotes, and shards.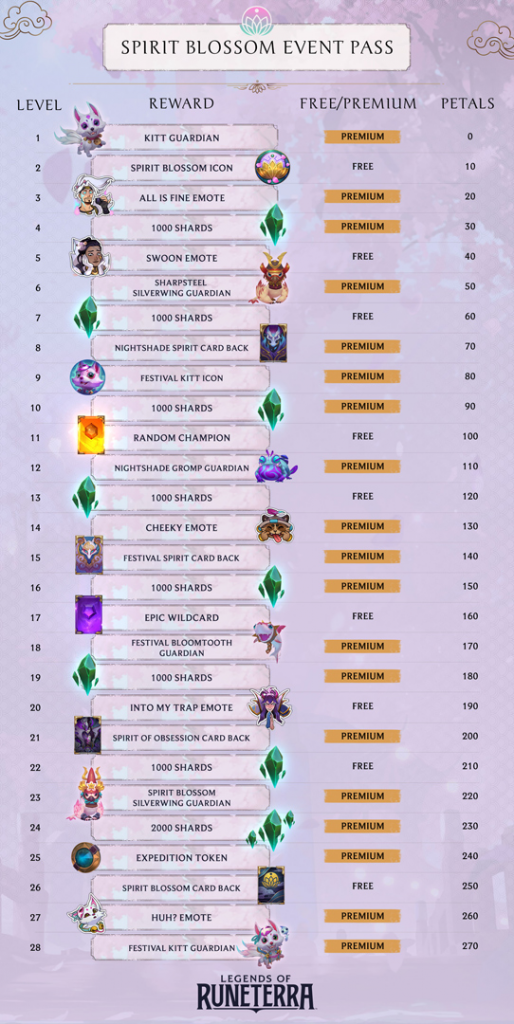 For more Riot goodness, check out the latest on Project L, their very own fighting game that's set to take the FGC by storm