Ignea Tokens or the Symbol of Ignea are special rewards players receive after completing Adventurer's Tomes in Lost Ark. They are among the most sought after endgame content, allowing players to claim exclusive rewards vital to their character's progression in the game.
The relic's in-game description reads, "A token awarded to the most diligent adventures who completed their Adventurer's Times. It has the image of the legendary adventure, Ignea, engraved on it." Here's everything you need to know about Ignea Tokens, how to get all Ignea Tokens and their rewards.
How to get Ignea Tokens in Lost Ark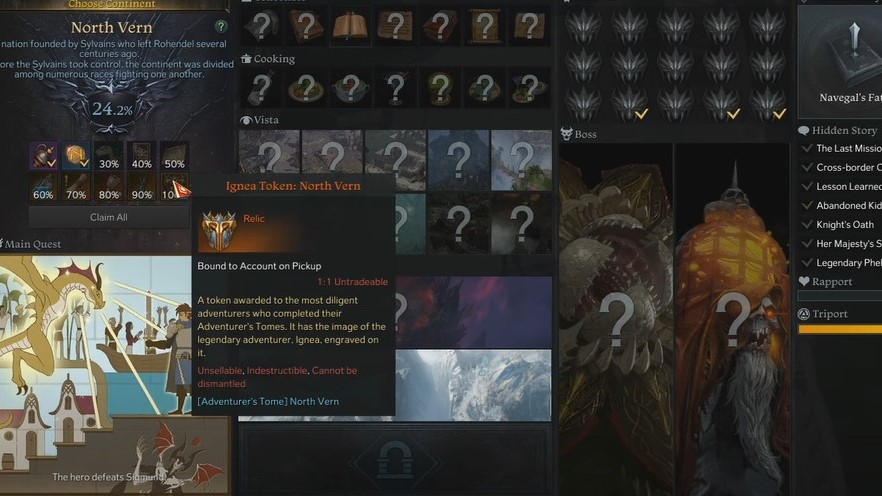 It should be no surprise that acquiring Ignea Tokens is a gruelling and challenging process. It requires players to complete all main quests, side quests, monsters, dungeons (on both normal and hard modes), bosses and whatever else is indicated on the continent's Adventurer Tome.
All Ignea Tokens in Lost Ark
There are ten Symbols of Ignea that players must collect, each indicated below.
Rethramis
Yudia
Luteran
Eastern Luteran
Tortoyk
Anich
Artheline
Bern-Nord
Punika
Silensierra
Rohendel
Yorn
Feiton
Players must complete 100% of each Adventurer Log from the continents listed above to receive the respective Ignea Tokens.
All Ignea Token Rewards in Lost Ark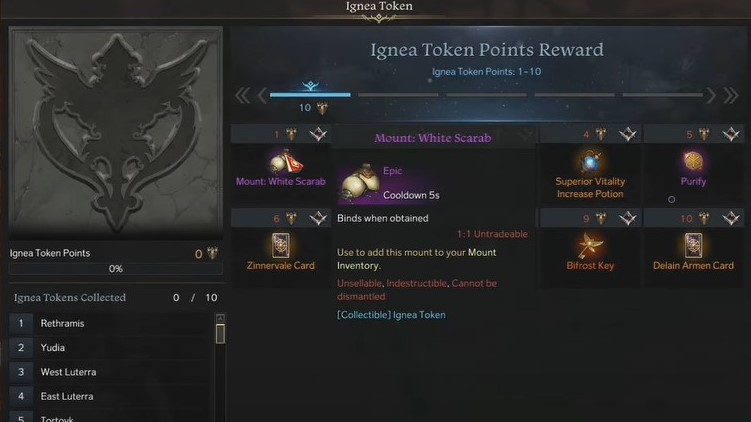 If this sounds like a lot of work for you, that's because it is. Once a player has unlocked the reward, they can obtain a selection of exclusive bonuses from the Ignea Token Exchange, listed below.
Mount: White Skarab


Use to add this Mount to your Mount Inventory.
Rarity: Epic

Mokoko's Skillet

This pan may look harmless, but it can be a formidable weapon in the right hands.
Type: Relic

Luminous Energy

A colourful aura. Summons an iridescent light around you when used
Rarity: Legendary

Superior Vitality Increase Potion 

Automatically applies 50 Vitality
Rarity: Legendary

Purify

Skill Rune Effect: 70% chance to remove a debuff when a skill is used.
Rarity: Epic

Zinnervale Card

Sidereal Shandi's student: Cheerful and flippant, and travelling the continent with his master with hopes to one day become his heir.
Rarity: Legendary

Superior Stat Increase Potion

Automatically applies 50 Strength, Dexterity and Intelligence.
Rarity: Legendary

Greater Skill Point Potion

Automatically applies 6 Life Skill Points.
Type: Relic

Bifrost Key

A key imbued with the mysterious power of the Lazeniths. Allows the unlocking of the Bifrost Stat and can be used on the Bifrost management screen.
Type: Relic

Delain Armen Card

Armen has revealed his hidden power as a Delain. He uses his inner demonic power instead of his holy power.
Rarity: Legendary
Ignea Tokens prove that you're a real adventurer. Notably, these rewards are only purchasable in this order, and players will have to complete every Adventurer's Tome across all available continents to unlock each of them. Good luck, you'll need it.
Featured image courtesy of Smilegate and Amazon Games.