Lush reed Island is one of the most exciting Lost Ark Adventure Islands you can visit. It offers thrilling battles in a unique quest and even more interesting ways to complete it for skilled players and those seeking a challenge and of course provides bountiful treasures to obtain.
In today's guide, we will show you exactly how to get to Lush Reed Island, overcome its quest, and reap the rewards awaiting all Lost Ark players in Arkesia!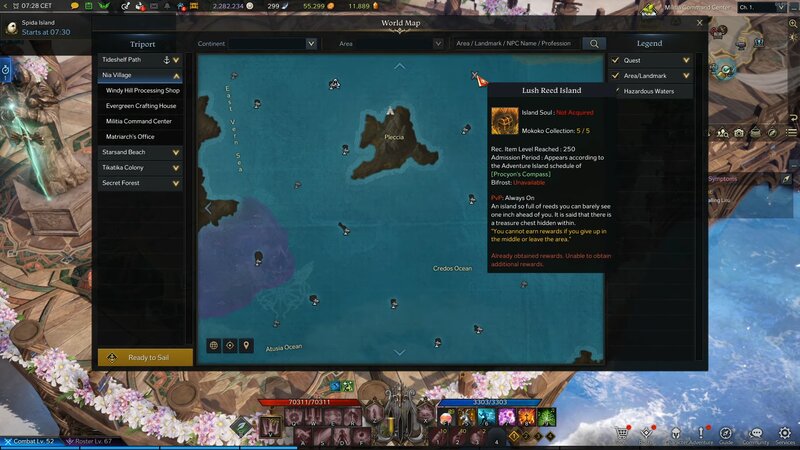 Lush Reed Island is just north of Anikka and Pleccia. Players can only reach this island by using a ship, and because it's an adventure island, travel there at certain times. 
Be sure to check your Procyon's compass to check when the island is active and accessible. You can also set an in-game reminder to let you know when it is active and ready to plunder. 
PvP Quest and Rewards - Lush Reed Island
The island's main quest is a cooperative, free for all, player versus player (PvP) battle royale that starts 3 minutes after the first player arrives. The goal is for a total of 1000 points so each player's points are added towards this goal.
The points allotted to each player are 10 for each kill and 5 for each assist and you will only receive a reward if you acquire 30 points before reaching the 1000 point total. 
Each chest will reward players with silver and a chance to receive the Lush Reed Island Token. First place (players who got the most kills above 30) will reward the player with x20,000 silver, second with x15,000, and third with x10,000. Participation will reward players with x2,000 silver, and all chests have a chance to drop the Island Token.
Since the chance to drop the Lush Reed Island Token is random, if it doesn't drop, players will need to re-approach the island again until they get lucky and snag the rare item. 
Since this is a PvP quest, we advise players to approach this island when they are at a suitable level. We recommend having at least above-average gear and stats compared to the other servers. 
Another trick to give you the edge is hiding in the tall reeds on the island. Doing so hides you from players who are not in the reeds with you and gives you a chance to pick off stray opponents. 
If you are still struggling with the quest, you can also take an assisted approach since assists give you points. But if it's too bleak, back up, get better gear, and level up before re-approaching. 
Mokoko Seeds on Lush Reed Island
For the Mokoko hunters out there, you'll be glad to know this island has 5 Mokoko seeds for you to find. They are relatively easy to find, and two will be near each other. 
The first two are on the far East of the map bundled together and the other three seeds are along the eastern edges of the map, as depicted below. 
And that's everything you need to know about the Excitement that awaits you on Lush Reed Island. Be prepared for battle, and you will reap the rewards. 
If this article was helpful to you, and you want to see more guides and information, please see our dedicated Lost Ark section. 
Featured image courtesy of Smilegate.