Oblivion Island (otherwise referred to as Oblivion Isle in-game) is one of the many Adventure Islands located on the open waters in Arkesia. According to its in-game description, Oblivion Island is "a heavenly island with beautiful scenery" and a powerful presence situated somewhere on the island.
By checking its active status through Procyon's Compass, you can complete its Adventure Island event and defeat the island boss to acquire an Island Token and several other rewards. This guide explains where to find Oblivion Island, how to complete the cooperative quest and get rewards in Lost Ark.
Where to find Oblivion Island in Lost Ark?
Oblivion Island is a small archipelago located off the coast of the Arthetine continent in the Northern Arthetine Sea and south of the Tempest Sea. It's classified as an Adventure Island, a daily endgame activity that only spawns for a limited time and features a co-op quest to complete.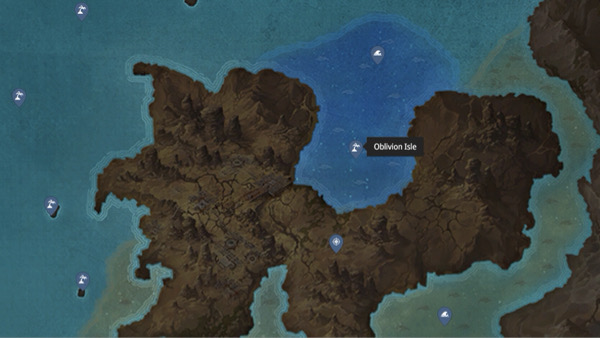 To check its availability, you can navigate to the Procyon's Compass, the compass icon located beneath the mini-map on the top right corner of the screen. Additionally, clicking on the "Appearance Notif Info" sets an in-game alarm that alerts you before Oblivion Island is about to spawn.
All Oblivion Island quests in Lost Ark
As Oblivion Island is an Adventure Island, a co-op quest must be completed, which starts after docking your ship. If you wish to complete the quests available on the island, you'll need to meet specific requirements, including having an item level requirement of 250 and being ranked Level 50 and higher.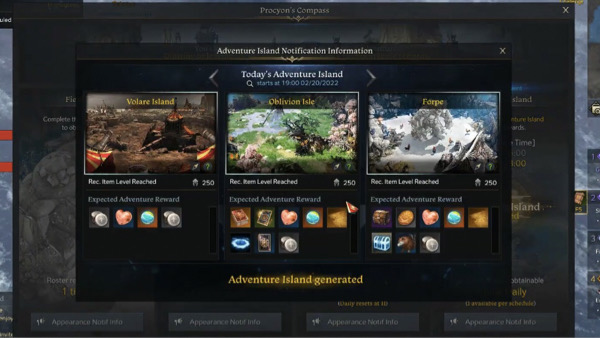 Once you have met these recommended requirements, the co-op quest, "The Deathly Island", will begin, which requires all players on the island to defeat the boss, Sea God Aporas. Like other Adventure Island bosses, its spawn time is randomised, so you check Procyon's Compass to see when it will spawn.
How to defeat the Island Boss on Oblivion Island in Lost Ark?
Defeating Sea God Aporas is not only part of the co-op quest, "The Deathly Island", but the battle is also an RNG drop, meaning players won't have a chance of receiving all the rewards on their first try. This boss battle is also unique as Aporas remain invincible for a limited time due to the appearance of three Aporas trees.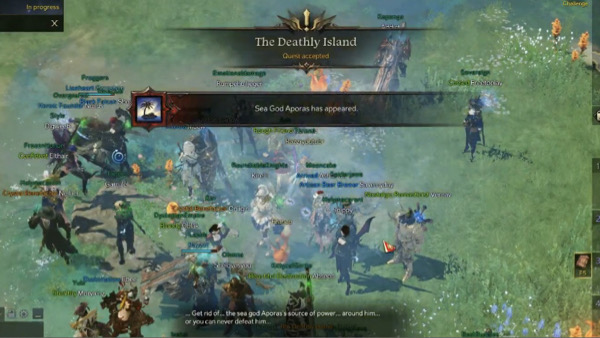 To inflict damage to the Island boss, you must destroy the trees to get rid of Aporas' invincibility buff. After Aporas loses its invincibility buff, the battle is pretty straightforward as its fight mechanics are similar to other mid-tier World Bosses in Lost Ark.
All Oblivion Island quest rewards in Lost Ark
Sea God Aporas is an RNG drop, as one of the rewards it can drop is the Oblivion Island Token if you don't receive it on your first attempt. You will have to return to Oblivion Island to defeat Aporas as many times as possible until you've received the Island Token as a reward.
Once you have completed the "The Deathly Island" co-op quest by defeating the Sea god Aporas, these are the rewards you are likely to receive:
Legendary – Uncommon Card Pack
Soul Leaf
Providence Stone
Secret Map
Aporas Card
Silver
Adventure: Eye of the Dead
Oblivion Island Token
The Aporas Card is a rare card item drop, part of the Field Boss II card set in Lost Ark. Notably, cards are an essential part of the game progression system and can aid you in various situations due to their buffs.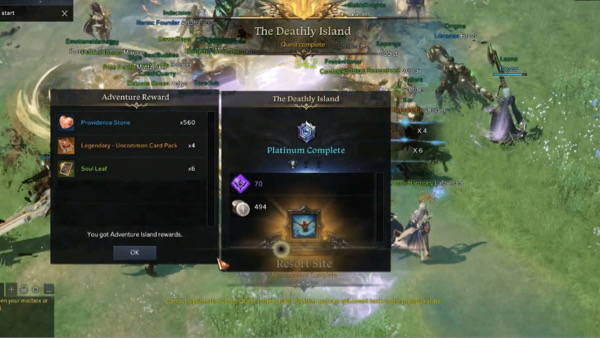 You'll receive a 4% HP increase when two cards from this set are equipped, and you won't need to awaken them to receive the primary buff. Additionally, the other significant reward earned after defeating Aporas is the Oblivion Island Token, which you can turn in when visiting Opher at The Lonely Island.
This will allow you to exchange them for various rewards, including emotes, mounts, potions, skins and more. Unfortunately, you can only turn in five Island Tokens, so check your inventory before setting sail for The Lonely Island.
We like to thank the YouTube channel RaZzi for the complete tutorial on locating Oblivion Island and defeating the Sea God Aporas in Lost Ark.
Featured image courtesy of Smilegate / Amazon Games.