Snowpang Island may not feature the typical fauna and flora found in other Adventure Islands. Instead, it brings a festive but mystical environment to Lost Ark, comprising freezing weather conditions, blankets of snow and plenty of Snowmen.
The island also boasts a unique Island Event in the form of a PvP quest that will ignite the holiday spirit amongst the participating players. This guide details how to find this snow-covered island, complete the PvP quest, and acquire the Island Token in Lost Ark.
Where to find Snowpang Island in Lost Ark?
Snowpang Island is an Adventure Island located south of Shushire and northwest of the Siren Seas. This snow-covered island features an Island Event that players can participate in once arriving on the island's shores.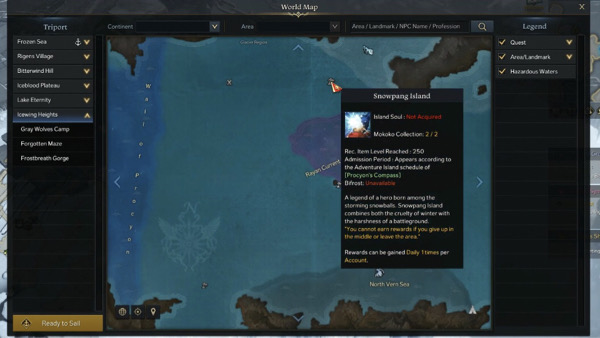 With the World Map, you can check the island's availability by navigating to Procyon's Compass, which is found below the mini-map, by selecting the compass icon. Additionally, you can click the clock tab top left of the screen to check the times of the available Adventure Islands for that day.
Using Procyon's Compass, select the Adventure Islands tab to bring up the islands available on that day and check their spawning times. Furthermore, you can be alerted to when the island is about to spawn by opting to receive in-game notifications.
All Snowpang Island Quests in Lost Ark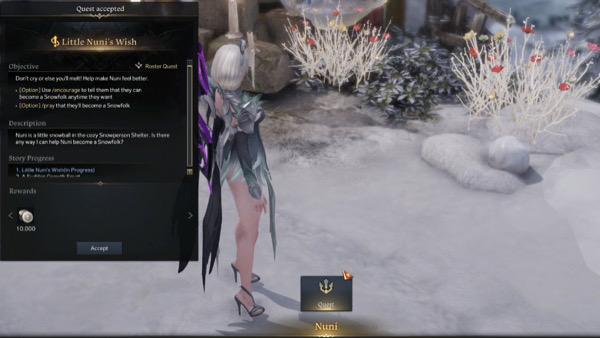 Similarly to most Adventure Islands, Snowpang Island has an Island Event; however, instead of a co-op quest, players will go head-to-head in a fun, festive quest. Once you have arrived on the island, speak with the quest giver NPC, Nuni, to acquire the PvP quest, Little Nuni's Wish, and trigger the island's questline.
To complete Little Nuni's Wish, you need to make Nuni feel better that they'll become a Snowfolk about themselves through encouragement or praying. First, speak to Mary, a snowman who will inform you that they'll require a Merry Snowflake for Nuni to become a Snowfolk.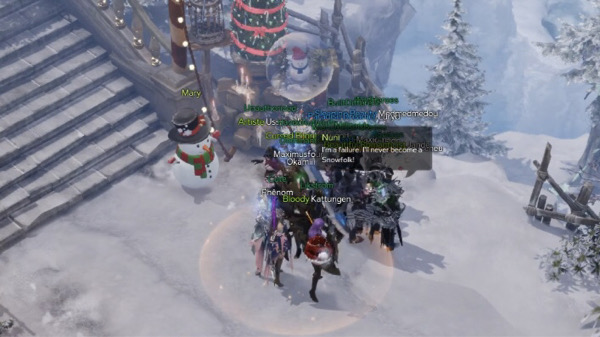 This will trigger a PvP quest where players, grouped into teams, participate in a snowball fight. Upon completing the PvP quest, you can obtain a merry Snowflake for Nuni in the hopes of them becoming a Snowfolk.
There are snowballs located throughout the battle arena for you to use in this epic snowball fight. Nevertheless, the island's frosty environment is another factor to keep in mind, as blizzards and cold winds will hamper your team's progress.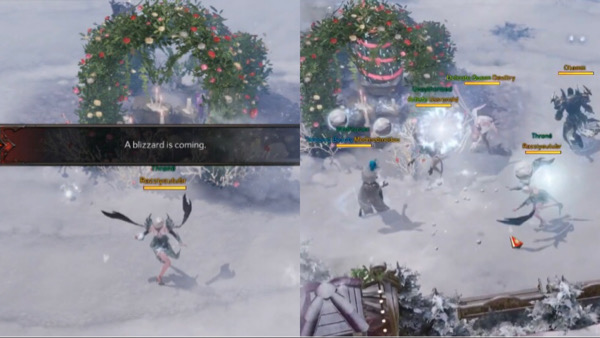 To avoid taking damage from the climate and opposing teams' threats, you can hide out at various safe spots that will appear on the map. Only the two best-placed teams will receive rewards after completing the PvP quest, but you'll need to return to the island to trigger the remaining quests.
The other quests you can complete while on Snowpang Island will reward you with amazing items, including currencies, stats and more.
Sister, Have You Grown Up?
Sister, Are You a Snowman?
Help, Ice Spirit!
With the Power of Snowflakes
All Snowpang Island quest rewards in Lost Ark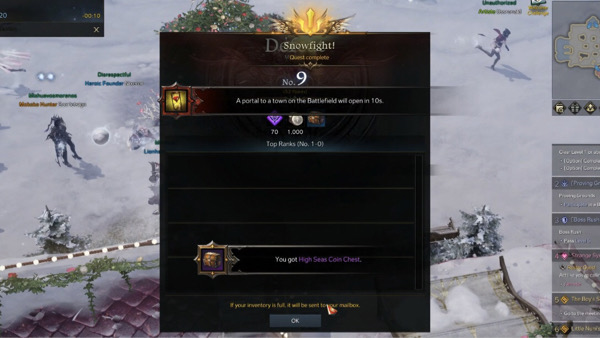 There are various rewards to collect in completing the Island Event and its subsequent questline, including the Island Token. This item is an RNG drop found inside the Fun Snowfight Commemorative Pouch; you can replay the PvP quest to obtain the item if you didn't get it on the previous attempt.
Additionally, you can receive Silver, dependent on your placement in the PvP quest, of which 6,000 Silver is awarded for first place and 3,000 Silver for second place. Finishing the questline will reward you with 10,000 Silver.
Other rewards you can earn through completing the remaining island activities include the following:
15,000 Silver
500 Gold
Offense Battle Item Random Chest
+1 Kindness
Red / Pink / Blue Snowperson Muffler
We like to thank the YouTube channel RaZzi for the complete walkthrough on locating Snowpang Island and completing the PvP quest in Lost Ark. Please consider subscribing to their channel for more epic content.
Featured image courtesy of Smilegate / Amazon Games.