The Team of the Week program has become a weekly
Madden 22
routine to improve our lineup as well as a great companion to the Wildcard Wednesday initiative.
Every Wednesday we have enjoyed a new batch of items between four rotating programs. We start with Flashbacks, then Heavyweights, then Veterans and we close the cycle with Rising Stars.
With today's release of the third instalment of Rising Stars, we have completed another round of the series which means that if you have followed our recommendations every week you will get an amazing reward.
Rising Stars III in Madden 22 
Although we only got five brand new players, EA Sports did not spare on quality as we got a wide variety of great playmakers that will definitely improve our team bringing us a considerable quality jump.
Those players included in this third release are listed as follow:
92 OVR ROLB Odafe Oweh - Baltimore Ravens
91 OVR QB Joe Burrow - Cincinnati Bengals
91 OVR WR Kadarius Toney - New York Giants
91 OVR SS Jordan Fuller - Los Angeles Rams
91 OVR CB Greedy Williams - Cleveland Browns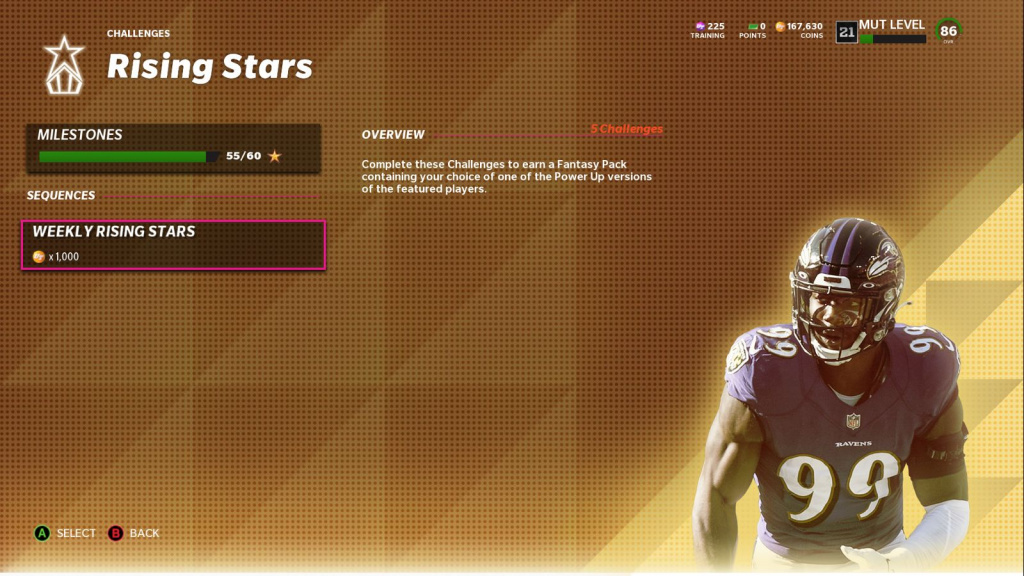 As every week, we strongly recommend you to complete the solo challenges of the event as this is the moment when you will get a fantasy pack where you can pick any player from the last round of Wildcard Wednesday.
If you were to ask us who to pick, we would probably recommend you to snatch QB Joe Burrow (Rising Stars) as he is as good of an item as TOTW Josh Allen and he is going for over 200,000 MUT coins in the Auction House.
Another option would be grabbing WR Cole Beasley (Veterans) as he has Top 3 speed in Madden Ultimate Team combined with top-notch route running.
Particularly speaking of the Rising Stars program, you should find affordable options now in the auction market as the most expensive item right now is ROLB Oweh going for 175,000 MUT coins.
Make sure to give a look at our dedicated section as we will bring you everything you need to know about every Madden release, news, MUT tips and more.
Feature image courtesy of EA Sports.