Rogue became two-time North American RLCS X regional champions after defeating Kansas City Pioneers 4-1 in the Verizon 5G Ultra Cup Grand Finals.
Jason "Firstkiller" Corral was chosen by Twitch chat as the Verizon 5G Ultra Cup MVP and will be provided a Samsung Fold courtesy of Verizon as his reward.
With a shot by Leonardo "Turinturo" Wilson and the assists by Firstkiller, Rogue took a 4-1 lead in Game 5 to seal the Regional Championship victory.
Rogue have earned themselves ,000 and 451 points whereas second place Kansas City Pioneers walk away with ,000 and 350 points.
This is the second regional win for Rogue (after winning RLCS X Games) and the second runner-up finish for KCP (losing to Envy in Fall Regional #3) since the start of the revamped RLCS X.
Rogue vs KC Pioneers: The path to the final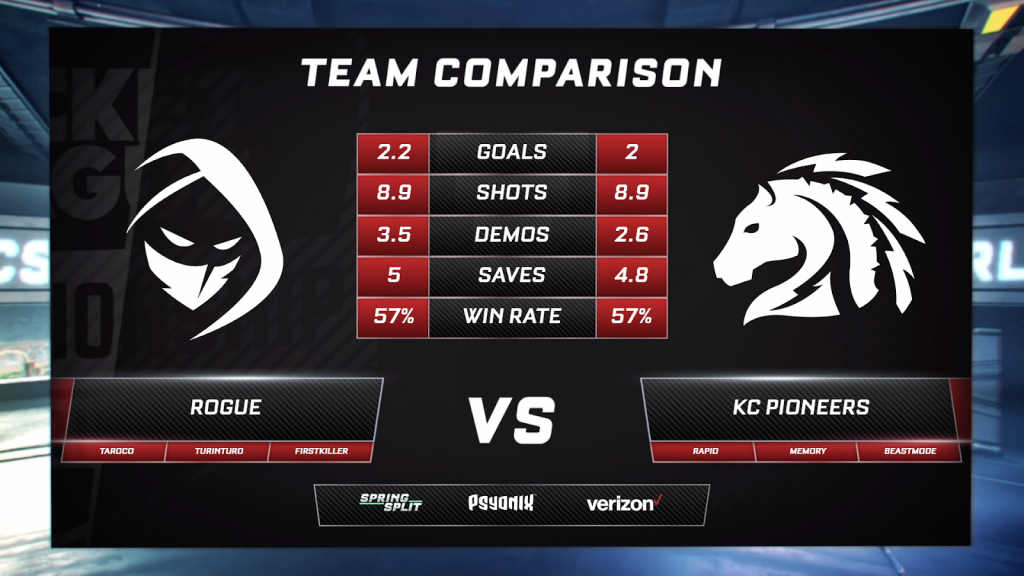 (Picture: Psyonix)
Both the #1 and #2 seeds in North America, NRG and Team Envy respectively, were eliminated early on Championship Sunday, giving the rest of the region leeway to take the steering wheel of the tournament.
Rogue entered the grand finals as favourites having had two consecutive tournaments with impressive showings while KC Pioneers walked in as the Spring Split dark horses, pun intended.
As Michael "Memory" Moss assisted captain Jalen "rapid" Parker for the equalizer in Game 1, Rogue still took a quick 3-0 series lead, immediately shattering KCP's hope of a regional championship.
While Pioneers did manage to take one game away from the back-to-back champions after a tactical timeout, it still wasn't enough to stop the growing monster that Rogue is becoming, losing the series in Game 5.
Rogue outscored Kansas City Pioneers 11-3 to win themselves their second regional championship, the Verizon 5G Ultra Cup.
Spring Split format shenanigans
The paths to Championship Sunday's Grand Finals were eerily similar between the two finalists.
While both Rogue and Kansas City Pioneers qualified to the Knockout Gauntlet as their round-robin #2 seeds, each of them had to go through their own struggles in either the upper or lower bracket.
Rogue qualified to Championship Sunday sweeping reigning Major Champions NRG, sending them to the lower bracket where they were eventually eliminated.
On the other hand, KCP was knocked down to the lower bracket by G2 Esports, breaking the North American RLCS OT record in the process.
They later had to go through Spacestation Gaming, sweeping them to make their way to the last phase of the Spring Split tournament.
Rogue struggled through the last day's bracket eliminating the newest RLEsports org, FaZe Clan and G2 Esports in the process, whereas KCP had an easier road to the grand finals topping Team Envy and sweeping Susquehanna Soniqs.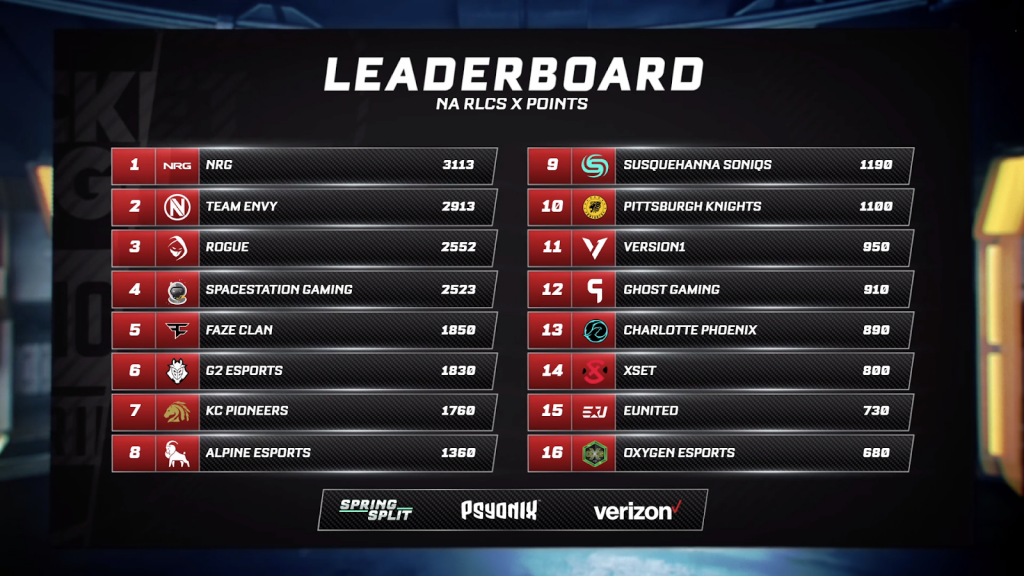 (Picture: Psyonix)
With the result, Rogue jumps to third place in North America after Spacestation Gaming's poor finish while KC Pioneers inch closer to World Championship qualification only 70 RLCS points behind sixth place, G2 Esports.
You can relive this Spring Regional Grand Finals VOD available on Rocket League Esports' Twitch and YouTube channels.