Our favourite car soccer video game is going for a ride in the wild, wild west for their
fourth free-to-play season
and we are as ready as one can be, cowboy.
With the introduction of scheduled tournaments and the expansion from 3v3 to 2v2 and Extra Modes slots throughout the day, people not only play for a "Winner" player title or bragging rights, but for the rewards that follow a high tournament placement.
With that said, every campaign brings in a new series of cosmetics to Rocket League and every season the players have questions. Thankfully, here at GINX we only have answers.
From rarities, how they work and how to trade up, here's everything you need to know about Rocket League's Season 4 Tournament Rewards.
How Tournament Credits and Rewards work in Rocket League
After each tournament is played, the game will determine the amount of Tournament Tokens you will receive depending on the tournament rank, your placement and if your performance is top three worthy from your week.
These tokens can later be redeemed for crates, called Tournament Cups, with different drop ratios, rarities and costs.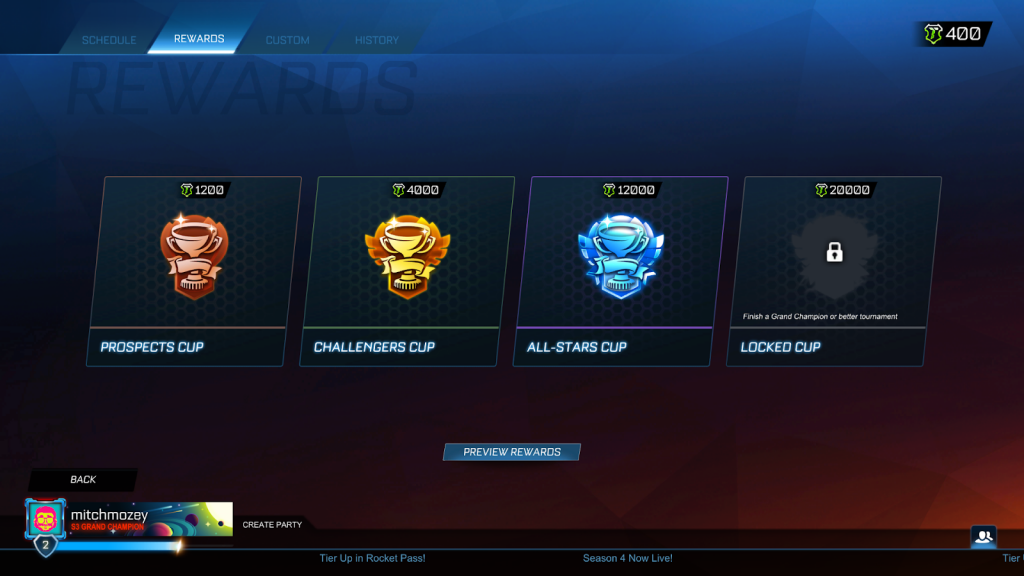 Even if the item that drops from the selected cup is not what you desired, you can always head to the 'Trade-In' screen under the 'Garage' option in the main menu to trade in five items from a lower rarity for one cosmetic of the next higher one.
Rocket League Season 4 tournament rewards
The Rocket League Season 4 tournament rewards items and rarities, called the Accolade IV Series, goes as follows:
Uncommon
Bush Hat topper
Toothpaste topper
Masamune: Yokai decal
Poppet antenna
Dominus: Asymmetric decal
Rare
Spring Web banner
Carbonated banner
H O L D O N player anthem
Very Rare
Sea Mine wheels
Crosspiece wheels
Poppet wheels
Wonder Stream trail
Octane: Vector decal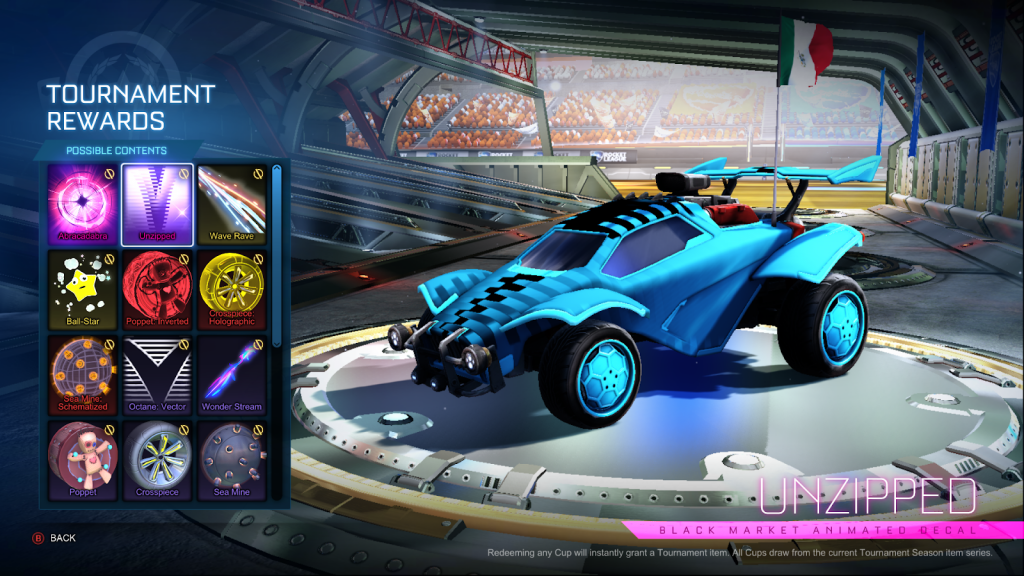 Import
Sea Mine: Schematized wheels
Crosspiece: Holographic wheels
Poppet: Inverted wheels
Exotic
Ball-Star goal explosion
Wave Rave boost
Black Market
Unzipped decal
Abracadabra goal explosion
Including everything from trails and player anthems to the flashier cosmetics like explosions and decals, this Accolade series is really up there with last season as the best ones since Rocket League went free-to-play.
This only means that developers and designers are getting the hang of it and hitting the sweet spot even more so with the progression of the seasons.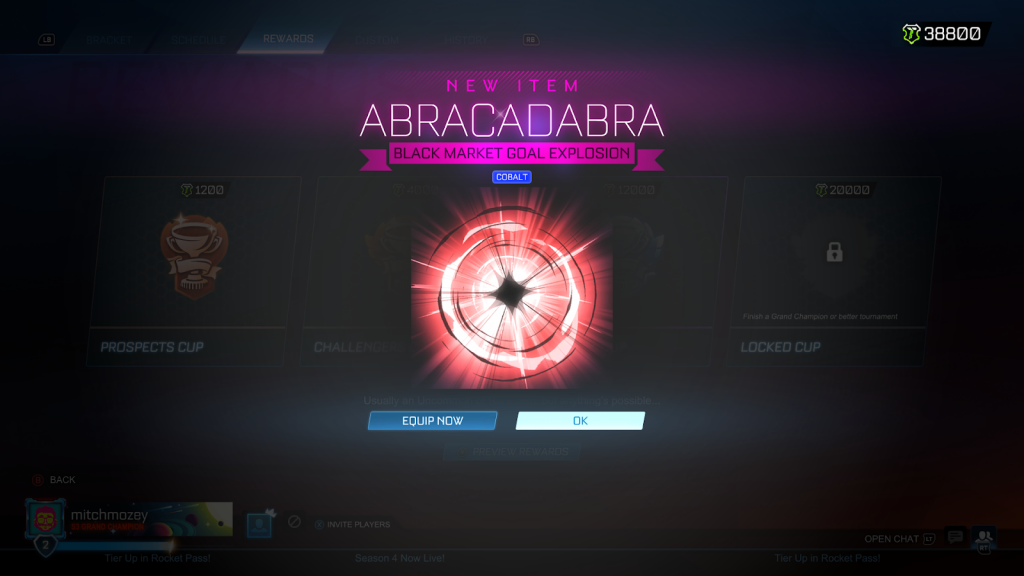 The unofficial yet popular strategy amongst rocketeers is to always redeem for the Prospects Cup, the cheapest option offered, and trade up from there since it still offers the player a small percentage of pulling Imports, Exotics and even Black Markets, like the example above.
Make sure to register for as many scheduled tournaments throughout Rocket League Season 4 so you don't miss the campaign-exclusive rewards.
For more car soccer news, guides and giveaways, follow us at 33 Boost on Twitter and turn on notifications!