There is more Rocket League esports than ever for viewers and players alike to get their teeth into.
The system that was brought in for RLCS Season X, introducing three competitions that run concurrently with The Field, The Grid and the top-tier Regionals, which are bookended by qualifiers and a Major, means there are many more games to play and watch.
For many Rocket League professionals, this system has proved great, with more matches providing more opportunities to turn their passion into careers with the combined prize money higher than its ever been.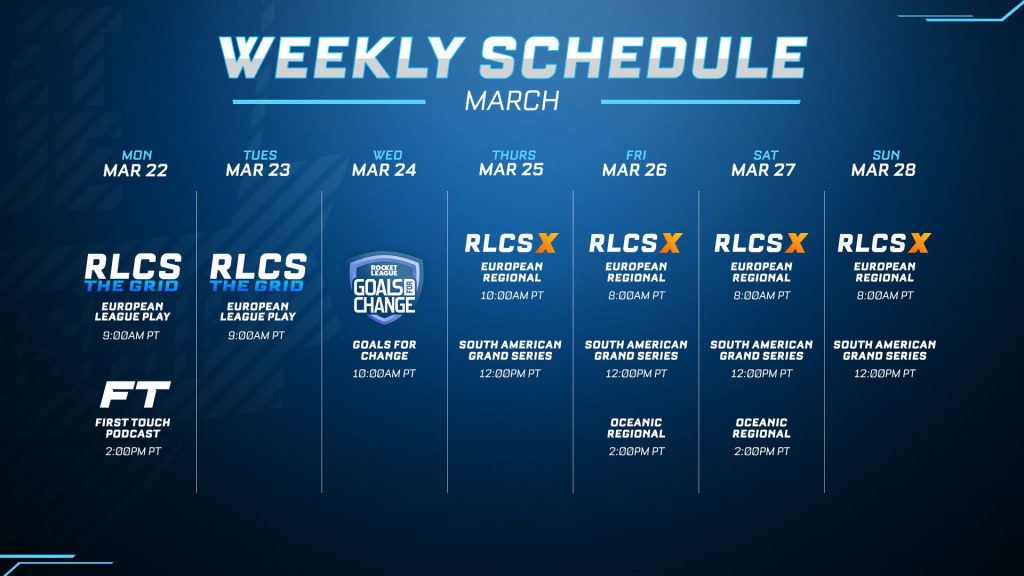 The schedule has had its downsize, and the Spring Split, the last of three splits that make up the revamped RLCS season, is more condensed than ever as some pros have made their feelings clear in the last few days, feelings crystalised in a Twitter post by Jack "ApparentlyJack" Benton, a player for Dignitas' European roster.
"The fact that The Grid is squeezed into 22 days really highlights how unorganised and terrible this whole format is." opined Jack. "Almost impossible for teams to have a break or barely even fit day to day necessities in. Needs to be changed because this is crazy."
His post caught the attention of other professionals including Team BDS', Alex "Extra" Paoli and White Demons', Maik "Tigreee" Hoffmann, who shared their own gruelling schedules that leave little time for downtime.
Tigreee would further go on to make the point that teams without the backing of an esport organisation, and the guaranteed salary that it provides, are at a huge disadvantage as they have to balance this with potentially another job and, for many, school.
And in that same thread, KC Pioneer's team manager, Dion "Base" Rees-Harris, shared a schedule for April that shows things don't look to be easing up in the short team.
There is one player who feels that pros have no right to be complaining, and there really is no prizes for guessing who that might be. Yes, the outspoken Scot, Kyle "Scrub Killa" Robertson of Team Singularity feels Psyonix shouldn't have to consider people's schooling when putting together the schedule.
Scrub Killa said: "I'm confused at everyone complaining about schedule, it's ur job right?"
"And Psyonix can't just change everything for people with school so tough luck."
It is safe to say that not everyone agreed with Scrub Killa's point, with Team Endpoint's Nelson "virtuoso" Lasko pointing out that not everyone in The Grid is actually a full-time professional.
Scrub Killa backtracked slightly but still felt that Psyonix was doing the right thing by running such a huge league, and if the players didn't like it, they should maybe consider a different career.
Psyonix would be wise to heed the complaints of their players though, professional esport players facing burnout is real.
Many play and start competing very young, and even with restrictions on age like those seen in League of Legends which requires players to be 18 before they play in top-tier leagues, packed schedules and extensive travelling (before COVID) has resulted in star players taking pro-longed breaks or exiting their chosen games due to feeling burnout.
As more is learned about esports and both the mental and physical pressure that players are put under, the more we will consider how many mistakes were made in what is essentially a baby of an industry.
Banner image courtesy of Javier Muñante (@chukyrl).