In a feat that was deemed impossible not too long ago, Jared "SunlessKhan" Zook and friends wrote their name into the Rocket League history books. 
The YouTuber released the first-ever football style 11 vs 11 match in Rocket League.
The game only allows up to eight players (4v4) under regular circumstances and modders all over the globe have accomplished at spawning hundreds of bots but never two tens of user-controlled battle-cars.
At least not until Community Workshop Games came along. With the assistance of BalancedWaffle and JetFox, the group of modders who run CWG, Sunless was able to pull the ground-breaking and history-making event.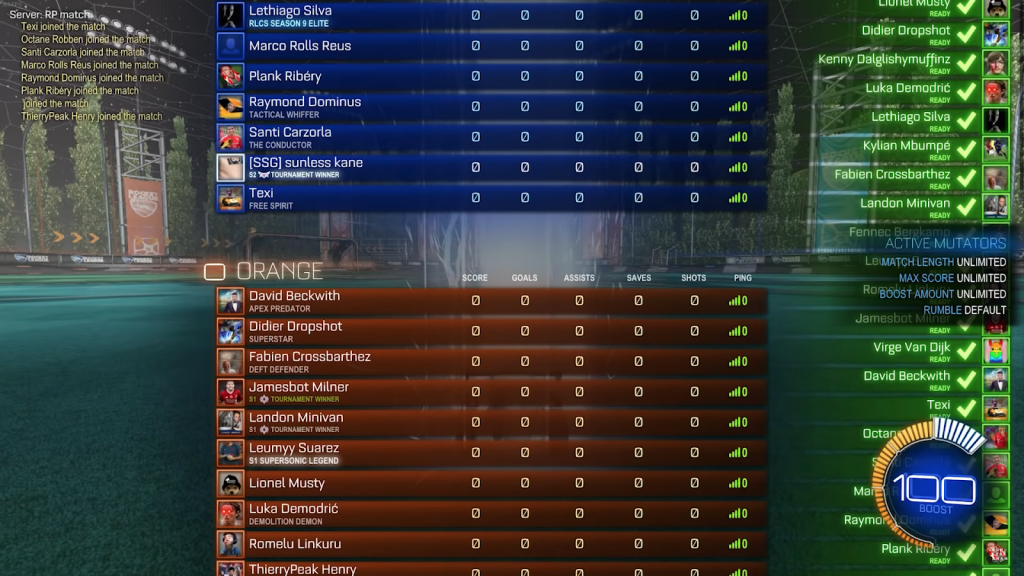 The lobby for the historic 11v11 Rocket League match right before everyone's ping skyrocketed. (Picture: YouTube)
Thanks to fellow Spacestation Gaming's content creator and former pro Treyven "Lethamyr" Robitaille's Double-Size map and CWG's modding assistance, the pitch was set for the most-crowded user-controlled field.
With Sunless, Leth, NRG's sub Wyatt "Musty" and Dignitas coach John "Virge" Willis as  co-captains for the game, each squad drafted their full team from a pool full of CWG members and Rocket League x Football pun names.
From Kylian Mbumpé to David Beckwith, both orange and blue were set and two matches were played; one with regular rotations and physics and another boomer ball plus football positions covering the field.
While a duovigintuple-commit was fun to watch during the first match, the positioning and strategy that involves playing a solid 4-2-4 formation is definitely where its at for this video.
Don't forget to check out the full video linked above! Maybe the sequel will involve Cinderblock's FIFA POV so we finally get the best of both worlds.
For more Rocket League content, news and giveaways make sure to follow @fastkickoff on Twitter.