Aziz "Hax$" Al-Yami's long-standing beef with William "Leffen" Hjelte has perhaps reached its most bizarre point following the publication of "Evidence.zip 2," an almost three-hour-long YouTube video in which Hax argued that Leffen was an egomaniacal tyrannic psychopath looking to manipulate both the Smash and FGC as a whole for personal gain.
The video, which was accompanied by a 150+ document, was heavily criticized by the Melee community, with Leffen stating that he'd seek legal advice and was "concerned" for his wellbeing during the inevitable return of offline tournaments.
Due to these concerns from Leffen and other notable members within the community, the Beyond the Smash crew, who is gearing up for Smash Summit 11, Melee's renowned invitational tournament which is set to be held offline for the first time since Summit 9, has decided to forbid Hax from participating "in any capacity."
The announcement was made via social media, confirming that Hax won't be permitted entry into the venue, whether as a competitor or as a guest.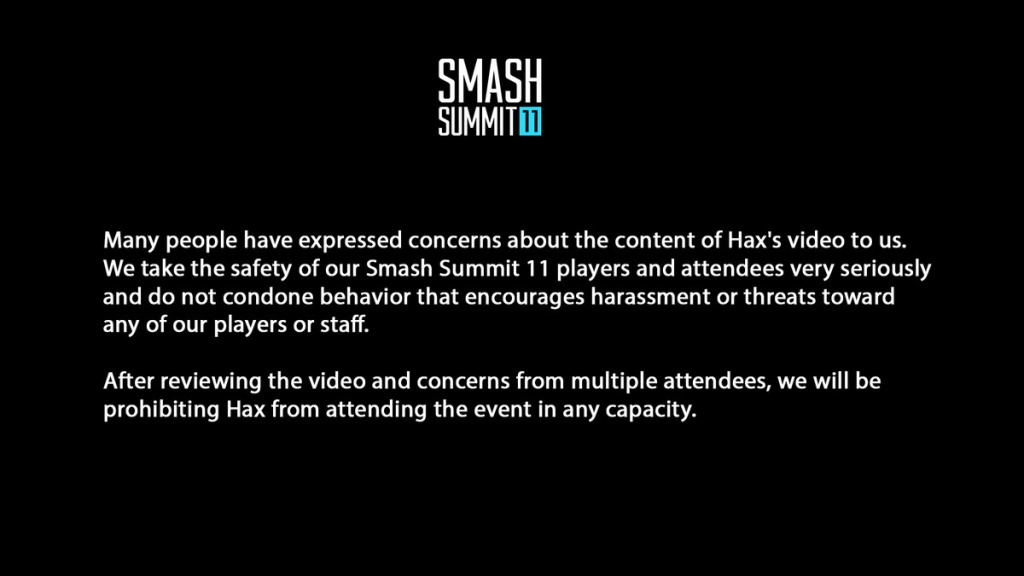 (Picture: BTS)
Hax has not wavered in his crusade to make people take the "red pill," even accusing the director of the Metagame documentary of spreading Leffen propaganda after the Swede criticized his portrayal in the original cut of the documentary back in December.
.@TSM, I need to know if anyone other than your player influenced the corruption of the press that occurred this past weekend. Episode 9 of Metagame contained revisionist history that went against what's in my pinned tweet.

Asking because there was a TSM ad at the very end.

— Hax$ (@ssbmhax) June 9, 2021
Hax failed to qualify via the Smash Champions League Season 2, which handed out six spots for Summit 11, with one more spot for NA competitors up for grabs during the Rollback Rumble in July. 
Even if Hax had missed out on that final spot, he could've tried his luck during the crowdfunding race to see which players would complete the pool of competitors, or even outright buy a VIP spot that would give him all the benefits of any other Summit contestant, without being in the tournament itself.
Leffen was one of the two invited players to the event, alongside Japanese Yoshi main Masaya "aMSa" Chikamoto. Due to geographical restrictions preventing them from earning a spot by competing, BTS selected the duo based on their status within the Melee scene.
As of the time of writing, neither Hax nor Leffen have commented on the ban.