Destiny 2's Season of the Splicer week 3 has kicked off with a bang following a crazy weekend that saw Clan Elysium earn the title of World's First Vault of Glass completionists, an old fan-favourite raid that makes its return from Destiny 1.
With week 3, on top of new Seasonal Challenges to help Guardians earn XP to complete the Season Pass as they try to collect all the new weapons Season of the Splicer brings, the new weekly pinnacle mission is here, Expunge.
Introduced with Season of the Hunt's Hawkmoon, weekly pinnacle missions drop an exclusive exotic weapon with randomized perks, a first for Destiny 2. Sadly, Expunge is not currently dropping a specific exotic, instead giving Pinnacle Gear.
The goal is to make the missions replayable throughout the season, letting players earn powerful rewards in the process.
How to unlock Expunge mission
First up, a thing that's confused a lot of players, how do you exactly unlock the Expunge mission in Destiny 2? 
Well, the answer is more straightforward than in previous seasons, as players only need to talk to the Splicer Servitor located at the H.E.L.M and progress through the Path of the Splicer III quest by completing an Override activity.
If you've been keeping up with the weekly quests this should be an easy step, if not, you'll have to play three Override missions in total across the entirety of the quests. Once you do this, Expunge should be unlocked.

(Picture: Bungie)
How to complete Tangled Shore Expunge mission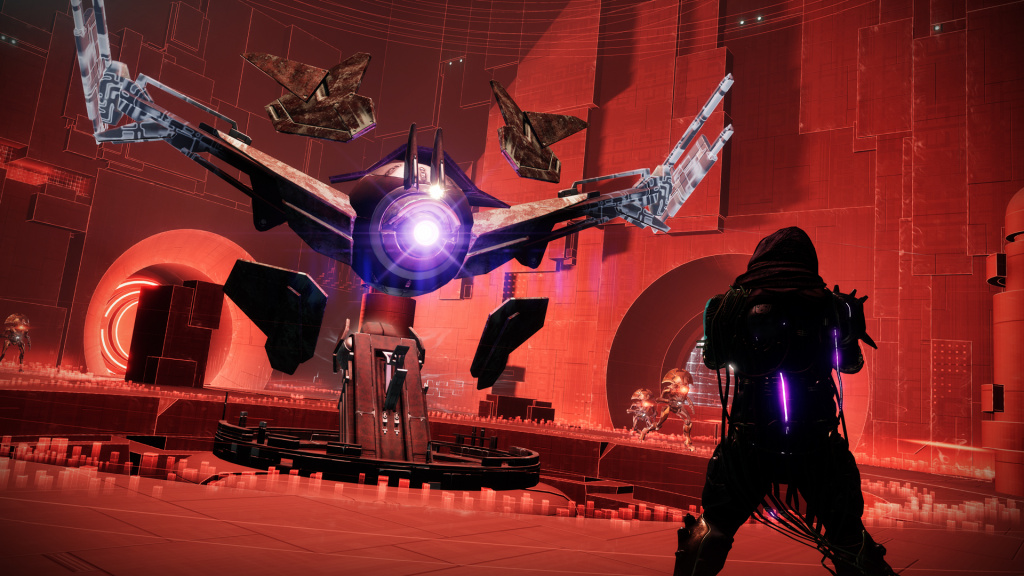 (Picture: Bungie)
Expunge: Labyrinth is a relatively easy mission and can be done solo with no issues as the minimum power level required for the base version of it is 1290 and there are only Barrier Champions to worry about. 
Follow the highlighted track, you'll eventually get a Hack prompt, do so and continue along, the path is very straightforward so you shouldn't get lost.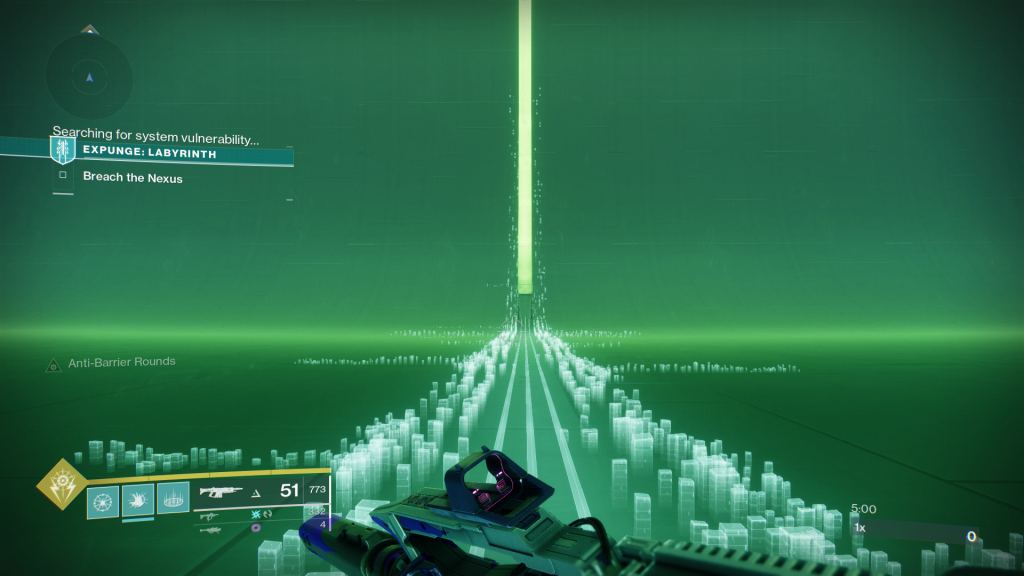 (Picture: Bungie)
After dropping down into the facility, you'll see a prompt that reads: "Requires Upgrade Wirewalker," you can easily ignore this and crouch past it as it's not required to complete the mission. 
You'll continue until you reach a section of the maze which has moving blockades, it's just a matter of timing, as once again there's only one way to go and that's down.
Immediately after you run past the section filled with triangle-shaped doors opening and closing simultaneously, you'll reach a seemingly closed-off section with another triangle-shaped door, this one shining in an all-white light.
On the walls of this area, you'll continue to see moving pillars, the one on your immediate left when you drop down on this room can be accessed, so make your way through it.  
Once you're in the next area, make your way up and take a left, you'll see a long tight corridor going even further up. Reach the edge of the section pictured down below and jump down, you'll get a waypoint marker that will let you know exactly where it's safe to land.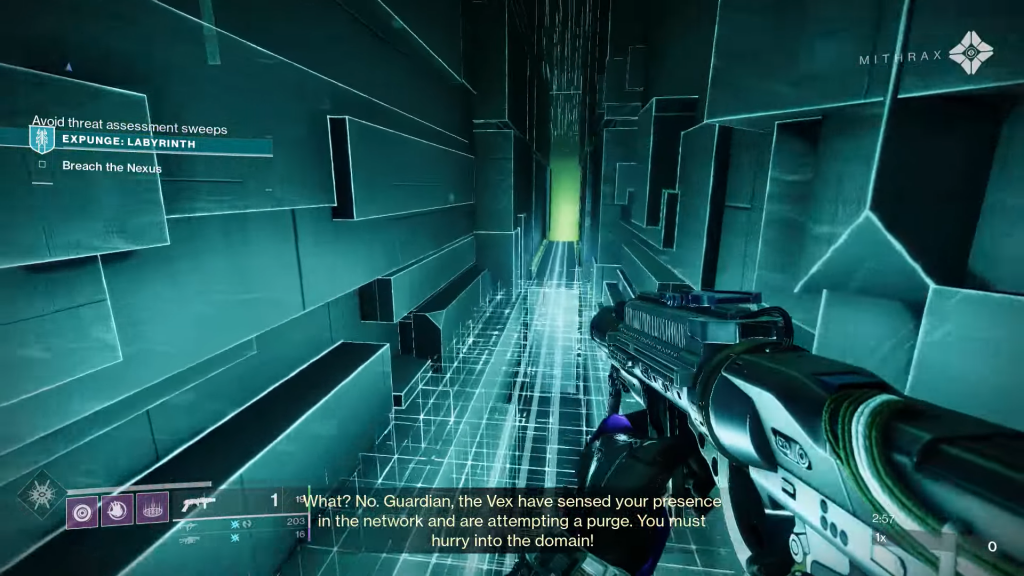 (Picture: Bungie)
What follows is a tricky platforming section, but one you can easily breeze through if you pay attention to the moving walls which will open up the path for you to go through.
At one point during this section, you'll see a small area that you can use to take cover from a moving Vex barrier, wait for it to pass, and continue along.
The end of this section will see you take a portal that will move you to a platforming section similar to the one seen in the Override activity. It's very easy to follow, if you get confused, just know that if you reach the area with a Vex diamond, you're on the right track.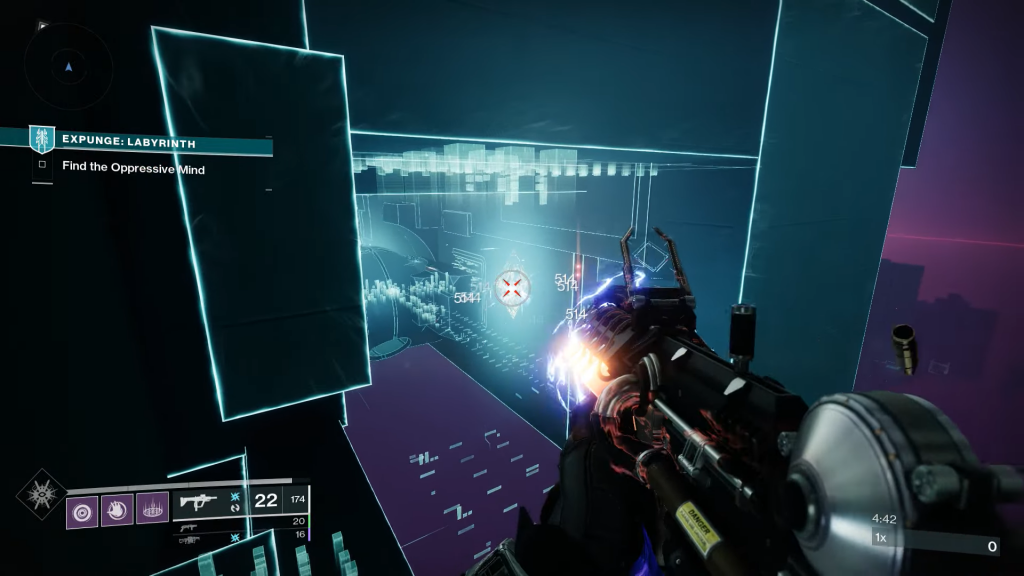 (Picture: Bungie)
Don't worry about picking the right red hole to jump through, it will end with you basically doing a slightly different platforming section.
As you move along, the next platforming section involves disappearing platforms and Hobglobins trying to snipe you. Don't bother fighting back and instead focus on reaching the other side of this annoying section.
Circle around the structure on the other side of the disappearing platforms section and, wait for it, it's time for more jumping puzzles!
Puzzle is a bit of a stretch as the way you need to go is clearly marked, clear some enemies, shoot the Vex diamond, and continue your journey.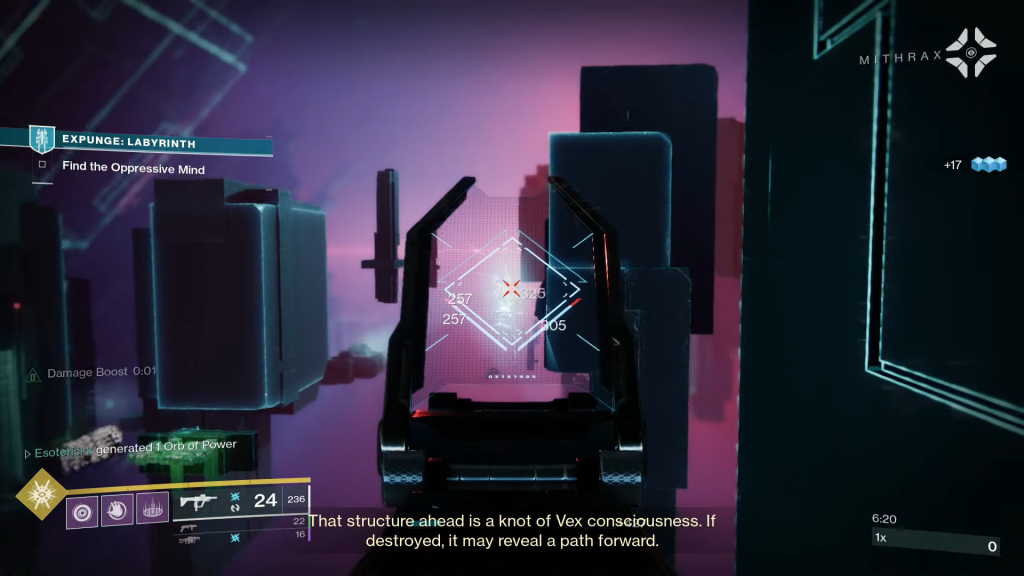 (Picture: Bungie)
In this next area, you'll need to kill a Harpy that drops a data spike. Pick it up and a waypoint marker will show up on your screen leading you. Deposit the spike in a small box near a gravity cannon to open it, naturally, you'll have to use it.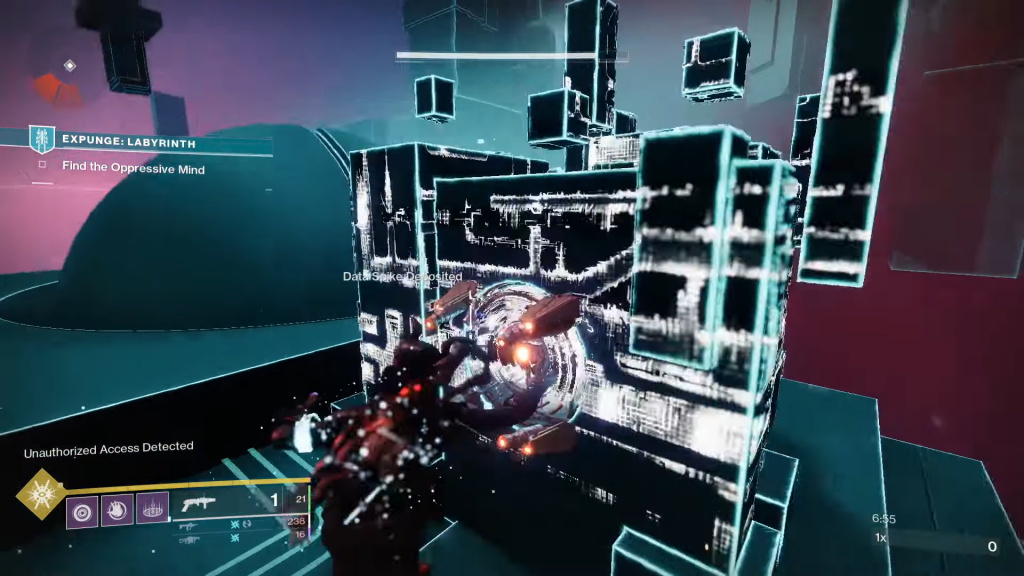 (Picture: Bungie)
Once you fly across the area, you'll bump into a Barrier Champion, if you have anti-barrier rounds equipped you should have no problem dealing with him. 
After you clean up a little move along and take a left, shoot the Vex diamond, and that's right, platforming time!
Careful with the enemies that come out of the red boxes as they'll lock you down causing you to die if you're on top of a disappearing platform, shoot them right before they touch you.
Continue along and once again you'll bump into another Harpy that drops a data spike, same process as last time -- pick up, drop near gravity cannon and fly away.
In this area you'll find more enemies, including another Barrier Champion and a Harpy that drops yet another data spike. Clean up, pick spike, and follow your waypoint.
Congratulations, you've reached the boss! The fight is simple as the entire mission teaches you the mechanics of it. Shoot Vex diamonds to create cover, deal damage to the Oppresive Mind until it reaches its immune state, when this happens, Harpy's will spawn, kill them and deposit data spike on marked locations, do this until the big baddie is defeated and you'll have complete the mission.
If you're looking for a more visual guide, check out Esoterickk's YouTube video down below.
Expunge mission rewards
At the moment, there are no Pinnacle rewards for completing Expunge, however, Bungie has confirmed they will come starting 15th June.