There have been a lot of updates released for Lost Ark recently, including several bug fixes, additional content, and setting the stage for Season 1 of the Competitive Proving Grounds. The release of Season 1 means that it's time to start sharpening those Player versus Player skills so that you can rank high and receive epic rewards. 
If you haven't experienced Lost Ark PvP, you may not have unlocked it yet, and in order to do that, you first must reach level 26 and Luterra Castle in the main story. The Proving Grounds can then be accessed in Luterra Castle by interacting with the Bulletin Board, and there are ways to boost your level if you need a little help.
Lost Ark Proving Grounds Season 1 Release Date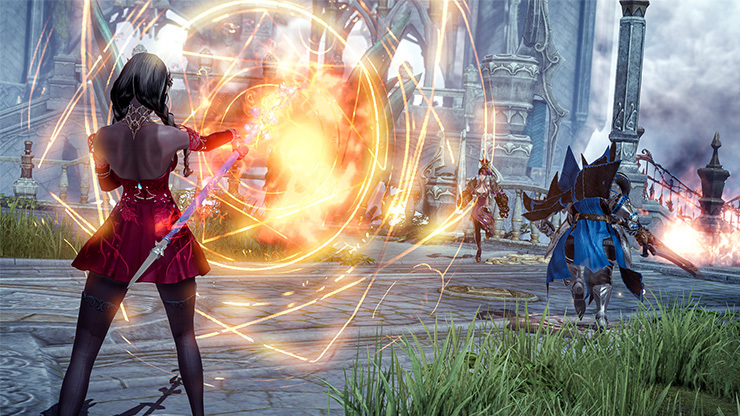 There is no exact release date available for the Competitive Proving Grounds Season 1; however, it will be starting in the second half of March 2022. We will update you with its official release date once it gets revealed.
However, don't wait for the season to start to get your competitive edge, as you need to play several rounds of PvP to reach tier 1 and qualify for the season.
How Will the Competitive Proving Grounds Season Work
To participate in the Lost Ark competitive first season, players must be in the tier 1 rank and in order to reach there, you will need to play through the Proving Grounds regardless of the result of the match.
On the Proving Grounds, you can play 1v1 deathmatch, 3v3 team deathmatch, and 3v3 elimination. The first competitive season of the Proving Grounds will also allow players to solo queue in Team Deathmatch.
1v1 Deathmatch - Fight individually against another player.

3v3 Team Deathmatch - Fight in a team of 3 against another team of 3.

3v3 Elimination - Only one person in a team of 3 fights at a time. When a player is eliminated, the next team member steps into the ring. This happens until there are no players left on a team.
Season 1 will allow you to track your 'Competitive Match Average Score' that will increase based on your match results. The better you perform, the higher the score you will get.
Once the season ends, players will also receive exciting rewards based on their ranked score. The rewards you will be getting have not been revealed yet, but we should get more information about them soon.
Featured image courtesy of Playlostark.