Show match runner John "Johnnyboi_i" MacDonald just hit a home run in the Rocket League community.
In a show match attempting to replace the cancelled RLCS X LAN event, Johnny scheduled an interregional North America vs Europe on EU servers between six of the best players in the world.
If you were not a part of the three-hour-plus stream, things got out of hand after the last series, so much so that it got #Mickeymoon trending in the United States and even caught the eye of Rocket League Esports themselves.
So what happened? Fear not, because without further ado, here's everything you need to know about the hilarious event and the background behind the hashtag.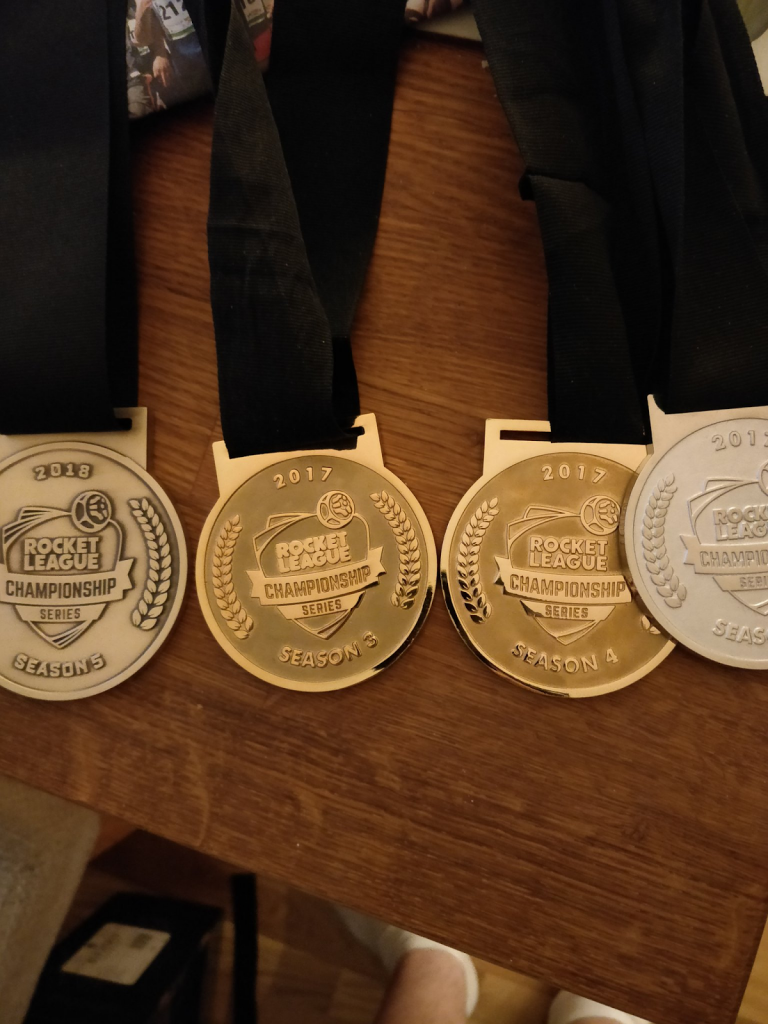 Turbo showing off his hardware across his six-year career (Picture: @Turbopolsa/Twitter)
Why is #MickeyMoon trending on Twitter?
During Johnny's best-of-seven First N Friends vs Guild Esports stream for NA vs EU bragging rights, Guild defeated the North American super-team 4-1 with ease and things got nasty after both parties took to Twitter post-match.
Slater "Retals" Thomas being called out by half of the European Rocket League scene for not backing up his constant trash talk lit the fire under the losing region for an improvised second show match: Team Queso representing EU versus Garrett "GarrettG" Gordon, Jacob "JKnaps" Knapman and Nick "mist" Costello from NA.
After a second W by the Europeans, North American Rocket League Twitter was in shambles and scrambling trying to find another shot at redemption. Enter: the greatest player of all time, Pierre "Turbopolsa" Silfver.
Challenged by Maello "AztraL" Ernst, Amine "itachi" Benayachi and Evan "M0nkey M00n" Rogez, the defending regional champions Team Envy would battle it out one last time for NA pride and, boy, did they deliver.
Sweeping the EU super-team 4-0 as Turbo taunted, toyed and juked every single player in the opposing roster, the Swedish player won everyone's heart during the stream both in the booth as a caster and on the pitch as a beast.
His well-renowned trash talk as the only four-time RLCS World Champion really showed during the NA vs EU match, so much so that he dared to call arguably the best European player, Team BDS member M0nkeyM00n 'Mickeymoon' on stream, later tweeting it both with and without the hashtag.
The word "Mickey" used as a derogatory term was implemented in 2020 as LeBron James won his latest NBA Championship during the pandemic and inside the NBA Bubble, a centre for players to live, train and play hosted inside Disney World, near Orlando Florida.
With many opt-outs and complications during the NBA playoffs, haters discredited James' championship calling it a 'Mickey Mouse' ring, mocking the location and the lack of seriousness the title holds in his career.
Turbo went as far as to call his own team the "Mickey Mouse regional champions" due to a Psyonix conflict during their semifinals matchup that led to their latest achievement.
M0nkeyM00n alongside the whole Rocket League professional scene (players and fans alike) have taken the #Mickeymoon hashtag under their wing and to Trending on Twitter with non-stop memes, callouts and hot takes all around.
Of course, the only Europe-to-North America transfer in Rocket League history would be the one to free NA from EU's tight grip. Whew.
For more Rocket League content, follow @fastkickoff on Twitter!
Thumbnail image by @RLStatsGG on Twitter.