There is no shortage of weapons to choose from in Destiny 2. Whether you're looking for the best PvE guns or those that excel in PvP, Bungie's action MMO is built on the foundation of loot chasing. 
Naturally, some weapons are just simply better than others, and it seems the seasonal offering this time around, the Reckless Endangerment shotgun, might be one of the best in the game at the moment. 
Getting the gun might prove to be a grind, but if you want to acquire one of the best close-ranged weapons in Destiny 2 and complete the Dangerous Conduct week 5 seasonal challenge, this is what you need to know about the Reckless Endangerment shotgun.
How to get Reckless Endangerment fast in Destiny 2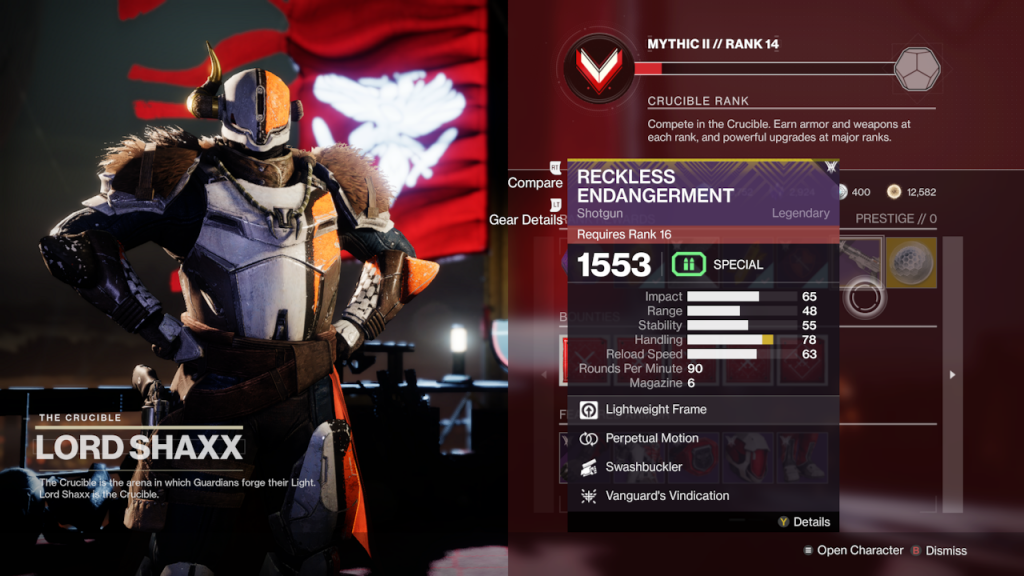 There are three ways to unlock the Reckless Endangerment shotgun, which means that if you want to get it as fast as possible, you'll need to target specific activities. 
This being a seasonal weapon, that means you'll have to grind one of the following activities:
Vanguard Ops
Crucible
Gambit
If you want to speed up the process, you can pick up bounties at the Tower to gain XP and reputation with each of the NPCs that grant the Reckless Endangerment shotgun. These are:
Zavala for Vanguard Ops
Lord Shaxx for Crucible
The Drifter for Gambit
All of them will grant you the shotgun once you reach Rank 16.
The fastest to grind is undoubtedly PvP, but if you're not into multiplayer we recommend you pick up daily Zavala bounties and blast through them as quickly as possible. You can pick up to eight daily bounties per day. 
Reckless Endangerment perks and traits
While the Reckless Endangerment doesn't come with random rolls, it does have a unique distinction, and that's having three Origin traits.
Origin traits are activity-specific or manufacturer-based. Some can roll with two, but Reckless Endangerment is one of the few that has three guaranteed.
These are: 
Vanguard's Vindication: Final blows with this weapon grant a small amount of health
One Quiet Moment: Grants increased reload speed when out of combat
Invader Tracker: Damaging the Invader with this weapon marks them for allies
There are more classic traits to choose from including Swashbuckler, Snapshot Sights, Perpetual Motion, and Steady Hands.
The gun also comes with a handling Masterwork by default, so all in all, it's definitely a strong weapon to wield, particularly in Crucible and other PvP activities. 
Featured image courtesy of Bungie.
---
For more Destiny 2 news, be sure to check out our dedicated section or take a look at some of our Guides & Tutorials just below:
Weekly Updates - Destiny 2 Weekly Reset | Destiny 2 Weekly Challenges | Destiny 2 Xur Location This Week | Destiny 2 Trials of Osiris Map & Rewards This Week | Destiny 2 Lost Sector Rotation |
Upcoming Updates - Destiny 2 Season 19 Release Date | Destiny 2 The Dawning Event 2022| Destiny 2 Lightfall Release Date | Everything We Know About 'Destiny 2 The Final Shape'
Exotics, Catalyst & God Rolls - Alter of Reflection Catalyst Quest | Austringer God Roll | Calus Midi Tool God Roll | Dead Man's Tale God Roll | Fixed Odds God Roll | Hawkmoon God Roll | How To Get Come To Pass | How To Get Dawn Chorus | How To Get Omnioculus | How To Get Star-Eater Scales | Mechabre God Roll | Osteo Striga Catalyst | Riptide God Roll | Queens and Worms Quest
Game Guides - Destiny 2 Redeem Codes | How To Unlock All Subclasses | Memories of Ruin Puzzle Solution| Strikes Guide | Where To Farm Cabal | Where To Farm Fallen | Where To Farm Hive | Where To Farm Scorn | Where To Farm Vex | How To Get 100k Nightfall Score | 
Raid Guides - Master King's Fall Totem Challenge Explained |