In week one of Fortnite World Cup solo competition qualifiers, 19 players have etched their name in the history books to compete at the m competition, the biggest prize pool in esports history.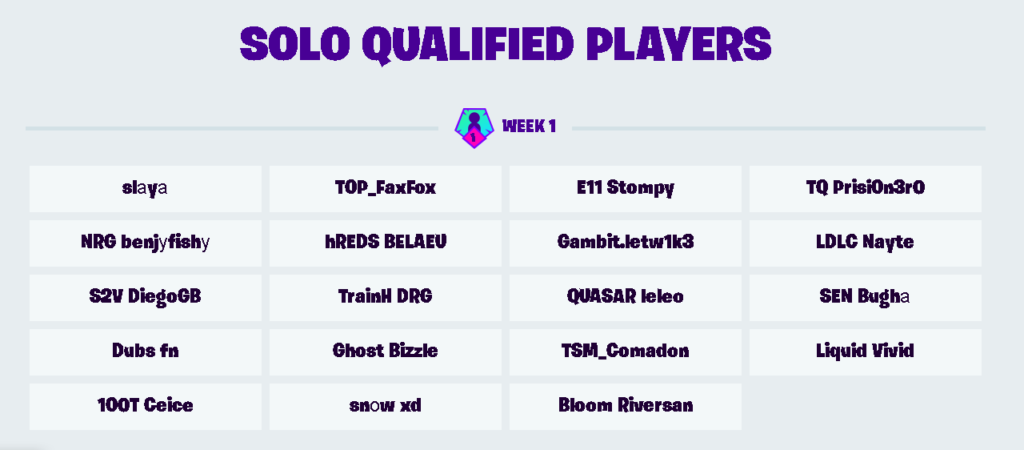 The shortlist features eight players from each Europe and North America as well as one from Oceania, one from Asia and one from Brazil:
(Asia) Park "FaxFox" Sung-Bin
(Brazil) Leonardo "leleo" Dametto Arcanjo
(Oceania) Reihana "Slaya" Green
(Europe) Klaus "Stompy" Konstanzer
(Europe) Ramón "Prisi0n3r0" Mateu
(Europe) Benjy "Benjyfishy" David Fish
(Europe) Lassi "BELAEU" Kallio
(Europe) Mark "Letw1k3" Danilov
(Europe) Nathan "Nayte" Berquignol
(Europe) Diego "DiegoGB" Gómez Barreno
(Europe) Evan "DRG" Depauw
(NAE) Kyle "Bugha" Giersdorf
(NAE) Duds fn
(NAE) Timothy "Bizzle" Miller
(NAE) Josh "Commandment" Roach
(NAE) Noah "Vivid" Wright
(NAE) Davis "Ceice" McClellan
(NAW) snow xd
(NAW) River "Riversan" Handley
The Fortnite World Cup takes place in New York City from July 26-28, with a total $30m prize pool including $3m to the winner of the solo tournament.
This is big cash to be competing for and these players, some very well-known and some not, have just got one step closer to achieving their dreams.