On Tuesday 12th June Epic Games held a huge Fortnite event at E3, including a Fortnite Pro-Am tournament which peaked at little under 2 million viewers across all streams.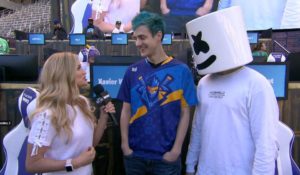 The Pro-Am saw 50 popular streamers paired with celebrities from a variety of avenues; 100 Thieves owner Matthew "Nadeshot" Haag teaming with UFC fighter Tyron Woodley, and Ninja teaming with DJ, Marshmello. There were three matches scheduled: a Solo warm-up match, a duo warm-up match and, the main event, a $3m charity duo match.
The warm-ups
YouTuber and streamer NoahJ456 took the win in the solo match, taking out South Korean Kinstaar in a tense final battle, using the new bounce pads to secure a win with a height advantage and no fall damage. In the duo warm-up, Kinstaar went one further and took the win alongside UFC fighter and new OpTic member Sean O'Malley. He eliminated Ninja in the final shot of the game, following a tense build battle in which both Ninja and Kinstaar had lost their teammates.
The big one
Finally, in the main event of the night, Ninja and Marshmello ended up against lone warriors Kitty Plays and CouRage, taking an early height advantage and building a huge base to prevent the two lone players from getting anywhere close to them. It was Ninja and Marshmello's game to win, but with a 7hp CouRage taking out Kitty Plays, there was some fight in the former CoD caster yet. Unfortunately, he couldn't negate the height advantage to get up to Ninja and Marshmello, and the face of Twitch took the win with the final kill of the game, earning $1m for a charity of his choice. Final standings: [table id=19 /]
2019 Fortnite World Cup
During the Pro-Am tournament, Epic revealed their plans for the 2019 Fortnite World Cup. https://www.youtube.com/watch?v=XSt6XVKPG6E The Fortnite World Cup features a series of organised events, both online and offline, which will take place all over the world. Fortnite World Cup Qualifiers are set to start in Autumn 2018, and culminate in the World Cup in late 2019. It was said in the blog post that Fortnite World Cup events will focus on solo and duo play, but there will be plenty of opportunities to squad up in competition too.
Interestingly, the post went on to say that "Qualifications for the Fortnite World Cup will be based on merit. Epic will not be selling teams or franchises, and won't allow third-party leagues to do so either". This is different to leagues such as the Overwatch League or NA LCS, where franchising and buying spots is the sole way in. With over 1.7 million viewers tuning in to watch the matches, and $100m shared out amongst deserving players over the next year, Fortnite esports definitely seems to be in good shape and, more importantly, in good hands. What did you make of the Fortnite Pro-Am tournament? Personally, I didn't see Ninja taking the win, especially after Kinstaar performing so well in the warm-up matches. That said, he's clearly the face of Twitch for a reason. Moreover, I'm incredibly excited about the future of Fortnite esports.  
---
For more Fortnite news be sure to check out our dedicated section, or some of our Guides & Tutorials, just below:
Fortnite Guides - All Fortnite Redeem Codes | When Does Fortnite Chapter 3 Season 5 Start?|All Fortnite Twitch Drop Rewards| How To Make Your Own Fortnite Skin |
Fortnite Events - Fortnite Winterfest 2022 | 
The Best Fortnite Creative Codes - Best Edit Course Codes|Best Prop Hunt Codes|Best Zombie Map Codes
Featured image courtesy of Epic Games.