Una's Tasks is a daily quest endgame content that you can unlock at the Level 50 cap and meet its specific Item Level requirements. Pest Control is one of these tasks, where you'll be assisting a pirate captain around an island and fend off her enemies.
The Pest Control Una's Task Daily Quest and its adjacent Roster Quests occur at Blackfang's Den, located north of Freedom Isle in the Tempest Seas. Here's how to complete the quest and the rewards you can earn upon its completion in Lost Ark.
Pest Control quest objectives and how to complete
Before beginning the Pest Control quest, a few Roster quests are required to complete for it to be available. One of the first Roster quests you can start working on is the "Blackfang's House quest which tasks you to tidy up the home belonging to Blackfang.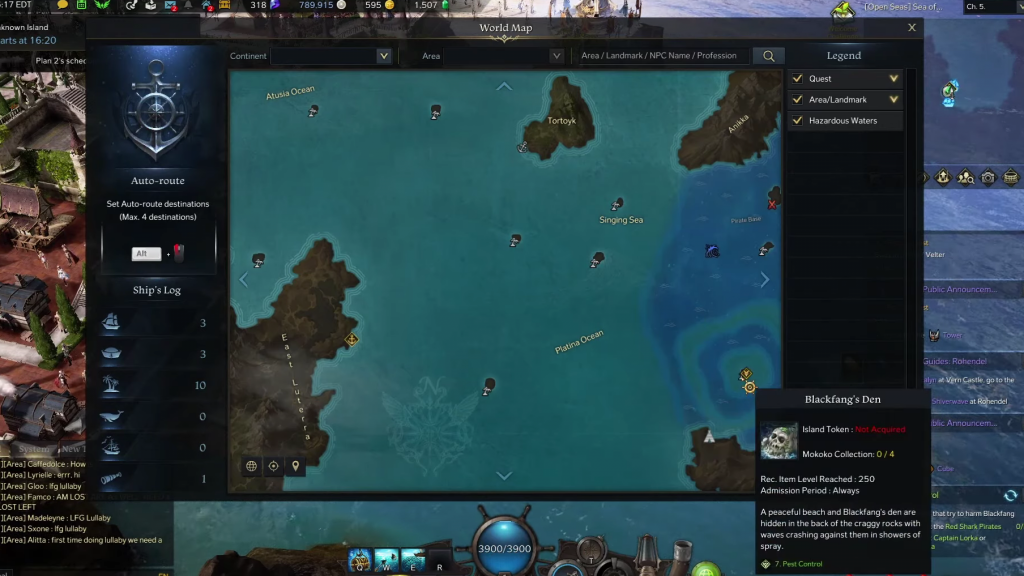 The next quest, Catch the Rats, will become available immediately after that, where you're required to catch 12 Shore Rats that are troubling the island. With these two side quests completed, the Una's Task daily quest, Pest Control, should be available for you to accept.
Navigate to the bottom right of your screen and click the Adventure icon, which brings up a pop-up menu where you can select Una's Tasks menu option. Additionally, you can use Alt+J to access Una's Tasks menu immediately.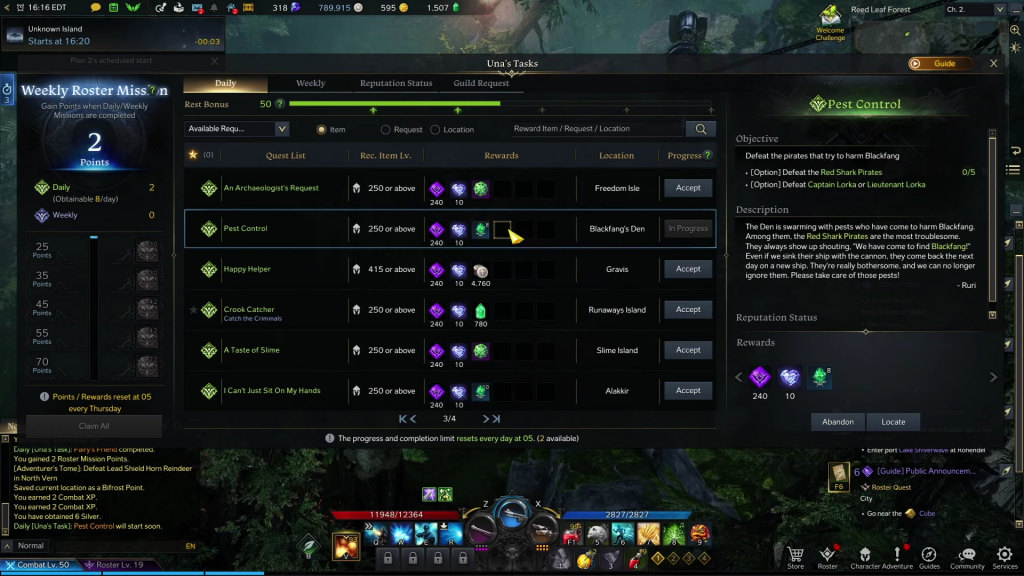 Within Una's Tasks open, click the Daily tab to find all available Una's Tasks Daily Quests, where you can find the Pest Control quest to accept. This Daily Quest is divided into two sub-quests, "Everyone, Charrrge!" and "Watch Out! Pirates!" 
The quest objectives players will need to complete are defeating the Red Shark Pirates and Captain or Lieutenant Lorka near Blackfang's Den. Both sub-quests will become active after 15 minutes, in which you can collect Mokoko Seeds on the island.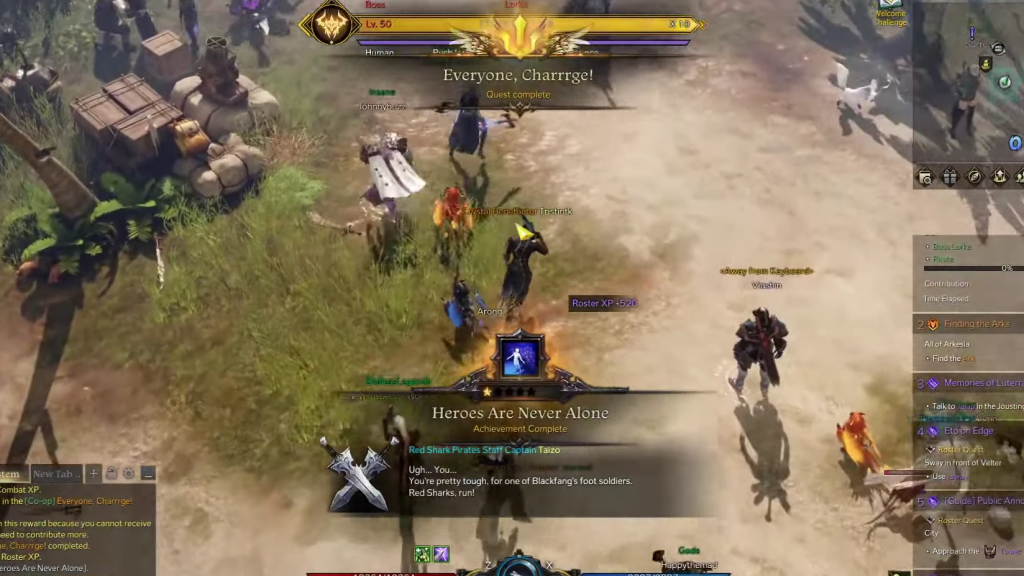 Two groups of enemies will spawn somewhere on the island, which you'll need to defeat before attempting to get to Blackfang. With both groups defeated, you can locate Ruri inside Blackfang's home to collect the Una's Task rewards.
Pest Control quest rewards
By meeting the quest objectives, players should be able to quickly complete this Una's Task Daily Quest without much of a hassle. Upon its completion, you can be rewarded with Reputation Points and Harmony Leapstones, there are other rewards you'll get for completing the two sub-quests.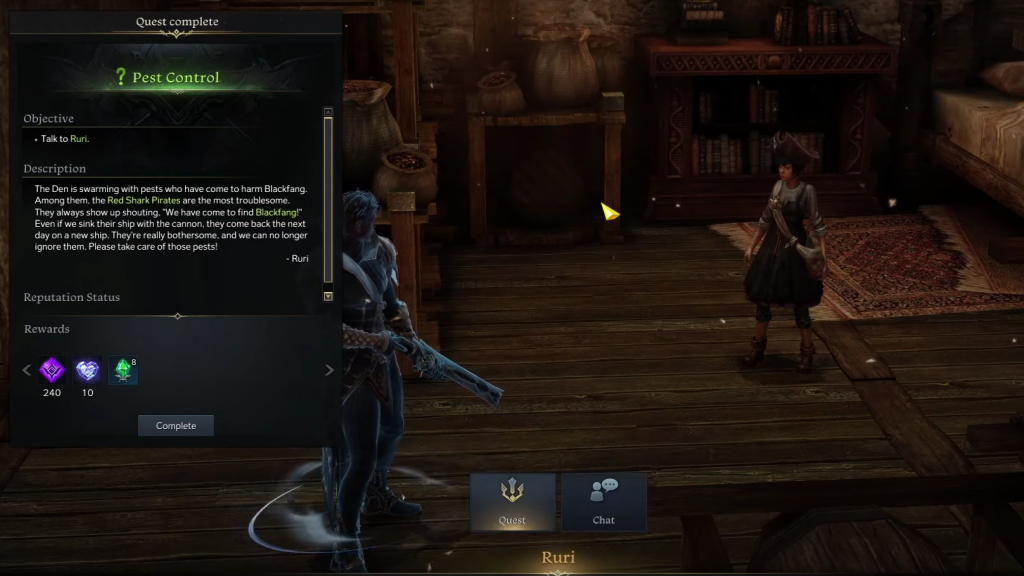 Blackfang's House:

Kindness +1
Creation Fragment x5
Silver x7,600

Catch the Rats:

Legendary - Uncommon Card Pack x3
Pirate Coin x5000
Silver x7,600
There are plenty of other Una's Tasks quests, both dailies and weeklies, that players can complete by accessing the Una's Tasks menu. Additionally, there are other endgame activities you can participate in, including Chaos Gates, Field Bosses and Adventure Islands.
We want to thank the YouTube channel, TristinTK for the complete walkthrough of the Pest Control Una's Task quest in Lost Ark.
Featured image courtesy of Smilegate / Amazon Games.