Two years after releasing Borderlands 3, Gearbox Software is back with Tiny Tina's Wonderlands, a Borderlands spinoff looter-shooter with fantastical elements.
While a standalone experience in itself, Tiny Tina's Wonderlands story kicks off after the events of Borderlands 2 DLC: Assault on Dragon Keep. Set in a table-top RPG world inspired by the beloved Dungeons and Dragons, the game promises a fresh, new direction for the Borderlands franchise.
Thankfully, fans won't have to wait much longer to get their hands on it. We've got you covered, detailing when Tiny Tina's Wonderland releases, all pre-order editions, gameplay, and more.
Tiny Tina's Wonderlands - Release date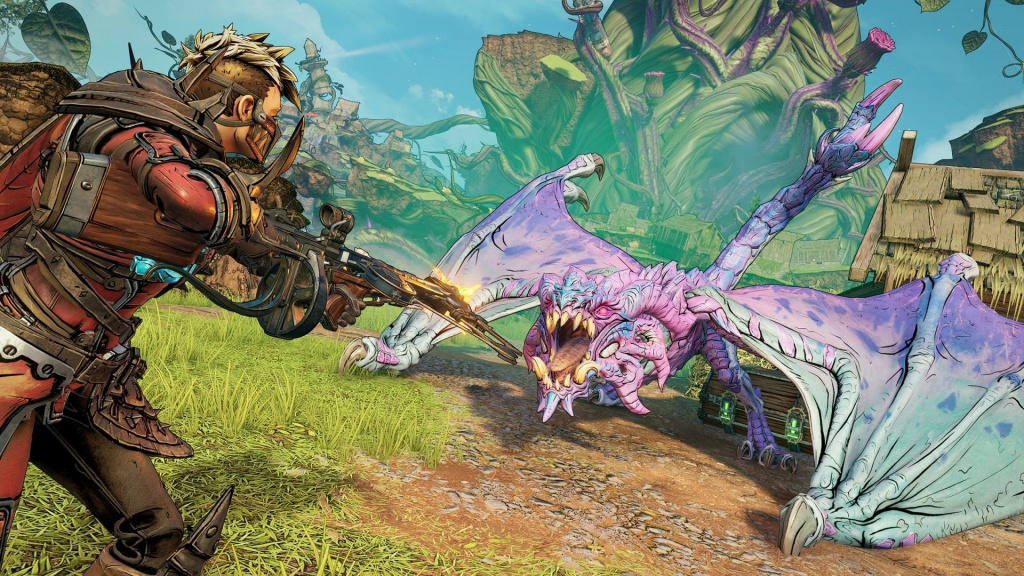 Tiny Tina's Wonderland launches on 25th March 2022 across all major platforms, including PC, PlayStation 4 and 5, Xbox One, and Xbox Series X|S. Below is the list of every Tiny Tina's Wonderland edition you can pre-order alongside the pre-order bonuses. 
Tiny Tina's Wonderlands - All pre-order editions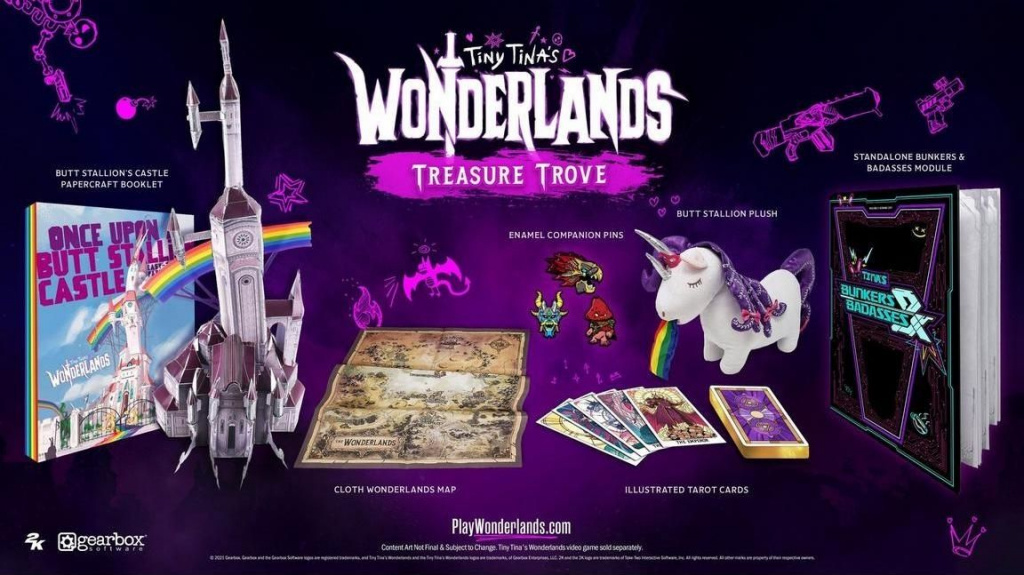 You can pre-order Tiny Tina's Wonderlands from the game's official website or the various platforms' stores. Notably, every edition comes with a complimentary Golden Hero Armor Pack pre-order bonus.
Standard edition
PC | PS4 | Xbox One: $59.99

Base game
Next-Level edition
PS5 and Xbox Series X|S: $69.99

Base game

Dragon Lord Pack

Xbox Series X|S version compatible with Xbox One version
Chaotic Great edition
PC: $79.99
PS4 | PS5 | Xbox One | Xbox Series X|S: $89.99

Base game

Dragon Lord Pack

Season Pass (Butt Stallion Pack and four post-launch content)
Treasure Trove edition
All platforms: $99.99

Exclusive to GameStop (does not contain the base game)

Butt Stallion Plush

Illustrated Tarot Cards

Standalone Bunkers & Badasses Module

Enamel Companion Pins

Butt Stallion's Castle Papercraft Booklets

Cloth Wonderlands Map
Tiny Tina's Wonderlands - Gameplay
Tiny Tina's Wonderlands has received five trailers since its reveal in June 2021. The reveal trailer confirmed a star-studded cast comprising Andy Samberg (from Brooklyn 99), Will Arnett (from Bojack Horseman), Wanda Sykes (from Curb Your Enthusiasm), and Ashly Burch, who reprises her role as Tiny Tina.
The gameplay trailer gives a detailed look at the antagonist, Dark Lord, and glimpses of the various locales of the Wonderlands, including mushroom-infested fortresses, lush forests, snow-covered dungeons, and more.
Additionally, the trailer offers a glimpse of Tiny Tina's Wonderlands' gameplay, the various classes, and some of the guns players can access. Borderlands 3 featured over 1 billion guns with the help of procedural generation, and Gearbox Software's latest title should be no different.
The story trailer highlighted the various characters accompanying the player throughout their adventure in the Wonderlands, including Valentine, Frette, and the Dragon Lord.
However, unlike Borderlands, where you could only play as one of the four vault hunters, you can customise your character in Tiny Tina's Wonderlands and shape your legacy as the fate maker.
Gearbox has also revealed a series of gameplay trailers that give a detailed look at each game's various classes.
All classes in Tiny Tina's Wonderland
First up is the Stabbomancer, which works well for players who prefer stealth and methodical gameplay. The second is Brr-Zerker which gives you a ferocious long-axe to swirl around and do AOE damage. 
The third class that got revealed is called Spellshot, which, as the name suggests, give you access to a wide array of spells to cast.
Next up is the Clawbringer class, which allows you to wield a majestic hammer and give you a scary but cute looking dragon companion.
The third and the final trailer in the class series gives a brief look at the Spore Warden and Graveborn class in action. The Spore Warden specialises in ranged combat, summoning magic bows and tornadoes. They also have a strange Mushroom companion that does Poison Damage.
On the other hand, Graveborn specialises in dark magic and kill skills. They also have a Demi-Lich companion to boast.
Tiny Tina's Wonderland - Walkthrough
Gearbox Software recently released a 20-minute playthrough of Tiny Tina's Wonderlands, showcasing new locations, missions, weapons, enemies, and boss battles.
Similar to Borderlands 3, Tiny Tina's Wonderlands will have end game content to keep players busy for a long time. Gearbox recently showed what players could expect to see and do in Tiny Tina's Wonderlands once credits have rolled.
Chaos Chamber is an endless replayable randomised dungeon that offers some of the game's most challenging and rewarding experiences.
Tiny Tina's Wonderlands Season Pass adds a plethora of new content that should excite hardcore fans. Besides the new regions, enemies, boss battles and loot, the Season Pass also adds a brand-new class.
Season Pass part 1 releases on 21st April 2022.
Will Tiny Tina's Wonderlands support crossplay?
Tiny Tina's Wonderlands will have full crossplay support at launch, meaning PC players can play with PlayStation and Xbox users and vice versa.
That's everything you need to know about Tiny Tina's Wonderlands. Don't forget to check our dedicated Tiny Tina's Wonderlands section for more news, guides, and features.
Featured image courtesy of 2K Games.