Time flies in the RLCS Season X and the second of three regional events will be held this weekend for Europe.
This means the windows of opportunity are closing and the long-awaited World Championship is right around the corner.
For BDS, these couple of tournaments mean nothing but a quick money grab, but for the rest of the region? They mean a shot at WC qualification, at RLCS points due to high placements -- it means a shot at making history.
Without further ado, here is everything you need to know before the second EU Spring regional event.
Time to bounce back for certain teams
To say that teams like Dignitas, Top Blokes and Team Queso had an average showing this last regional would be an understatement.
Finishing the first Spring regional in the bottom half of the leaderboards is no bueno, especially in crunch time with the World Championship in sight.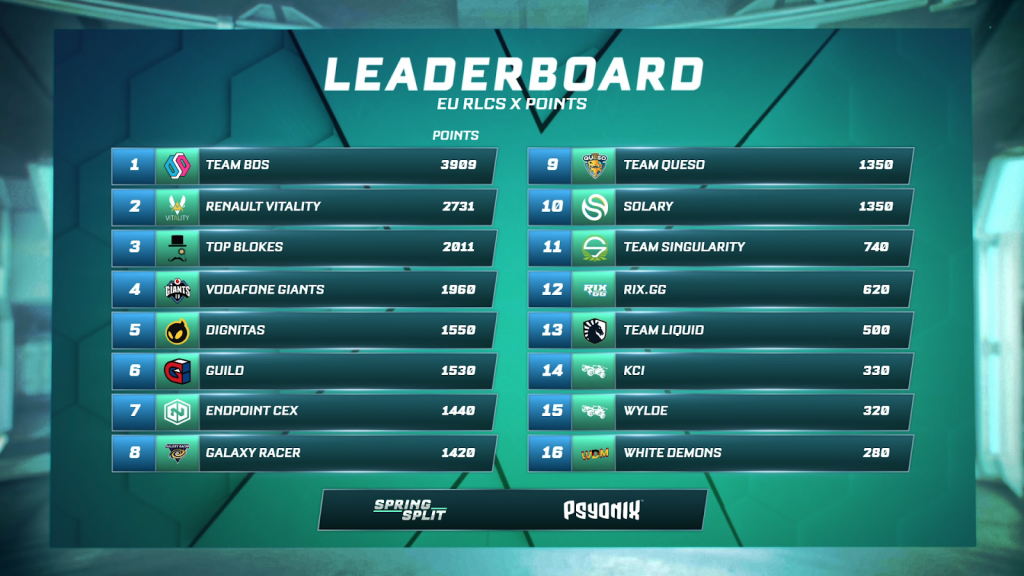 (Picture: Psyonix)
While Dignitas sits in a qualification place, belonging to the top six teams in the region, similar placements during the rest of the season can result in any team from 7th to 10th place replacing any team from 4th to 6th.
It's do-or-die now for the top 10 in Europe -- you wouldn't want to be the Rocket League team that just missed the first LAN event in two years for a couple of points, now would you?
Rizex45's revenge with German Amigos
Riccardo "Rizex45" Mazzotta has had a couple of rough months, to say the least.
Being moved to an inactive position on FC Barcelona in December, forming and disbanding FlipFlop Tactics in March and being added and then released from Triple Trouble turned-Illusion roster in a matter of four days, the 18-year-old feels he has to prove himself more than ever.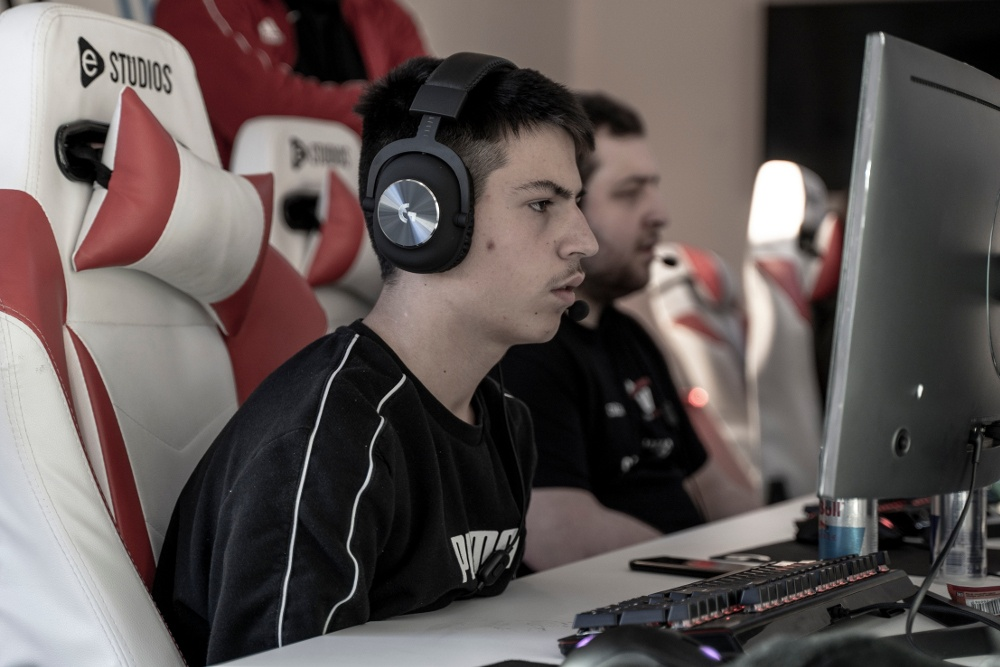 (Picture: Lx.)
Fortunately, things are looking up for the German pro, and whilst he has shown emotion and frustration with how his roster moves have affected his career lately, he has found a home in the independent team, German Amigos.
So much so, that the squad composed of Rizex45, Leonardo Christ "Catalysm" Ramos and Ivan "ivn" Mohammad have qualified for the second Spring regional event in Europe.
Hoping to cause as much damage as possible, Rizex45 will not be able to exact revenge as neither Barcelona FC nor Illusion have qualified, but former FlipFlop Tactics teammates will be playing with their new respective teams.
3. Wolves Spring debut, Aether comeback, FlipFlop reunion
After FlipFlop Tactics disbanded, Rizex45 went on his way joining this or that roster while former teammates Francesco "kuxir97" Cinquemani signed with Wolves Esports and Maurice "Yukeo'' Weihs formed independent team Aether.
Both Rocket League squads have qualified for the second Spring regional event, Wolves doing so for the first time in the Spring Split and Aether making its second RLCS X appearance since its inception.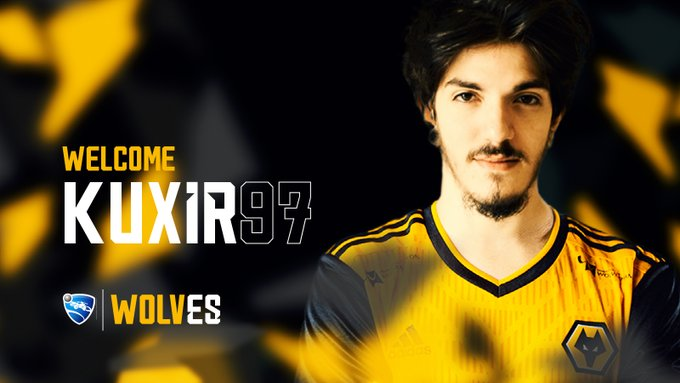 (Picture: @WolvesEsports/Twitter)
Aether actually made a splash during the first Spring regional event walking away with a top-eight finish and $5,000 in earnings -- not bad for an independent team.
It will be sweet to see if Yukeo, kuxir or Rizex45 find each other in any of the three Spring Split format's phases.
Godsmilla's Team tries to run it back
No one saw Godsmilla's Team coming. The squad of Leon "Godsmilla" Mares, Sandro "FreaKii" Holzwarth and Bruno Alexandre "AcroniK" dos Santos Lopes made a run for Europe's money (quite literally) finishing top four while pocketing $8,000 in their first RLCS X showing.
While the thought of the team getting signed to an organisation ahead of the Spring Split wasn't off the table, it seems like Godsmilla's Team will be finishing the Spring Split on their own.
And, yes, salary as an esports athlete would be sweet, but if their regional and even major RLCS X performances can be duplicated, they could set themselves fairly nice even without a chance to qualify for the World Championship.
Will someone finally break BDS' 11-0 Grand Finals streak?
The kings of kings are automatically qualified to the rest of the Spring Split regionals due to their first event's championship win and will most definitely be invited to the Spring Split EU Major with their insurmountable RLCS points lead.
It's not like BDS has not felt the agony of defeat, it's just that the Swiss organisation is yet to feel it in a Grand Finals. 
Think about it: the revamped RLCS X started with Fall regional #1 back in August 2020. Since then, BDS has gone to 11 Grand Finals and has won all 11.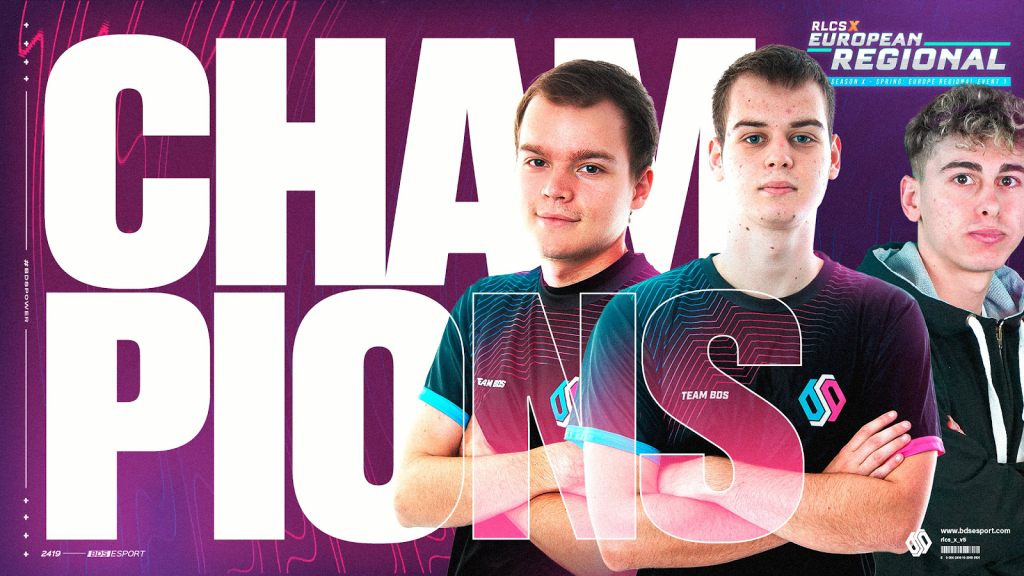 (Picture: @TeamBDS/Twitter)
We are yet to make a decision on what would be more interesting, if the European behemoth is overtaken during European Grand Finals or if they head to the World Championship undefeated and have even bigger shoes to fill against North America's best of the best?
Whatever the case may be, we are excited to watch the second Spring regional event in Europe before the inevitable World Championship proves to us just how great this historic Team BDS really is.