Twitch is in hot water after demonetizing hot tub streamer Kaitlyn "Amouranth" Siragusa's channel from running ads "without any prior warning."
The 27-year-old immediately took to Twitter on 18th May to report on the matter to which followers and haters alike reacted to the news.
Over at the infamous LivestreamFail subreddit, users argued back and forth on how this ruling affects the internet model, most notably disregarding the issue as she has many other sources of income with OnlyFans, Twitch subs, Patreon and donations, to name a few.
"She has 20k subs, Patreon, OnlyFans, donations. Ad revenue must be a small part of her revenue stream overall?", Redditor hi_0 commented on the thread. This, however, did not sit well with the American content creator, who publicly shared her income from the Twitch ads feature right under the original comment.
"35-40k a month re ads", Amouranth replied, disclosing just a portion of her earnings and emphasising how big of an issue both objectively and subjectively the blind-sided ban is.
Fellow Hot Tub streamer Jenelle "Indiefoxx" Dagres, who Amouranth has butted heads with lately, did not take the chance to come at her competition, rather questioned her and Amouranth's platform, Twitch, over the call.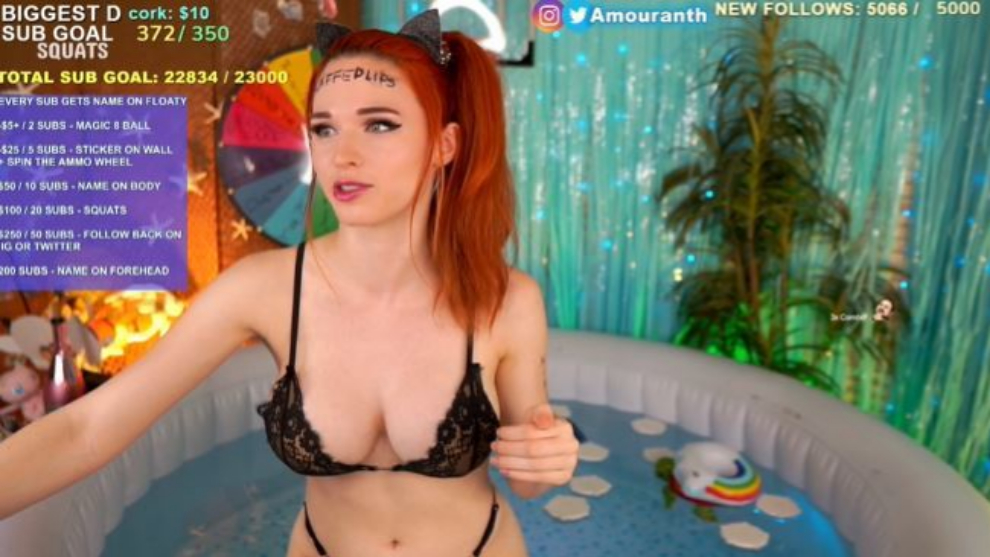 (Picture: Twitch)
"Instead of demonetizing, they should just get rid of the content they don't like. If they didn't want that, why didn't they just say no?", Indiefoxx slammed the streaming platform after they turned a blind eye on the fan's outrage for hot tub streams.
Amouranth tweeted out one day after announcing the ad demonetization of her Twitch channel, calling the move from the platform's part "a prophylactic measure" after the continuing outpour of debate, judgements and controversy from the community.
The internet streaming profession seems to be crumbling over a guideline loophole with Twitch unable to provide a clear answer and plain out confusing the community with mixed signals and stances on the matter.
We'll keep you updated as the situation develops.