Professional gamer Sliker isn't one of the biggest names in streaming, but it seems he's popular enough to attract the attention of certain pro-football players. When playing Among Us, live on Twitch, the streamer got a series of DMs vis Twitter from Pierre-Emerick Aubameyang himself, asking to join the game.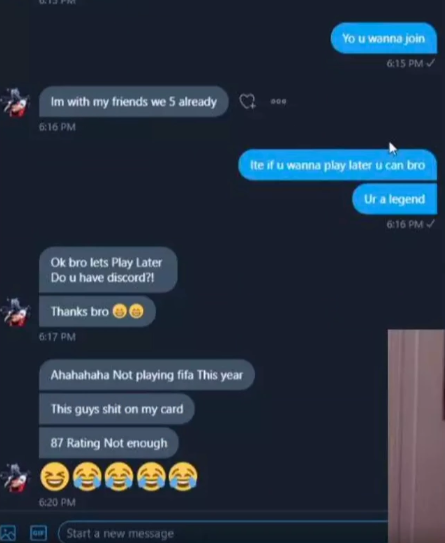 Aubameyang slid into Sliker's DMs looking for a party for Among Us. (Picture: Sliker)
At first, Sliker didn't believe it was really the Arsenal captain, known for being one of the best strikers in the world, but after messaging the user on Twitter, Aubameyang confirmed his identity. It seems that the footballer was looking for a squad to play with, and came across Sliker's stream by chance.
After being invited to the Discord call, however, Aubameyang tells Sliker that he's not able to play right now, instead opting to jump on Fortnite with some mates. After receiving some ribbing about his choice of game, Aubameyang shuts down the streamers by mentioning that he's off to play with his friends "Ronaldo and Messi".
In the Twitter DMs, Aubameyang also hilariously throws shade on his FIFA ranking. With the latest FIFA instalment decreasing the player's overall rating to 87, the Arsenal captain isn't happy with the development team.
"This guys shit on my card," Aubameyang wrote. "87 rating not enough."
It was enough shade for the striker for him to claim that he wouldn't be playing the game this year.
It's events like these that really start to blur the lines between Twitch streamers and more well-known celebrities. Ever since Ninja played Fortnite with Drake, getting a celebrity on your stream has been a sure-fire method to success. Since then we've had all manner of famous individuals showing up in live streams, including most recently Snoop Dog playing Madden with DrDisrespect.
Perhaps Aubameyang will return for that game of Among Us soon. We'd bet Sliker certainly hopes that's the case, at least.