Whether a streamer or YouTuber the life of a content creator isn't all fun and games, the days can be long and there is a lot of work behind the scenes that make it a job in every sense.
Add to that the stresses of quarantine brought on by COVID-19, which has meant many people all over the world haven't been able to venture out their house for more than their bare essentials, forgoing visits to family and friends and the thought of sitting all day in front of the computer seem even less appealing (okay, for some...).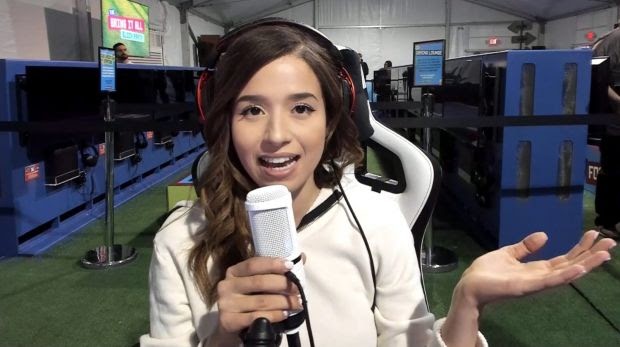 (Picture: Pokimane)
It's that added pressure that has meant that Imane "Pokimane" Anys has announced that she is set to take a month-long break from streaming, the first time she has done so in over six years.
In a statement posted to her Twitter, the Twitch streamer, who is one of the most recognisable faces of the platform with 5.4M followers, explained that she hasn't been enjoying making content during quarantine and has been "feeling burnt out for quite some time".
"The things I look forward to most, like visiting my family, travelling, going to conventions, and meeting some of you, aren't possible right now," she said. "I recognize that I'm very lucky to be able to work during a pandemic, however, I still need to do what's best for my mental health."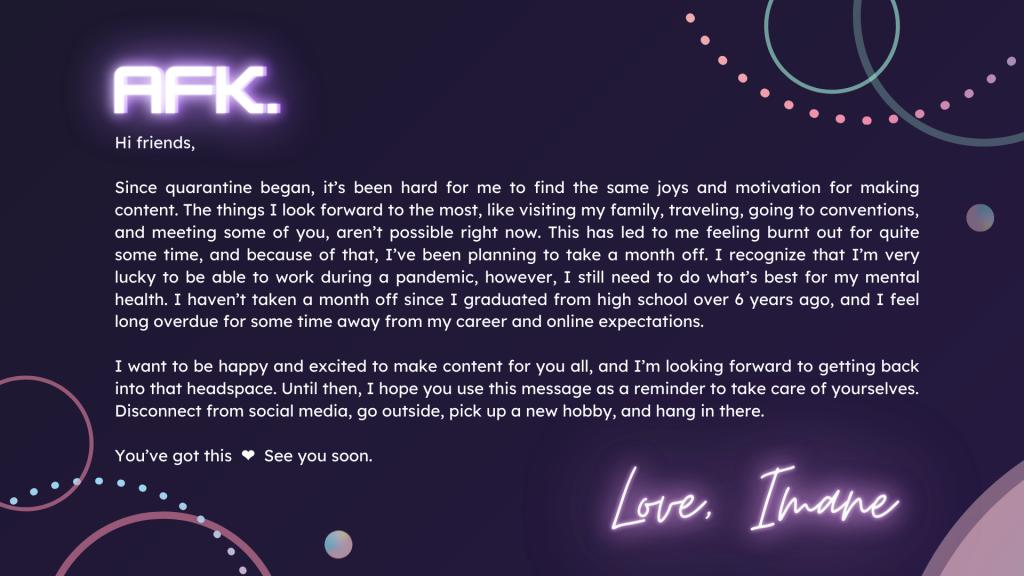 (Picture: Pokimane)
In her statement Pokimane makes clear that she definitely plans to return to the platform, but she wants to "be happy and excited to make content".
"I'm looking forward to getting back into that headspace, Until then, I hope you use this message as a reminder to take care of yourselves. Disconnect from social media, go outside, pick up a new hobby, and hang in there."
Pokimane's break comes at an interesting time, she has come under-fire from nefarious sections of YouTube, namely Calvin "Leafyishere" Lee Vail, when he put out a video called "Content Fallout - Pokimane" where he revealed the streamer had a "secret" boyfriend, an unsubstantiated fact that lead to here new subscriber count to fall.
Her announcement also comes just days after the semi-regular talking point, that often manifests itself on Twitter, about the need to "grind" in the world of esports to make it in the industry. Work-life balance is a contentious issue in gaming and esports and it goes to the very top with many employees of top studios complaining of the - crunch - an industry term that describes the intense workload before a major title launches. Activision Blizzard employees recently took steps to organize after issues around the gross underpayment of some of the staff.
Few could blame Pokimane for wanting some time off and messages of support from the streaming community flooded in for the streamer.
Jack "CouRage" Dunlop spoke of his happiness for the streamer deciding to take a break saying that the lack of face-to-face interaction meant creators were "struggling".
Happy you're doing this for yourself! I think so many creators are struggling without have those opportunities to see each other, travel to events, and engage with our fans. Enjoy your break!

— Jack "CouRage" Dunlop (@CouRageJD) August 5, 2020
"AnneMunition" also sent her support suggesting that "more streamers should do this sort of thing".
I'm in the middle of a few days off that I basically had to force myself into. I think more streamers should do this sort of thing and I'm glad you are! Have a good time, take care of yourself.

— Anne Munition (@AnneMunition) August 5, 2020
When Pokimane will return isn't year clear, she last streamed on 6th August which would make her return sometime in the first week of September.