Every year since 2018, Twitch streamer Benjamin "DrLupo" Lupo holds his Build Against Cancer charity stream event, raising a whole lot of money for a good cause, and getting both sponsors and other famous streamers such as Ninja involved.
This year, DrLupo smashed it yet again, raising over 2.3 million USD for the St. Jude Children's Research Hospital in the fight against cancer.
DrLupo's Build Against Cancer charity event
This year, DrLupo raised a total of 2,307,106.57 USD for St. Jude Children's Research Hospital. While this is a big amount raised over two days, DrLupo also announced in November 2020 all stream donations will go to charity until "the end of time". 
This year's Build Against Cancer charity event ran from on 19th and 20th December, which saw him play a whole lot of Minecraft, Fall Guys and Among Us, with big streamers such as Ninja and CouRage, as well as celebrities such as Felicia Day and many others join in the action.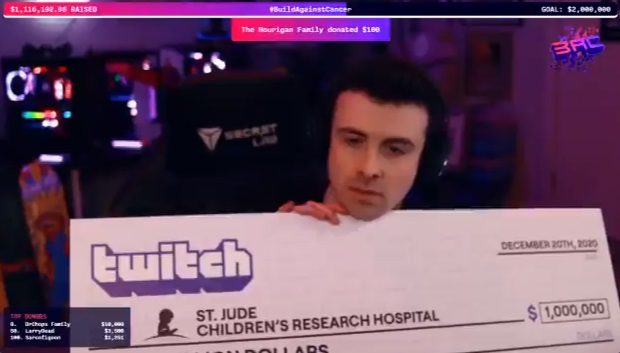 (Picture: DrLupo)
With less than one hour to go, however, DrLupo's Build Against Cancer raised around 1.3 million USD before streaming platform Twitch jumped in.
Twitch donated 1 million USD, with a big old giant check which took DrLupo by surprise, despite the streaming platform donating 1 million USD last year as well.
DrLupo explained on Twitter: "They were INSPIRED by all the money you've raised, so Twitch did it AGAIN! 1 million donation for 
St. Jude!
You can catch the full 24-hour stream below, which is a joy to watch especially as you see all the donations coming in from people across the globe.
DrLupo's work is far from done. Just before heading off to get some rest after the marathon charity stream, he said: "Gonna start knocking out charity goals tomorrow, starting with a whole day of only TOZ weapons in Tarkov."
DrLupo's charity event, as well as all the work he puts in every week, is inspiring. Thank you DrLupo, thank you.