Each week, Zestats compile some of the most comprehensive Twitch statistics on the internet and present it to us to see which streamers and which games have been dominating Twitch that week. With what has been a crazy couple of weeks in esports and gaming, we've seen a few changes from last week – have a look at them here.
The streamers
Apart from Ninja and Shroud, we've seen a shake-up in this week's top ten. Daequan, teammate of popular streamers Dakotaz and Myth makes his way into the top ten, with the fourth highest amount of hours watched in the last week. Similarly to Myth in recent weeks, if Daequan starts streaming more hours we may just see him become a mainstay in this list.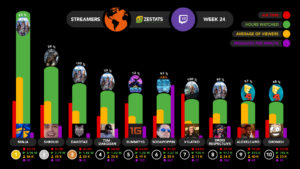 Our occupants of the 7-10th section of the list are all also strangers – or a long-time-missing – from the top ten Twitch streamer charts. Ukrainian Dota 2 caster V1lat streamed for an incredible 83 hours last week, a definite attribute to his success and amount of hours watched. Dr. DisRespect also makes his return to the top ten, having been out of favour in recent months, particularly since the entire world fell in love with Fortnite and he simply didn't. Finally, Alexelcapo and Gronkh sneak into the top ten with their E3 streams – although they didn't stream a lot (Alexelcapo with less than 20 hours), the hot topic of E3 and the great announcements coming from it were enough to make people incredibly interested. It's worth noting that we're seeing Fortnite a bit less. It still dominates, but these streamers are now playing games such as Realm Royale or Jurassic World and still improving their hours watched.
The games
For the first time in a long time, we've seen League of Legends be pushed down to third place. Although it couldn't knock Fortnite off its perch, E3 was as popular as expected, with 1.2m hours watched more than League of Legends content.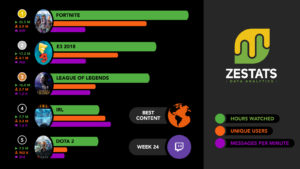 Though this is only likely to happen once a year, it shows how important E3 is to the entire gaming industry. Not to mention, they hosted the Fortnite Pro-Am tournament which definitely bolstered the numbers for both E3 and Fortnite. PUBG was what had to be omitted from the top five to make way for E3, but it will surely be back in next week to make up the usual top five. Make sure to check back next week to see which streamers and games have been most popular, courtesy of Zestats.