Twitch streamer JustaMinx, otherwise known as Minx, has drawn significant attention this year, from hosting a "sexual" hot tub stream involving strippers in January to being served a "last chance" warning from Twitch for using derogatory slurs late last month.
After a brief hiatus from the Amazon-owned streaming platform, in fear that her next mishap would result in a permaban, Minx has seemingly returned to the Twitch limelight.
On 11th March, JustaMinx featured on the Name Your Price game show hosted by Austin Show and Will Neff and featuring iconic streamers Amouranth, Ironmouse, Veibae, Snuffy and Nyanners.
Twitch star Minx downs bottle of lubricant on Name Your Price
As you might have imagined, the show is a mockup of the American game show The Price Is Right and tasks players with guessing the price of various items, winning cash or prizes if they are correct. In this case, the item in question was an expensive bottle of edible lube.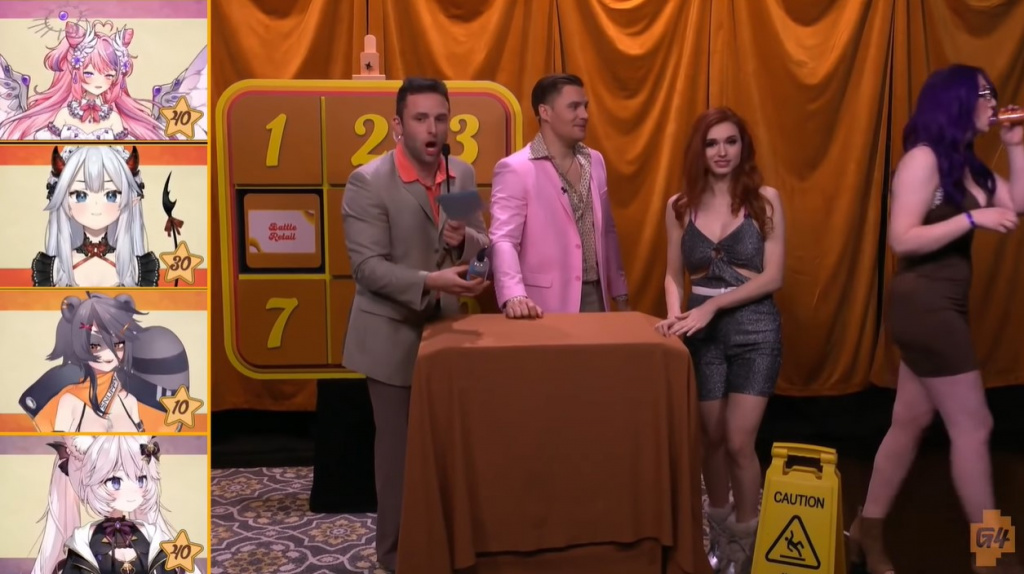 However, not long after Austin introduced the lube, saying, "This lube is the most expensive, and this lube is the winner of this segment, ladies and gentlemen," Minx came in and downed one of two bottles of lube, seemingly from out of nowhere. The Twitch streamer then casually proceeded to walk back off the set.
"Oh my god, you are such a Chad. I love her," said co-host Will Neff. Then, continuing with the segment and attempting to guess what the flavour of the lube was, some of the guest V-tubers wanted to know if they could also do a taste test.
Followingly, one of the V-tubers asked, "Can we get a confirmation that this is truly like minty freshness, like toothpaste flavour?" Austin then said, "It is minty," but picking up the remaining bottle of lube from the table added that "this one's not edible, for sure."
Shortly afterwards, Minx walked back onto the set and said, "I can. Anything for you, my love." Minx then proceeded to take the bottle of lube from Austin, unscrew the top and chug the contents a second time in front of them. "I can't believe you just f*cking did that," said Will Neff.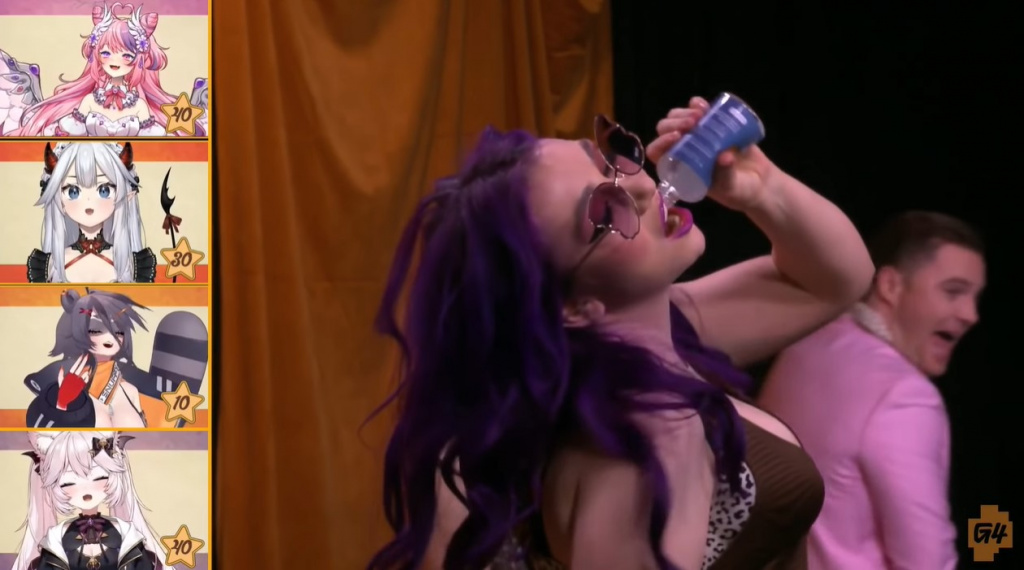 Austin and Will immediately shrieked and ran away while Minx stole the attention of the camera, waving her hand and flicking her hair back as she made her way off the set in style. Amouranth was visibly shocked by Minx's antics and left speechless by what she had just seen.
During the break, Minx could be seen returning to the set and appeared confused and drunken. Presumably (or instead, hopefully) acting, Minx then collapsed on the floor as the streamers scrambled around to cover her up before the segment resumed.
Some users online were impressed by Minx's stunt despite what others would call a reckless and stupid act. "The balls on that woman to do that; I honestly so much respect," said a user on YouTube. "Minx is the biggest chad in that building," echoed another. "Minx stole the whole show. She's fantastic at physical comedy," said a third.
A different user said that Minx might regret her stint when using the bathroom. "She is going to have the worst time ever later in the bathroom, if not right after that happened," they said.
Notably, most lubricants are made from water and Glycerin, with some stabilising chemicals; therefore, they aren't usually toxic. Still, it's probably not a wise idea to chug an entire bottle, as it may cause severe issues with your digestion.
While we can't put it past Minx not doing anything crazy like this again, we hope she's feeling okay after the fact. On the other hand, at least she gave fans exceptional entertainment value.
Speaking of which, if you enjoyed this story, then you'll love some of our other stories about your favourite Twitch and YouTube streamers. So, with that said, you'll want to check out our dedicated Entertainment section for more news, just like this one.
Featured image courtesy of Twitch / AustinShow.