The idea of getting stacked lobbies together for Among Us is a growing trend in the community. From groups with popular streamers and personalities to lobbies with politicians such as the recent record-breaking Alexandria Ocasio-Cortez stream, there are endless possibilites.
Popular YouTuber Mike Majlak has clearly seen this trend as well, as he's formed a formidable group for his first ever Twitch stream. 
MY FIRST @Twitch STREAM IS STACKEDDDD 🎉

Playing Among Us with:@Banks@Nadeshot@Valkyrae @CorinnaKopf @Lazarbeam @RiceGum@Dwarf_Mamba @Trainwreckstv @LudwigAhgren
+ special guests

TODAY 2PM PST: https://t.co/0tZ2OHN6eb pic.twitter.com/AdTTq07F2M

— Mike Majlak (@mikemajlak) November 6, 2020
Known for his involvement with Logan Paul's 'Impaulsive' podcast and relationship with Lana Rhoades, Mike Majlak has been growing pretty steadily on YouTube. However, he's now taking some time to stream on Twitch and his first broadcast featuring Among Us starts at 5 pm EST.
Mike Majlak's first Twitch stream to feature huge personalities and Among Us
The recent success of Among Us has seen a flurry of streamers and creators attempt to jump on board the hype train. From PewDiePie to Jacksepticeye, there doesn't seem to be a creator left who hasn't tried their hand at the strategy game developed by InnerSloth. 
Mike Majlak is the latest personality to get in on the action and he's teamed up with some giants in the community to celebrate his first stream broadcasting from his new channel HeyBigMike.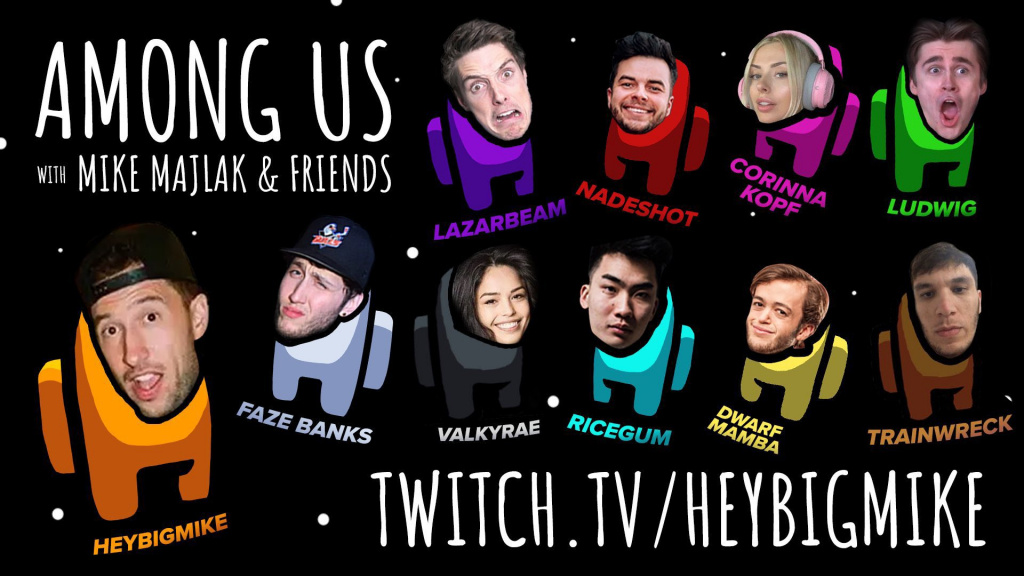 (Picture: Mikle Majlak)
The players for the stream include Nadeshot, Valkyrae, Banks, Ricegum, Lazarbeam, Corinna Kopff, and more. Also, Majlak has teased that some special guests are also joining the broadcast. 
You can tune into the stream on Majlak's Twitch channel starting at 5 pm EST.
There's no word on how long the stream will run for but Among Us games tend to take a good chunk of time.