Twitch streamer Asmongold was left astonished by a stream sniper during his New World livestream. In the past, the Twitch streamer has been vocal about stream sniping, pleading with eager players to stop as it makes interactions weird and uncomfortable.
While stream sniping is a fairly common occurrence for Asmongold, random players had attempted to provoke a reaction from the streamer and failed miserably. While Asmongold was playing some New World recently, an eager player managed to catch the streamer's attention in the best way possible.
Stream sniper retorts at Asmongold take on New World exploits
Asmongold returned to Aeternum during his 10th November 2021 livestream in which the streamer was engaging in an intense discussion with his chat.
The subject of the discussion was reports of exploits discovered in New World as well as advising what the developers should be doing to remedy the situation.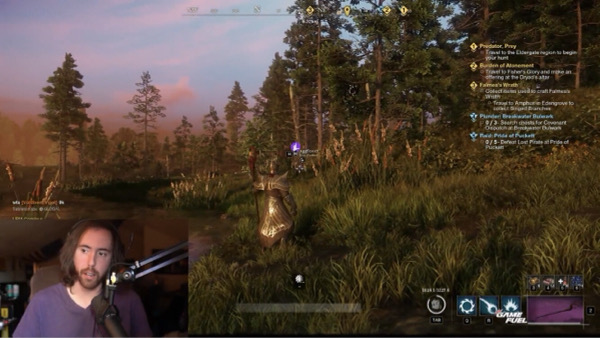 "There are certain types of exploits that a person could potentially do and not really know they're exploits because they don't really understand the game that well," Asmongold elaborated. "Dev oversight? Yeah, I think so. I think it's definitely an issue in many cases," the streamer continued.
A member from his chat submitted a question to the streamer, to which at this point a random player appeared across the screen.
Unfortunately for Asmongold, the player walked past with a savage response to the question in proximity chat: "Yeah but who asked tho?"
The response evoked a surprised look on the face of the streamer as the stream sniper continued on his way. While the random player went off to fight others, Asmongold collected himself before finally giving his response.
"That's one of the guilds that gets accused a lot of exploiting on my server and apparently he took it personally. I didn't say you guys were cheating! I don't f**king know. He was about to come back to say some sh*t again!" Asmongold retorted back.
Believe it or not, the stream sniper made a U-turn and headed back towards Asmongold with a quick response, "Shut up baldy". This response prompted praise from Asmongold for not making the encounter awkward. "You saw him turn around right? He had to stop, he had to type it out and then auto-run so it wouldn't be weird whenever he stopped."
Nevertheless, the encounter was certainly interesting in light of the conversation Asmongold was having with his chat. The streamer continued the discussion with the chat on New World's exploits as if the encounter didn't happen.
Don't forget to check out our dedicated Twitch section for the latest news, updates, streamer antics, drama and more.
Featured image courtesy of Twitch / Asmongold.