In a recent stream to celebrate Dr Disrespect's first week back after returning to YouTube, the streamer took on PewDiePie to determine the true king of the platform.
With a broadcast reaching over 340,000 viewers, the two content-creators battled it out in Fall Guys: Ultimate Knockout.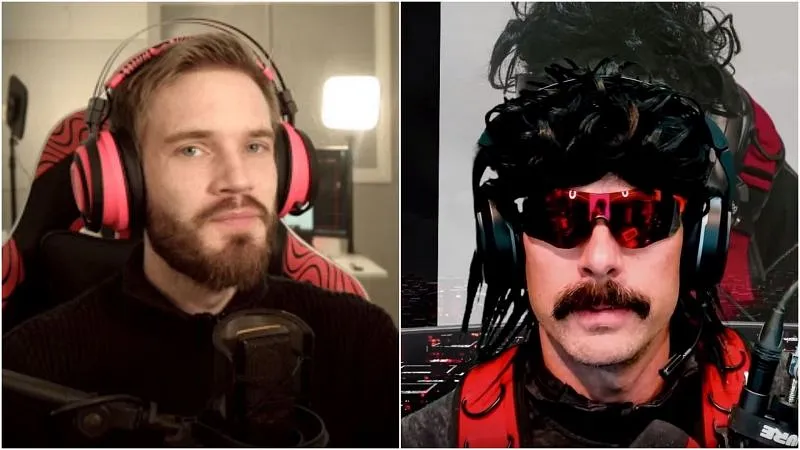 (Picture: Pewdiepie/Dr Disrespect)
The new party game is known for its wacky take on the battle royale genre, and it was the perfect platform for a hilarious competition between two gaming veterans. It was a neck-and-neck fight, despite Dr Disrespect performing poorly early on in the game, and the competition came to a head on Block Party.
Dr. Disrespect, true to his personality, attempted an aggressive play. The streamer grabbed PewDiePie's Fall Guy and held on, aiming to see him knocked off stage by incoming blocks. Instead, the manoeuvre led to Doc himself taking a fall, causing him to shout out in rage.
At the halftime break, Dr. Disrespect took to his locker room to give a pep talk to himself and the fans. 
"How are we losing, Champions Club? Huh?" Dr Disrespect asks. "To this guy all the way in Sweden who drives in a Volvo and takes him seven hours to go to the liquor store?"
It's this kind of content that truly shows why viewers love Dr Disrespect's content. The effort put into this short interval is so clear, and it's what sets the streamer apart from his competition.
Unfortunately for the Two-Time Champion, his competition was a little much for him on this occasion, and PewDiePie took the game 5-3 in the final round. As the victor, the Swedish YouTube star forced Disrespect to watch the most disliked video on his channel.
While watching PewDiePie's viral attempt to get 1 million dislikes on a video, Doc joked: "I am so glad we joined YouTube." PewDiePie responded with "Right? This is what is ahead of you! If you need any tips, let me know. I got you."
The duo agreed to do an IRL stream together sometime in future, which is sure to break a YouTube record or two, should it ever occur.
While both PewDiePie and Dr Disrespect have had their fair share of controversy, they are each known for having passionate fanbases behind them, and being together on YouTube can only lead to further success in the future.