It seems like we are just in the eye of the hurricane in the tale of James Varga vs Twitch. Varga (AKA Phantoml0rd) comes from achieving the unthinkable by bending Twitch to lawfully admit defeat for his unfair lifetime ban back in 2016.
The streaming brand had to reimburse James with over $20,000 for the damage caused to him and his reputation after failing to deliver proper notice of the alleged violations of the community policies and a time frame to address them properly.
Now, Phantoml0rd has taken its signature aggressive playstyle to the courthouse as he pursues his next goal of evaluating and adjusting the partners' terms, policies and processes to "put a stop on Twitch´s unfair treatment of all streamers", he stated through Twitter.
Judge will rule on the future of how Twitch disciplines/bans streamers:

Read: https://t.co/p5Lck8J8Nh

— PhantomL0rd (@PhantomL0rd) July 2, 2021
To ensure this, he drew a series of requests to the judge how Twitch should modify and improve certain aspects of the contractual relationship with its partners. You can revise the specifics of his demands here: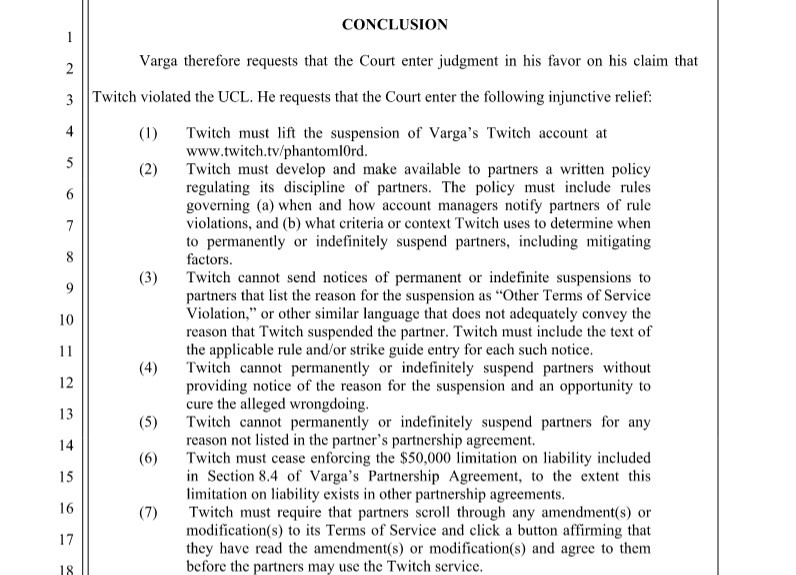 If you would like to channel your inner attorney and take a look at the full plaintiff brief, you can check it out here.
Although the requests are clear, it is still up in the air whether the justice system will have the jurisdiction to put these policy changes under effect. We will keep you updated with further news regarding this legal battle.
Don't forget to check out our dedicated Twitch section for news, streamer antics, drama, and more.