Jason "TheStockGuy" Frank, a widely known Twitch streamer famous for advising and giving tips to those interested in the stock market, recently sat down with Alok "Dr. K" Kanojia, revealing a chilling story regarding his mother and how she begged Frank to donate his liver to save his brother's life. 
During the stream, which was broadcasted on Dr. K's channel, HealthyGamer_GG, Frank stated that, as a child, he had to deal with the fact that both his parents were drug addicts, a situation that led to a lot of issues, including having to scrap dumpsters for food and begging for money.
"Mom was not right in a lot of ways, dealt with a lot of problems. Lived in a shack on the mountainside in Hawaii, no electricity no water. Had a lot of medical issues as a kid because of unsanitary conditions. Very very bad abuse in a lot of ways."
Naturally, as time went on, Frank would lose touch with his parents, however, her mom reached out after a decade apart with tragic news regarding TheStockGuy's brother, who was in desperate need of a liver donor in order to survive critical complications.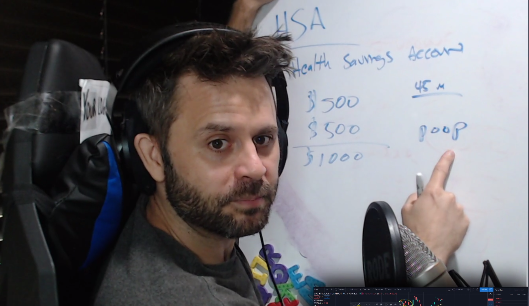 Jason "TheStockGuy" Frank opened up about his rough upbringing (Image: Twitch.tv/TheStockGuy)
"She reached out to me after 10 years to say: 'Your brother is dying, can you donate your liver?'" He said.
"I knew she was a manipulative person but that just f*cked with me. I sat on this for several days, if I give part of my liver, it could save his life, or because I drank a sh*t load when I was younger and I had fatty liver at one point I can have complications from it," Frank added.
The incident, which according to Frank happened 18 months ago, ended up with him making the tough choice of denying his brother the help he needed, which led to his passing.
"I still live with that because I had to make a decision over my blood brother or the chances of me not being there for my wife and potential daughter, and that was really a f*cked up situation to be put in."
Jason would end up losing not only his brother but his parents in 2019. His mother passed away due to a drug overdose while his father committed suicide. 
If you want to watch the entire interview, head out to Dr. K's channel, it will also be uploaded to HealthyGamerGG's YouTube channel.