If you've visited Twitch front page this last few days, you might have noticed the addition of the "Esports" tab in the top-left menu bar.
Read more: Twitch is taking measures to stop Valorant beta drops farming

It is a small but handy addition which will definitely help a lot both to viewers to find the content they want, and for organizers to reach their audience more directly through the platform.
When you enter this section, you will be presented with live matches and tournaments, as well as reruns, highlights and VODs of the events the system think you might like. There's a "main" page with a mix of all events from all games, as well as separate pages dedicated to specific games. When you choose one of the game tabs, besides live event and VODs, there's also a section which shows all the pro players that are currently streaming, if you are interested in watching some of the pro players from that particular game.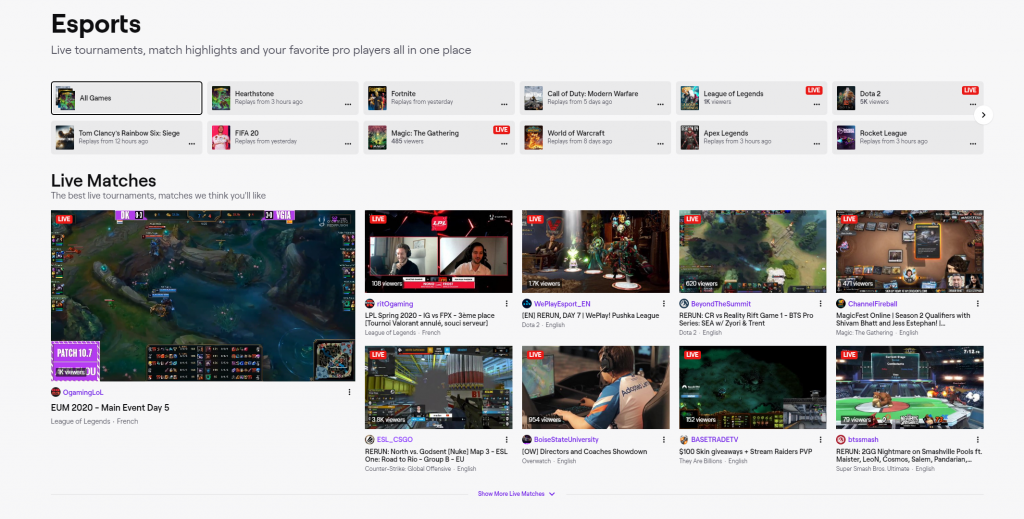 And that's about it. It looks like it's nothing big, but for the people who like to watch esports events and don't like to chase link to streams on other places, this will be a very practical place to easily find live streams for the events they want to watch and follow. Addition of the "pro streamers" section also can turn out to be quite useful for the people who are interested more in watching pro players than entertainers. We're not really sure how the system determines which streamer is pro and which isn't, but that is something that is probably done by manual work, by manually tagging streamers who actually play the game professionally.
There's also a question will this support smaller scale tournaments and events, or will only work for a high-profile and established events that are officially sanctioned by the game creators.