Streamers have blasted Twitch after it emerged that their Celebrations feature - a donation which includes such things as fireworks to explode on screen - is set to be a 50/50 split between Twitch and the streamer, much higher than the amount taken when donating through bits.
NEW FEATURE IN TESTING@Twitch is testing "Celebrations", where a full-page blast of confetti or fireworks occurs during support ($) events.

The streamer controls the activation threshold for bits/gifted subs. #TwitchNews

Here's what it looks like via @CeddyOrNot! pic.twitter.com/MEwfcvUFGN

— Zach Bussey (@zachbussey) April 19, 2020
The feature is seen to be a move to take a larger share of streamer's donations which, unlike the purchasing of bits from Twitch or subbing to a channel, is done through third parties like PayPal meaning Twitch doesn't recieve a cut of the donation.
The Celebrations feature is not new having been trialled in April of this year, however, at that time it was activated through subscriptions and bits. This time though things are different, with streamers given the option of setting a donation amount that will spark the celebrations.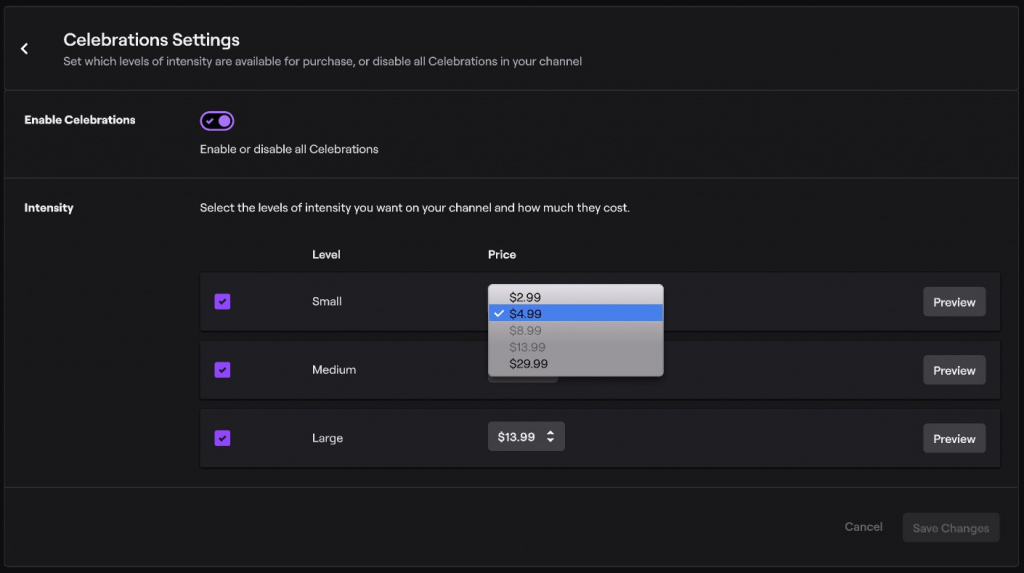 (Picture: Zach Bussey)
The issue was brought to light by Zach Bussey of Creator Hype, who suggested that the 50/50 split is "awful".
TWITCH FEATURE TEST

Twitch is running a new test with Celebrations, targeting donations for the first time! Previously, Celebrations were attached to bits/subs.

The split is 50/50. (Awful!)

See more about the previous test here:https://t.co/frajQpyU5s#TwitchNewspic.twitter.com/O7ZZOcqm95

— Zach Bussey (@zachbussey) October 23, 2020
Zach also makes mention of the prominent placement of the "Celebrate" button placed between "Follow" and "Subscribe" that sits below a live stream.
Also worth noting, they are going to be pushing this HARD with its own button sandwiched between Follow and Subscribe! pic.twitter.com/aUzYeMeSmk

— Zach Bussey (@zachbussey) October 23, 2020
It's safe to say the feature hasn't and its implementation hasn't gone down well with streamers with some looking at it in a particulary poorly in light of the recent troubles streamers have faced with DMCA strikes.
Glad to see @Twitch has spent the time they should have been working on a better Copyright system, instead on this. Gross. https://t.co/lOd8GHOJdj

— Daware Your Mask 😷 (@DawareTV) October 24, 2020
this is absolutely horrible optics on twitch's part

i would like to be properly paid for my work and i don't need bezos taking even fucking more of my money

donate directly through paypal or the like. fuck this garbage https://t.co/AmOSNFPYU7

— amBOOr (@amber_cxc) October 24, 2020
It must be noted that this feature is currently in a testing phase and the plan at the moment seems to be that streamers will be able to opt-in or out of it when its rolled out.
One potential upside to such a feature is for streamers to be adversely affected by chargebacks. A process where donations through PayPal or some other 3rd party payment method forcibly refunded, often causing the streamer to be hit with added fees.
It's not yet clear if and when Twitch will roll out this feature to all partnered channels.