Earlier this month, Twitch streamer Doaenel  unexpectedly received a permaban for supposedly having an inappropriate username, which phonetically sounded like "do anal." While the ban was perplexing at best, the streaming giant's more recent policy move appears to provide some answers.
The Amazon-owned streaming platform unveiled its new username policy in a bid to tackle hate, sexual and drug references in its public-facing channels. Accordingly, Twitch noted that the new policy would be effective starting 1st March 2022. Here's everything we know so far.
What is Twitch's new username policy?
According to a Twitter thread by prominent reporter Zach Bussey on 10th February, Twitch is updating its username policy. Bussey noted that the new policy would come into effect next month and that Twitch would appropriate aggressive action to usernames that fall into one of many categories.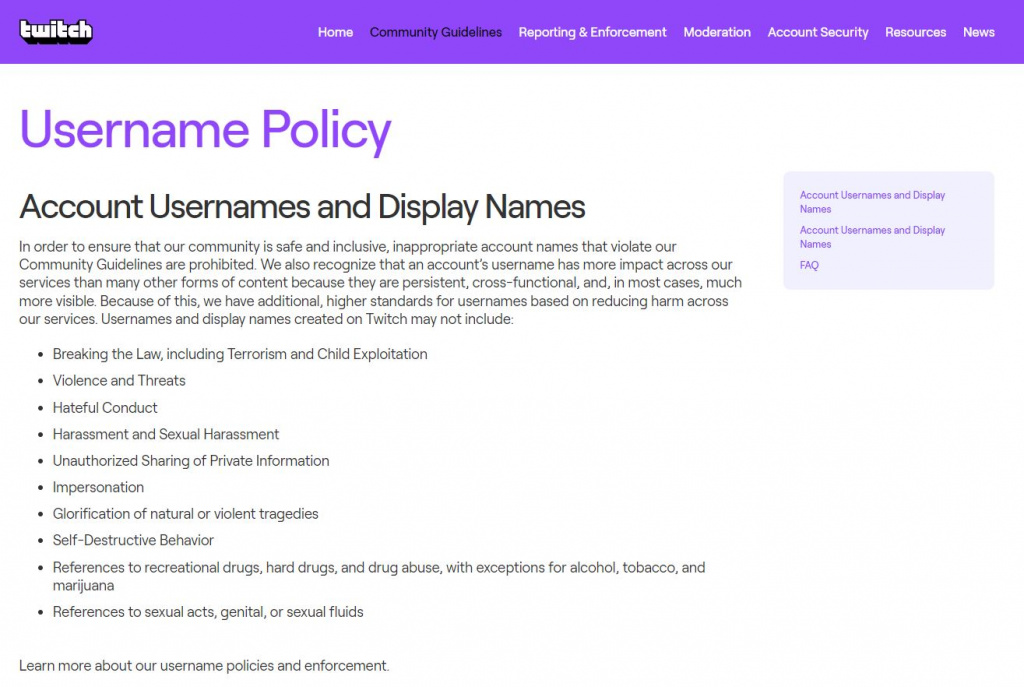 In particular, Twitch would take action against usernames that fall into "hate speech, threats, or PII [personally identifiable information]. It will also remove reported usernames referencing sex, arousal, fluids, genitalia and 'hard drugs' (excludes Alcohol, Tobacco, Marijuana)."
Bussey noted that "this is assuredly a new workflow too," highlighting that username violations were formerly treated with an indefinite suspension. However, according to new documentation, Twitch appears to be appropriating a unique process involving "Username Resets" instead.
Here is Usernames Documentation! As it was not linked in the blog post.https://t.co/bEUVMCRNG1

— Zach Bussey (@zachbussey) February 10, 2022
These resets will force infringing users to change their username and do not typically come with an account suspension. "Until you follow these steps and rename your account, you will be unable to access your account on Twitch," the policy noted.
Furthermore, Twitch warns that "repeatedly renaming an account in violation of [its] username policy will result in further enforcement actions" being leveraged against the account, up to an indefinite suspension.
How to appeal Twitch username enforcement action?
Fortunately, it seems that Twitch will also have a process for appeals if users feel that they wrongfully issued an enforcement action against their account. The appeals process appears relatively straightforward and can be done via the Twitch Help page.
The process to appeal a Twitch enforcement action is outlined in the image below.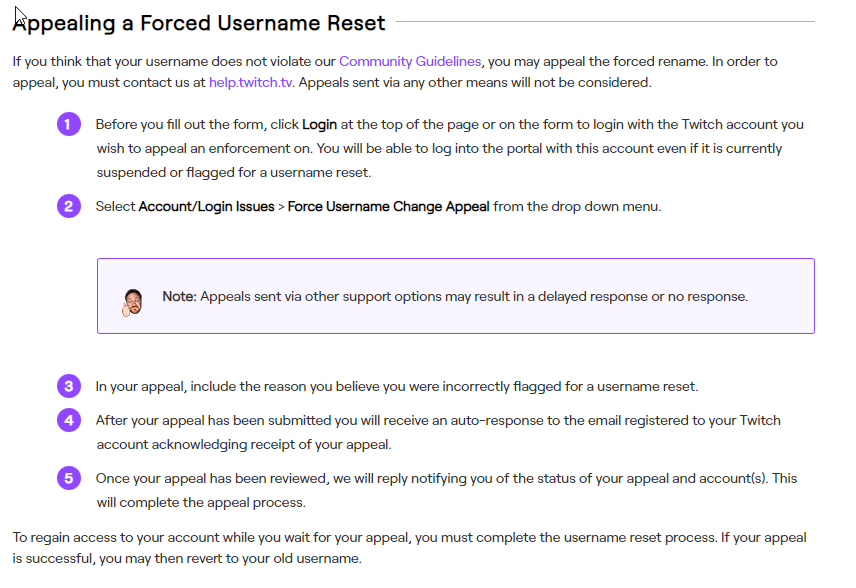 Why is Twitch overhauling its username policy?
If you're wondering why Twitch is doing this -- you need not ponder much further. According to Twitch, "usernames really matter" and are "textual avatars in chat and a crucial piece of channel branding for Creators."
Given their site-wide visibility, Twitch argues they "must be held to a universal and higher standard than other places people express themselves - like chat, for instance."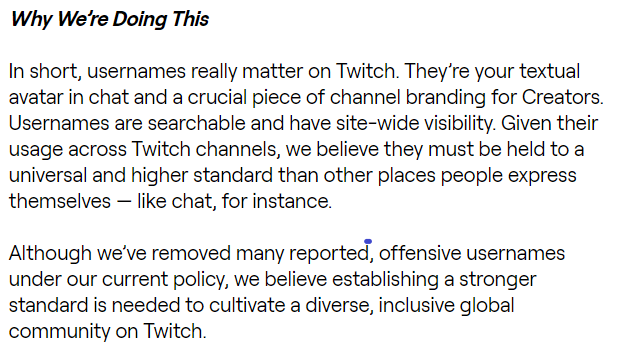 "Although we've removed many reported, offensive usernames under our currency policy, we believe establishing a stronger standard is needed to cultivate a diverse, inclusive global community on Twitch," the company further noted.
Indeed, Twitch's new username policy might not go down so well for all of its users; however, others are less fazed. For example, some users on Reddit are jokingly bidding farewell to their alt accounts, with usernames like "CrystalMethUser" or "ice_wallow_come."
What are your thoughts on Twitch's new policy? Do you agree with the company's latest move, or do you think they arguably have more pressing matters to deal with? Let me know on Twitter.
Featured image courtesy of Twitch.