While some Twitch streamers do great things, such as Ludwig donating to charity for every subscriber during his subathon, or a small-time streamer raising money to build a shelter for abandoned cats, there's a hot tub meta going on in the "Just Chatting" section. Basically, streamers (mostly women) spend their time on Twitch in a hot tub, mostly in bikinis. This hot tub meta has now gotten Twitch partner Imjasmine into trouble with the streaming platform, following a nip slip incident...
Iamjasmine nip slip Twitch hot tub incident 
Iamjasmine is a popular Twitch streamer (partner level) with over 200,000 followers, gaining tonnes of followers since employing the hot tub tactic...
Well, as with every tactic to get more followers on Twitch, the hot tub meta has some drawback, with a high potential for a wardrobe malfunction.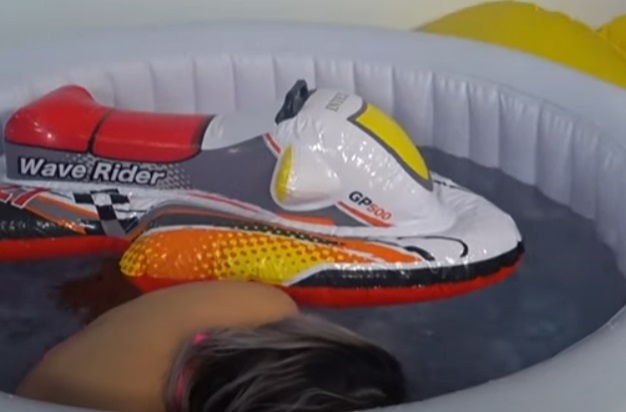 Ducking to fix the wardrobe malfunction (Picture: Iamjasmine)
Twitch's Terms of Service (TOS) prohibits any type of sexual content and doesn't allow streamers to be "fully or partially nude" which includes covering nipples at all times.
Unfortunately for Iamjasmine, she had a bit of a wardrobe malfunction in a Twitch stream on 22nd April 2021, which has caused her to get banned for 24 hours as a first offence due to a nip slip.
While Iamjasmine tried to cover up quickly, Twitch did take action as the nip slip incident was a clear violation of their TOS.
The hot tub meta clearly does have its downsides, as the potential for a wardrobe malfunction is quite high, especially for those in minimal swimwear. 
If you've been looking around for Twitch streamer Iamjasmine's nip slip incident, bad luck for you, we don't share adult content here.
Just head on over to Twitch's Just Chatting section to see some hot tub meta streams in action, if that's something you are interested in. Iamjasmine should be back in the tub sometime on 23rd April 2021 when her ban expires...