On 19th November, small channel Twitch Partner Marianne revealed that the Amazon-owned streaming giant removed an emote of a mushroom in a hot tub, claiming that it was "too sexual" for the platform.
Marianne further explained on Twitter, that she is "tired and frustrated" of repeatedly having her emotes removed, despite being no different from other mushroom emotes on the platform. Naturally, this attracted a flood of comments on Reddit users, who proceeded to slam Twitch for their alleged double standards.
Twitch removed "sexual" mushroom in hot tub emote
In a Twitter thread, Marianne indicated that the emote was initially intended as a "lighthearted and cute emote" to replace a different emote that Twitch has repeatedly removed. However, she explained that now, all of her emotes must undergo manual review for approval.
According to Marianne's Twitter post, emote was removed for "imagery of sexual content or nudity, i.e., 'Gasm'-style emote which contain sexualised torsos or bodily fluids."
While we could forgive an AI for perhaps incorrectly misclassifying the emote, it's challenging to comprehend how a human might have interpreted the emote so wrong.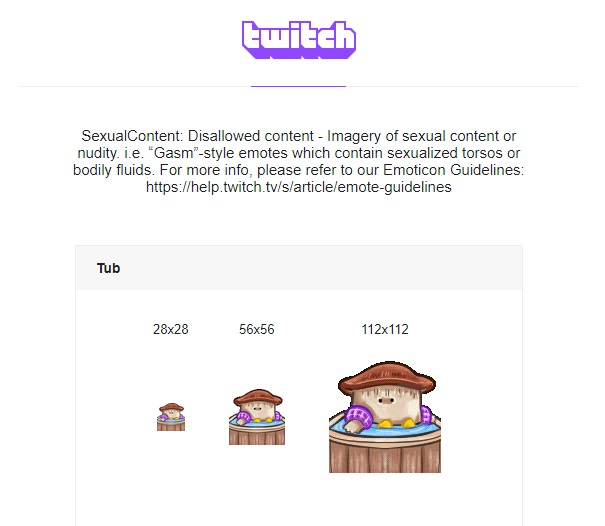 In a separate tweet, Marianne said that a different emote (which arguably could be viewed as sexual) was approved within 20 minutes of her trying to upload the hot tub emote.  Marianne further said, "I genuinely don't understand what's going on", and, by the looks of it, neither do the Reddit community.
"Twitch has no problem striking stupid s**t down as sexual, but when faced with a** and t**s, they'll start sweating because they have to pretend they're not j***ing off to them every day," one Reddit user explained.
Another Reddit user criticised the emote review team, saying: "Things like these scream of someone doing something just to make themselves feel like their job isn't completely meaningless."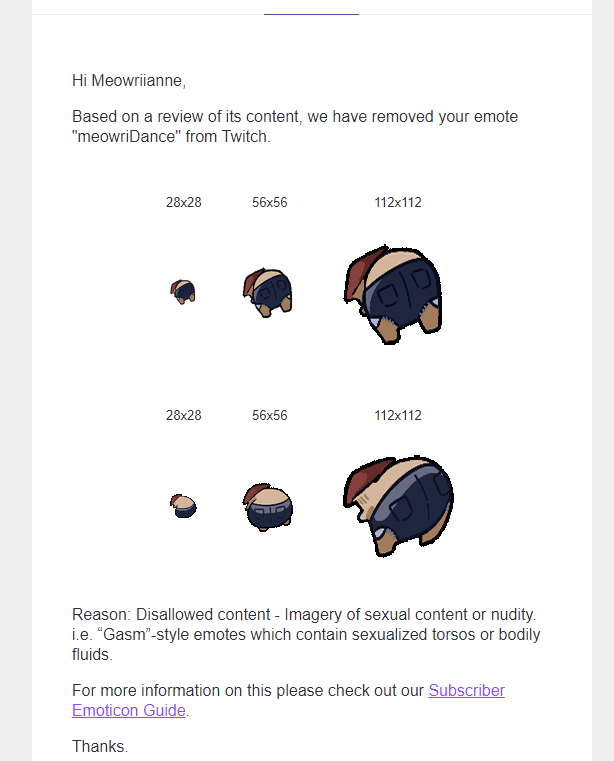 Other Reddit users slammed Twitch for their double standards, claiming that they have no problem with streamers in hot tubs wearing next to no clothing, yet they have a problem with a literal mushroom.
"But hot tub streams are definitely not sexual! Nothing wrong with a silly swimsuit," a Redditor said sarcastically.
Some users claim that the mushroom appears phallic; however, Marianne snapped back, saying that "tons of other mushroom emotes that exist on the website" and that her mushroom emote is "no different."
And please do not come at me with "Well that mushroom sure looks phallic". There are tons of other mushroom emotes that exist on the website because you can tell that they are mushrooms. This is literally no different. I am tired and frustrated.

— Marianne (@meowriianne) November 18, 2021
Marianne continued to add that she is unsure how to get this problem sorted or whether her emotes are being mass reported or specifically targeted.
Indeed, Twitch is no stranger to controversy, especially regarding members of its streaming community alleging that they exhibit overt bias and favouritism toward specific individuals. But, we'll leave it to you to decide how you feel about that.
If you're interested, you can read all of the comments in the Reddit thread via this link, as most of the comments were too foul to include here.
Don't forget to check out our dedicated Twitch section for the latest news, updates, streamer antics, drama and more.
Featured image courtesy of Twitch.