Twitch icon Kaitlyn "Amouranth" Siragusa is widely known for her provocative hot tub and ASMR streams; however, she is also a founding creator for Playboy's Centerfold and among the highest-paid OnlyFans models.
Beyond this, Amouranth also owns stakes in several businesses, including a 7-Eleven store, a gas station and an inflatable pool toy company. More recently, however, the Twitch mogul launched a new company called Cutie Patooties, listing her hot tub bathwater and fart for sale at $100 and $1000, respectively.
While the stint is seemingly inspired by the Bathwater Girl herself, Belle Delphine, who sold $30 bottles of bathwater for "thirsty gamer boys", Amouranth's hefty price tags might have you questioning the (in)sanity of the hundreds of stans buying it.
Twitch streamer Amouranth is selling her farts and bathwater
Amouranth announced her latest business endeavour, "Cutie Pa-TOOT-ies," on 1st March over Twitter. The Twitch star wrote, "Have you ever wanted to smell your favourite streamer or own their hot tub water (in physical form, not an NFT)?"
I STARTED A NEW BUSINESS! HAVE YOU EVER WANTED TO SMELL YOUR FAVORITE STREAMER OR OWN THEIR HOT TUB WATER (In physical form, not an NFT)? SAY LESS: https://t.co/usUTSwlbYI

SUPPLIES SUPER LIMITED pic.twitter.com/HRWbqU7ilH

— Amouranth (@Amouranth) February 28, 2022
Well. Say no more because Amouranth has you covered but be warned, supplies are "super limited." Amouranth has two products listed on her store, titled, The Hot Tub Water and The Scent Jar, By Amouranth.
Amouranth's hot tub bathwater
The hot tub bathwater sells for the bargain price of just $99.99, and supply is limited to only 3000 units. So if you're a proud Amouranth stan, then this is your chance to "hop in the tub" with your favourite Twitch star. Better still, each jar is autographed by Amouranth and personalized by being hand-numbered from 1-3000.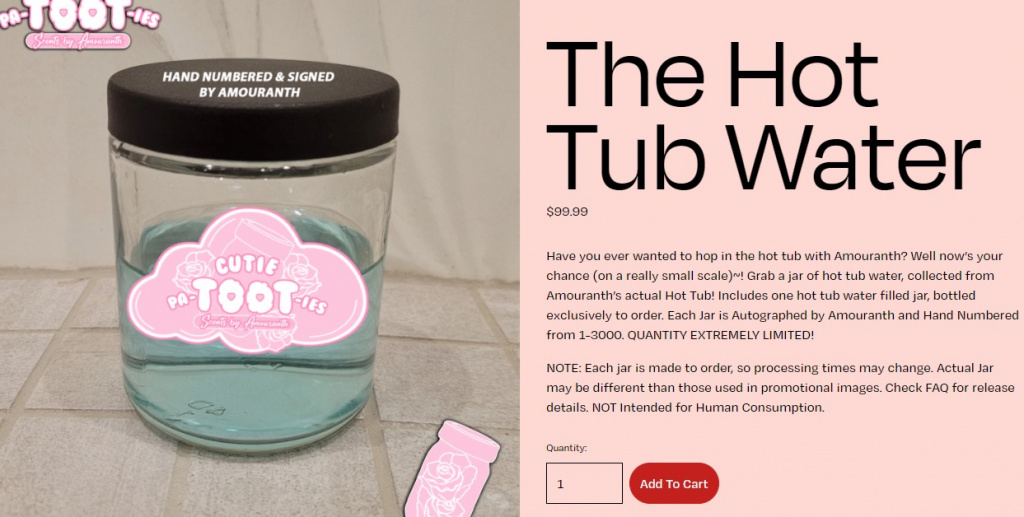 Amouranth notes that each jar of hot tub water is collected from her actual Hot Tub and bottled exclusively to order. Additionally, the product listing warns that the water is not intended for human consumption; however, I doubt this will deter some from trying.
Amouranth's fart scent jar
If you're hoping to get a whiff of what your favourite streamer smells like, then brace yourself, or rather, your wallet. The Scent Jar retails for a whopping $999.99 and is an "exclusive limited edition [...] made especially by Amouranth for you.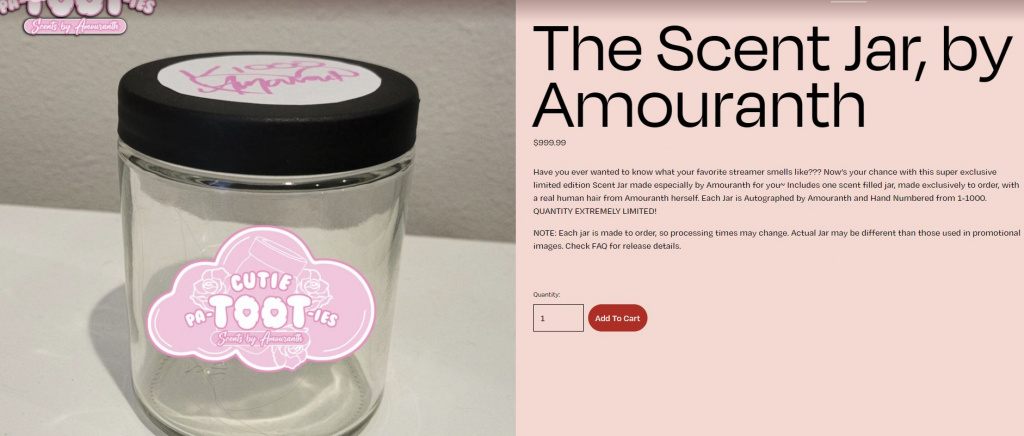 Likewise to the hot tub bathwater, the scent jar is also made exclusively to order, is autographed by Amouranth and hand-numbered from 1-1000. Additionally, the streamer will include a strand of her hair just for you. But, of course, supply is minimal with only 1000 units available.
If you need proof that you're really getting Amouranth's fart and hot tub water, then the YouTube video below might put your scepticism to rest.
Featured image courtesy of Amouranth and Cutie Patootie.