Many Twitch streamers work long hours creating content for their fans, and while some are away for months due to bans, this was not the case for popular Twitch streamer Chad, who mainly focuses on Apex Legends, Escape from Tarvok, and "Just Chatting" streams. In an uncharacteristic moment, Chad opened up about his extended absence, explaining to fans how he was stuck in a "depressive unhealthy cycle for like 3 years", noting how it is his own "personal hell".
Chad on Twitch absence and depression
Chad returned to streaming some Apex Legends this week, on 22nd May 2021. His previous stream before returning happened on 21st April, and many of his 342,000 followers were wondering what's happening.
Chad generally doesn't share personal information on social media, and simply gives fans updates on his streams. However, he took to Twitter on 26th May 2021 to address his absence in a TwitLonger post.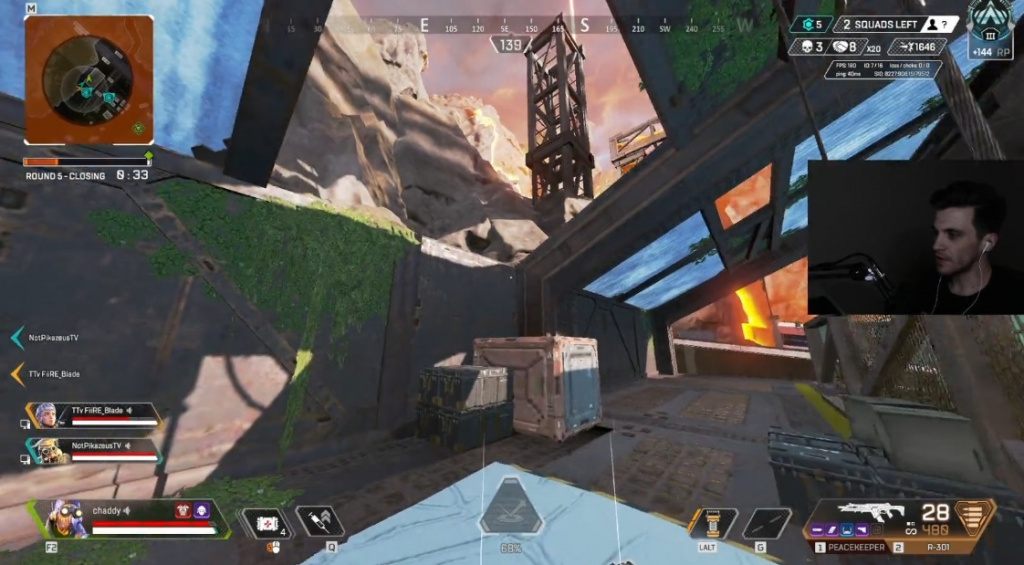 Chad playing Apex Legends (Picture: Chad)
Chad began by explaining his situation: "I've been stuck in such a depressive unhealthy cycle for like 3 years. The scariest part is its hardly felt like a year has passed in my head. So many days, weeks, months just wasted hardly even existing, so much so that my brain can't even account for the time that passed."
Everything in the TwitLonger post points towards Chad suffering from depression, which is very serious and can be debilitating to many.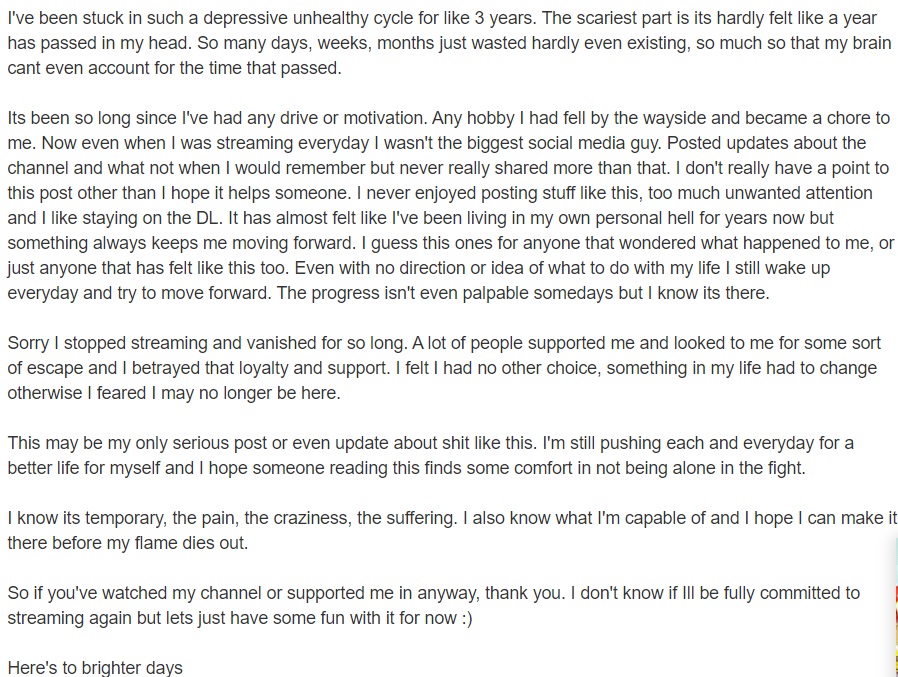 (Picture: Chad via TwitLonger)
Chad continued by apologizing to his fans for disappearing, and talked about the future: "Sorry I stopped streaming and vanished for so long. A lot of people supported me and looked to me for some sort of escape and I betrayed that loyalty and support. I felt I had no other choice, something in my life had to change otherwise I feared I may no longer be here.
"This may be my only serious post or even update about shit like this. I'm still pushing each and every day for a better life for myself and I hope someone reading this finds some comfort in not being alone in the fight. I know it's temporary, the pain, the craziness, the suffering. I also know what I'm capable of and I hope I can make it there before my flame dies out."
Twitch streamer Chad further revealed that he doesn't know if he will be fully committed to streaming again.
Chad creates great content, without a doubt. We hope he continues while getting better each day and gets the support he needs, as depression truly is a serious matter not to be taken lightly.
Check out our dedicated section for more Twitch news, from the antics streamers get up to, to the hot tub meta and more.